Former Clarksburg City Municipal Hall Building (1888)
Introduction
The Clarksburg Municipal Building dates back to 1888 when it served as the city's post office. From 1932 to 1965, the structure was deemed the Federal Building because it housed various Federal Offices. In 1966, the structure became the City of Clarksburg's Municipal Building. Despite the efforts of preservationists and local residents who rallied to save the structure and convert it into a museum and visitors center, the building was demolished.
Images
This building was once Clarksburg's Post Office, Federal Building, and Municipal Building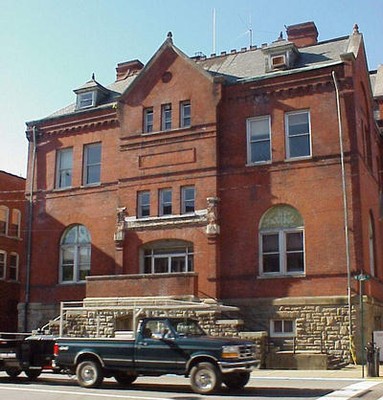 Backstory and Context
The Clarksburg Municipal Building was designed by Charles L. Hickman, a prominent architect in West Virginia in the late 1800s. The Municipal Building originally opened as Clarksburg's Post Office in 1888, and was three stories tall. The ground level basement was cut stone while the top two stories and the attic were constructed of brick. Both the steps leading up to the building and the steps inside the building were made of marble.
Prior to the establishment of the Clarksburg Post Office in 1888, the Clarksburg postmaster would rent rooms throughout the city's business district. In 1932, the location of Clarksburg's Post Office was moved to a newer and larger building on Pike Street. The structure was then known as the Federal Building as it housed various federal offices. The Federal Building was up for sale in 1937 until the government retracted the listing and placed the Social Security, FHA, and WPA offices in the building. In 1946, the government considered selling the Federal Building once again, but rejected 18 bids and decided to house the Veterans Administration offices there.
The Clarksburg City Hall occupied various sites, with the first record of a concrete location in 1908. In 1908, the city of Clarksburg moved its offices to Hoffman Hall, and was located in the Colonial Building from 1910 to 1931. From 1931 to 1965, city offices were located at the former Mortimer Smith home on West Main Street, and was forced to move after the Hope Gas Company purchased the land to expand their building. For the next year, city hall was nonexistent in terms of a structure; city offices were scattered throughout downtown Clarksburg until the purchase of the Federal Building in 1966.
Sources
Price, Gale. Clarksburg: A Bicentennial Album 1795-1985. Clarksburg, WV. Clarksburg Bicentennial Committee, 1986.


Additional Information