Kettle of Fish Bar
Introduction
The Kettle of Fish has been a popular, classic neighborhood bar in Greenwich Village since the 1950s. The bar was originally located on MacDougal Street, but has moved twice and now occupies a spot on Christopher Street. For much of its history, the bar was a literary haunt, and had a particular following among Beat writers, including Jack Kerouac. Nowadays, however, the bar is known as a popular spot for Green Bay Packers fans.
Images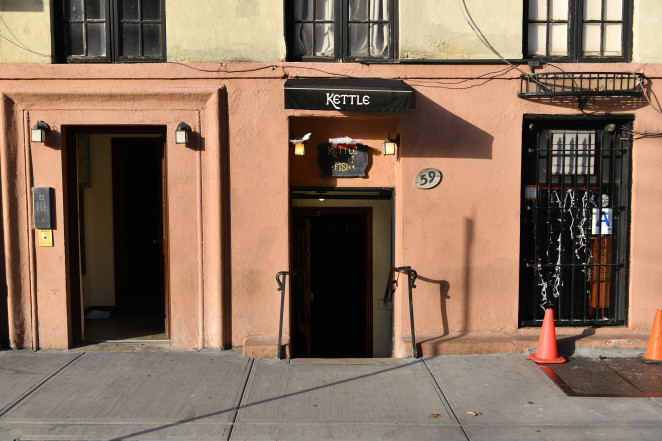 The bar when it was located on MacDougal Street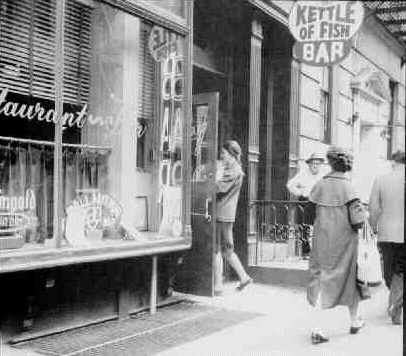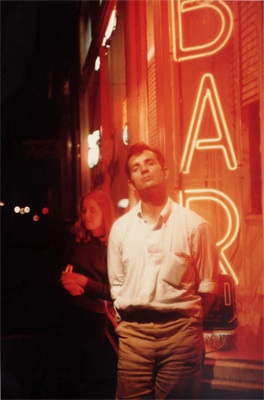 Backstory and Context
Greenwich Village has no shortage of time-honored bars, but few can claim to be as beloved as the Kettle of Fish, which is undoubtedly one of the longest-lasting watering holes in the neighborhood. The bar dates back to 1950, when it opened on MacDougal Street. At that time, it was next door to the Gaslight Café, a popular hangout for Beat writers and the bohemian denizens of the Village. Its location made the Kettle of Fish a natural place to catch spillover from the café and it became a popular gathering place for Village residents.
Because the Gaslight was already a popular place for the Beat Generation, the Kettle of Fish became one as well. During its heyday in the 1950s and 1960s, the bar was a regular haunt of such Beat luminaries as Jack Kerouac and Allen Ginsberg. Kerouac was once captured standing under the Kettle's neon "Bar" sign in a photograph which is now an iconic image of that time and place. The sign still occupies a place in the bar's lounge. In the 1960s, Bob Dylan was a regular at the bar.
Since its time as a midcentury Beat watering hole, the Kettle of Fish has moved twice. Its current location on Christopher Street has its own literary heritage. Before 59 Christopher Street was home to the Kettle, it was the location of the Lion's Head, which claimed Norman Mailer, Frank McCourt, and Jimmy Breslin as regulars. It is also three doors down from the Stonewall Inn, where the LGBT movement was born. Each year's Pride parade ends at the Stonewall, which means that for one day a year, the Kettle is also essentially a gay bar, due to the spillover from its historic neighbor.
The Kettle of Fish has occupied its current location since 1999. The current owner, Patrick Daley, has a long history with the bar, having worked as a bartender at the Kettle when it was still on MacDougal Street. A one-time resident of Milwaukee, Daley is a huge Green Bay Packers fan, and when he began showing Packers games in the bar, other expat Wisconsinites began gathering at the bar on game day. Nowadays, the Kettle of Fish, while still proud of its literary and cultural history, is primarily a Packers bar, although it attracts a diverse clientele. 
Sources
Lapin, Tamar. Aaron Rodgers Helps Save Popular Greenwich Village Packers Bar , New York Post. July 6th 2020. Accessed December 10th 2020. https://nypost.com/2020/07/06/aaron-rodgers-helps-save-kettle-of-fish-greenwich-villages-packer-bar/.
Upstairs, Downstairs: A Night Out on MacDougal Street , Village Preservation. January 22nd 2014. Accessed December 10th 2020. https://www.villagepreservation.org/2014/01/22/upstairsdownstairs-a-night-out-on-macdougal-street/.
About , Kettle of Fish. Accessed December 10th 2020. https://www.kettleoffishnyc.com/about.html.
Additional Information