Glide Memorial Church
Introduction
In 1929, the Glide Foundation was created by Methodist philanthropist Lizzie Glide in memory of her late millionaire cattleman husband, H.L. Glide. Construction of Glide Memorial Church began that year and was completed on January 11, 1931. Beginning in the 1960's, the church became heavily involved in grassroots community outreach and activism- particularly centered around women's rights, LGBTQ rights, addiction, homelessness, and racial equality. Due to their progressive theology and wide array of social programs, Glide Memorial Church has been a lightning rod for controversy over the years. After years of contentious debate- much of which surrounded the issue of gay marriage- Glide Memorial Church issued a declaration of independence from its former parent church, the United Methodist Church. As an independent non-profit, Glide continues to operate in the same capacity as it always has, offering both lively church services and as many as 87 social services to the community today.
Images
Glide Memorial Church today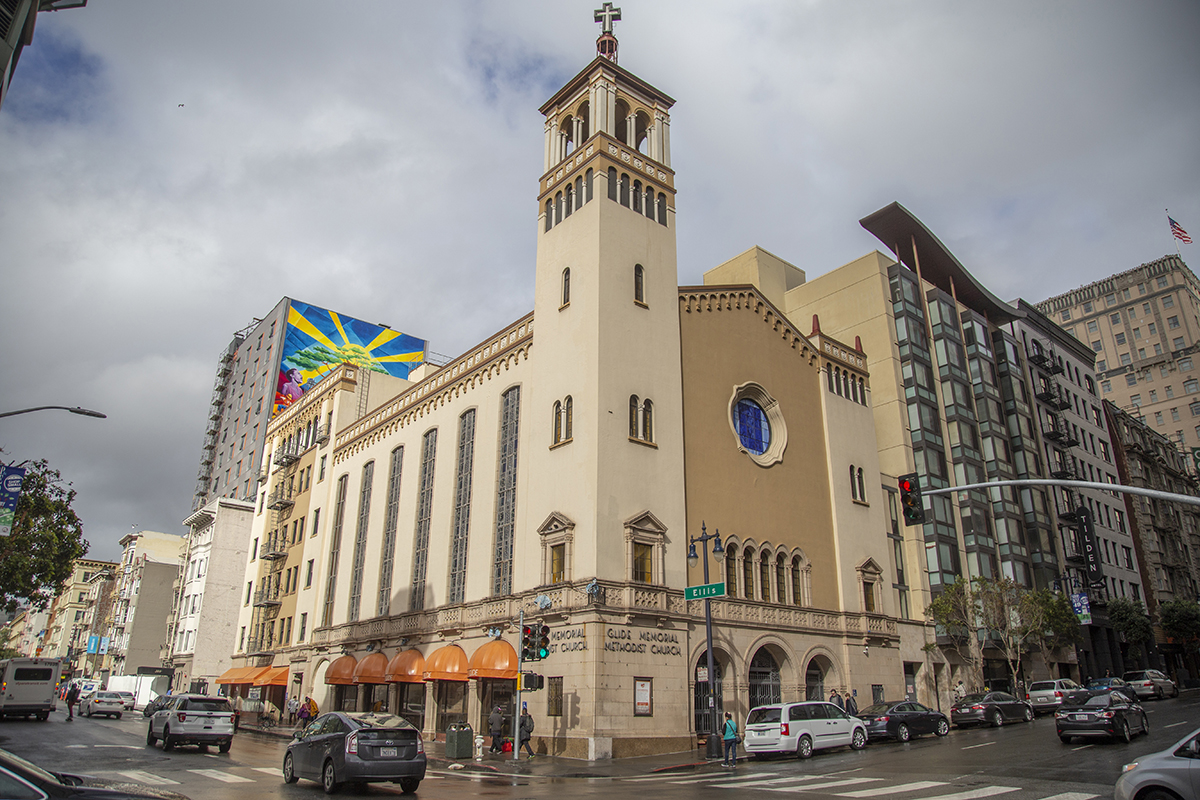 Sunday morning service at Glide Memorial Church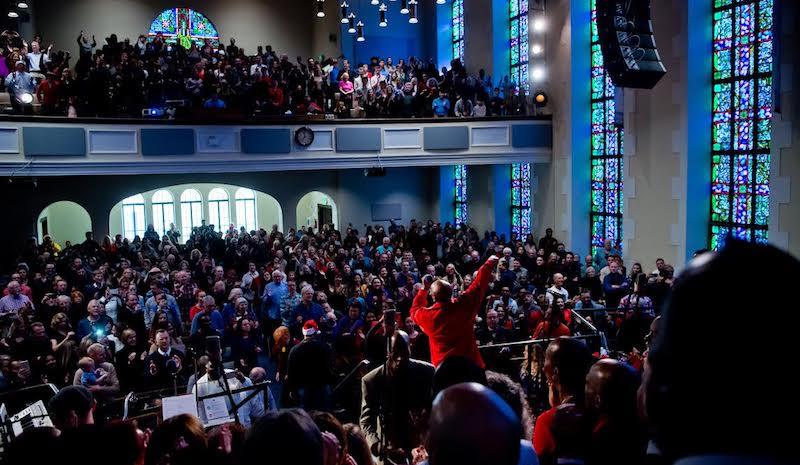 Sunday morning sermon at Glide during Pride week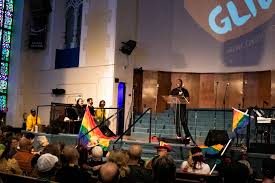 Lizzie Glide, founder of Glide Memorial Church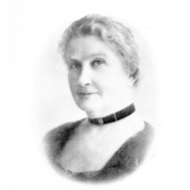 Cecil Williams and his wife Janice Mirikitani in the early 1970's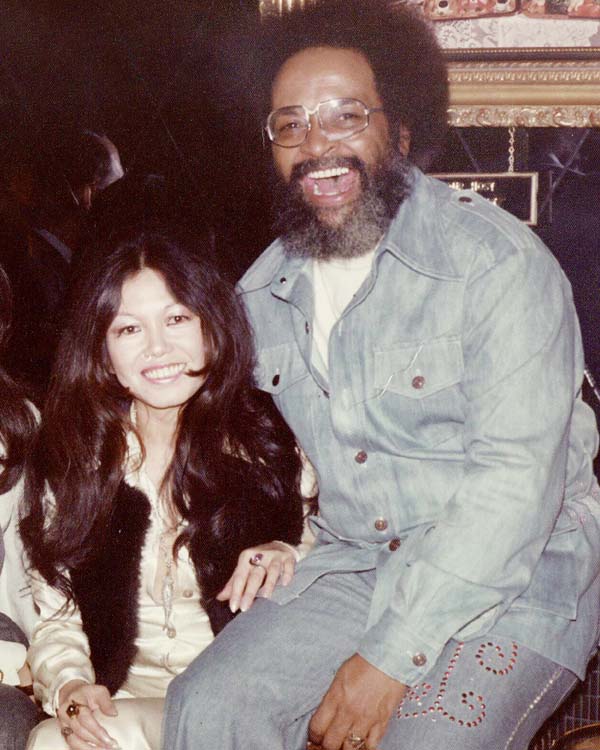 Sammy Davis Jr. and his wife at a Glide Memorial Church service in 1972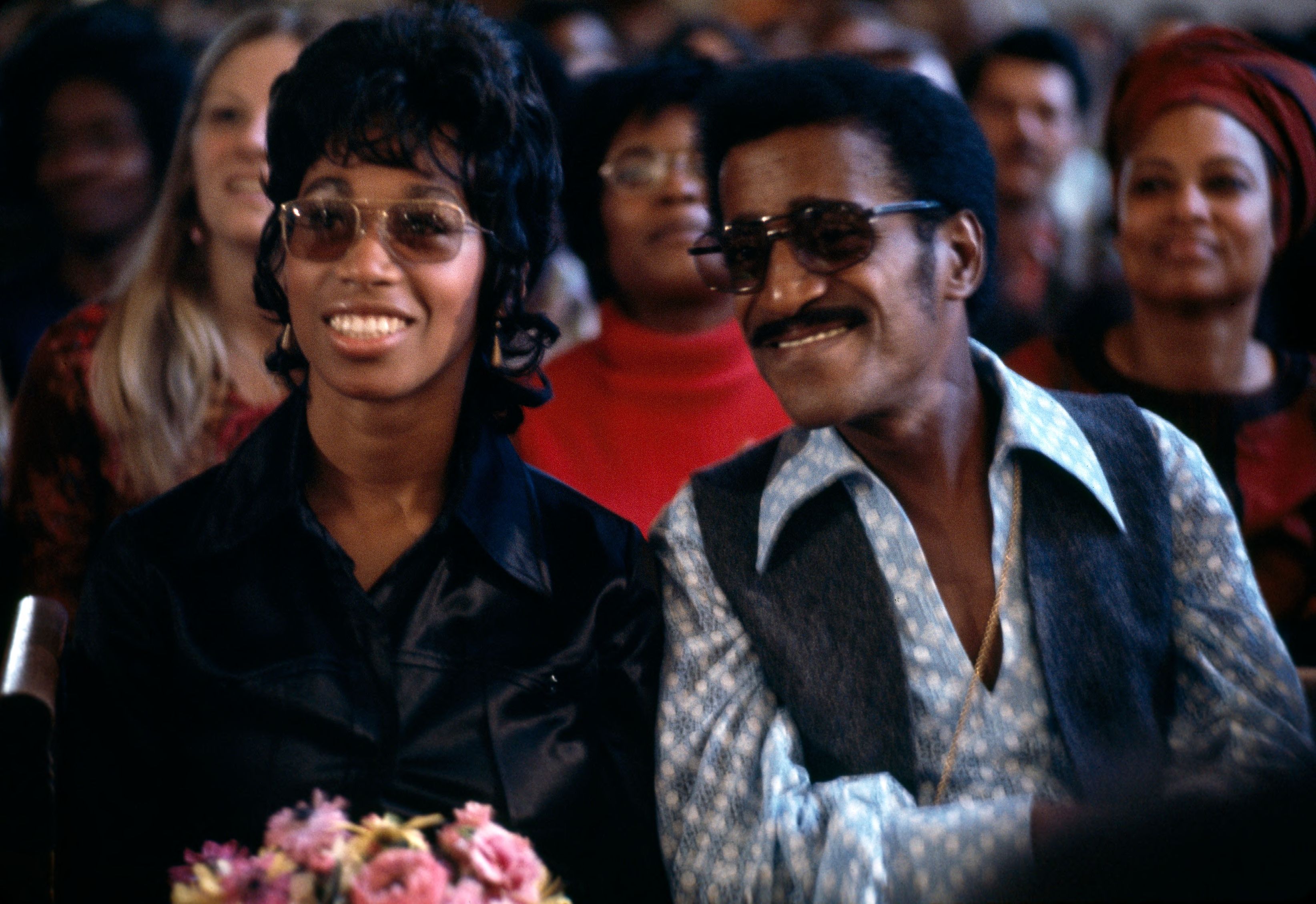 Glide Memorial Church in 1953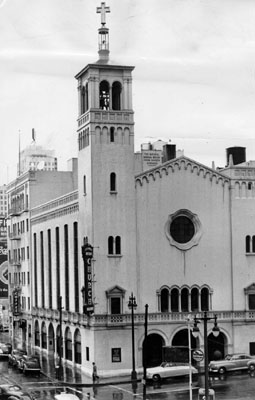 Backstory and Context
In 1929, Lizzie Glide, a devout Methodist and philanthropist, established the Glide Foundation in honor of her late millionaire husband, Joseph L. Glide. Using the money from her many successful business ventures, she purchased a plot of land in San Francisco's downtown Tenderloin district in order to construct a church and philanthropic center that would operate alongside the Foundation. She also purchased the Hotel Californian, located a few blocks away, which began operating as a temperance hotel (discouraging alcohol consumption) for the years following.
Construction of Glide Memorial Methodist Church started that year and was completed two years later on January 11, 1931. The church was instantly recognizable and popular due to its rotating neon crucifix which sat on top of its steeple. Another was hung on the wall behind the pulpit and choir, and was used to give a "mellow glow" during the evening services. These light-up crosses are thought to have been one of the only ones in existence at the time in the United States.
Records show that Glide Memorial Methodist had initial success with growing its congregation during the 1930's and early 1940's. However, by 1950 the church had begun experiencing difficulties. Shifting demographics in the downtown area led to a decline in attendance and tithing, as many members of the church's original leadership began passing away. Slowly, younger members of the Glide Foundation took up these open positions and gradual shifts in vision occurred in response to the church's lack of presence in the community.
The most radical of these shifts came in 1962 with the appointments of young Methodist pastors Lewis E. Durham and Ted McIlvenna to leadership positions at Glide. The two men shared many of the same beliefs about the modern church and how it ought to function. They believed that churches had lost credibility in the eyes of their communities and that the answer was to listen wholeheartedly to every member of a community in order to find out how the church can be of service to them. With the support of the pastor, they began creating outreach programs that spoke directly to the Tenderloin District's diverse population. In particular, this included reaching out to the many members of the LGBTQ community who had moved into the Tenderloin during the late 1950's. As a result of this, Glide became one of the earliest dissenting churches in the country that supported LGBTQ individuals- despite the doctrine of the Methodist denomination at the time. Extensive programs were also established for women, racial minorities, the elderly, the homeless, recovering addicts, troubled youth, and various other disenfranchised groups.
Glide Memorial Methodist Church's new brand of social justice community activism was cemented upon the arrival of Reverend Cecil Williams, who took over as the main pastor in 1963. Working with Durham. McIlvenna, and LGBTQ community leaders, Williams spearheaded the creation of Council on Religion and the Homosexual in December of 1964- making it the first organization to have the word "homosexual" in its name. The organization was heavily involved in the fight for LGBTQ civil rights in San Francisco in the 1960's. Also in 1964, Glide member Janice Mirikitani- a survivor of a World War II Japanese-American internment camp- founded Citizens Alert, one of the first citywide programs aimed at documenting police brutality against racial and sexual minorities. Citizen Alert's advocacy work eventually led to the first FBI investigation of the San Francisco Police Department in 1968.
During both the HIV/AIDS and crack cocaine epidemics of the 1980's and 1990's, Glide was at the forefront of San Francisco's response to the crises. Famously, Reverend Williams organized multiple events where he visited known crack dens and used a megaphone to call the addicts and dealers out of the building so they could receive any help that they needed.
In recent years, Glide was formerly known as the largest Methodist church in the state of California, with a whopping 13,000 members. However, its legacy public support for social justice causes have made the church a lightning rod of controversy and in 2019- after a lengthy legal battle over alleged "moral corruption" in Glide's leadership- Glide Memorial Church declared independence from its denominational parent church, the United Methodist Church. It continues to serve the San Francisco community as a non-profit spiritual organization with over 86 programs and weekly Sunday morning services featuring the church's famous, jazzy 100-member Gospel Choir.
Sources
Carlsson, Chris. Glide Memorial Methodist Church, Found SF. Accessed October 21st 2020. https://www.foundsf.org/index.php?title=Glide_Memorial_Methodist_Church.
FPLG. Church Feud In Bay Area Erupts, For Purpose Law Group. January 24th 2019. Accessed October 22nd 2020. https://forpurposelaw.com/church-feud-bay-area-erupts/.
National Park Service. National Register of Historic Places Registration Form, US Department of Interior. 2018. Accessed October 21st 2020.https://ohp.parks.ca.gov/pages/1067/files/CA_San%20Francisco_Glide%20Memorial%20United%20Methodist%20Church_DRAFT.pdf.
Image Sources
https://www.sfexaminer.com/news/glide-countersuing-united-methodist-church-in-escalating-battle-for-control/

https://www.kalw.org/post/united-methodist-church-alleges-moral-corruption-glide-s-leadership

https://www.glide.org/finding-lgbtq-love-in-the-bible-a-pride-sunday-celebration-sermon/

https://web.archive.org/web/20131204113155/http://www.glide.org/page.aspx?pid=412

https://www.foundsf.org/index.php?title=Glide_Memorial_Methodist_Church

https://exhibits.stanford.edu/fitch/catalog/df659qz0677

https://webbie1.sfpl.org/multimedia/sfphotos/AAB-1494.jpg

Additional Information