Shisler House
Introduction
The Shisler House was built in 1902 for E. Shisler, a wealthy Morgantown resident. Elmer F. Jacobs designed the home, which is an example of Colonial Revival architecture. Two additions to the home were made, likely in the 1920s. Following E. Shisler's residence, her home has hosted Morgantown's Elks Lodge, and the Morgantown Beauty College.
Images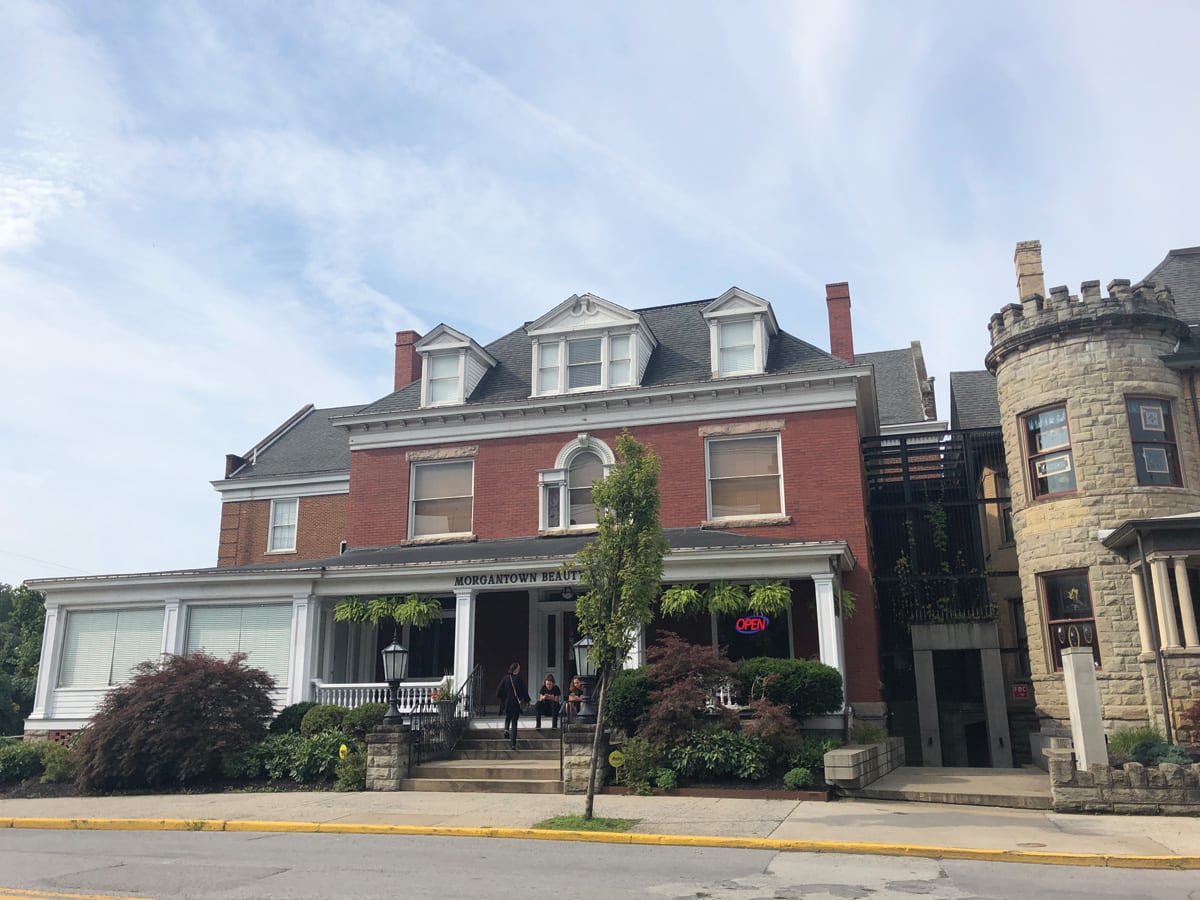 Backstory and Context
The Colonial Revival style Shisler House was designed by Elmer F. Jacobs and built in 1902. The two-story Shisler House was originally a rectangular brick structure with a roof adding additional height. The front of the house is dominated by a large wooden porch supported by plain white columns. A double wooden door flanked by sidelights and a transom reinforce classical associations. On the second floor, unornamented windows with rusticated lintels are set on each side of a central palladian window. A dentiled cornice supports a shingled roof with three dormers heavily stylized to resemble the face of a classical temple. Two additions were added to the house, likely in the 1920s. A single-story banquet hall was added to the east, and a two-story brick addition was appended to the rear.
E. Shisler, a wealthy local woman, commissioned the Shisler House as an architectural contrast to the W. E. Price House beside it. The Shisler House was one of the last homes to be built in downtown Morgantown. Shisler occupied her home for a relatively short period of time, as Morgantown's Benevolent and Protective Order of Elks organization purchased the building in the early 1920s. A rumor persists that under Elks ownership, the Shisler House was used as a speakeasy during prohibition. In the latter half of the twentieth century, the home was purchased by Homer and Velmagene Martin. The Martins owned Morgantown Beauty College and used the Shisler House as a location for the school. In 2018, the house was being remodeled when historic wallpaper was discovered. Morgantown Beauty College owner Michael Sodomick contacted Dr. Jonathan Katz, an art historian and visual culture expert, who confirmed that the wallpaper was created in England during the eighteenth-century Aesthetic Movement. The wallpaper was preserved and Morgantown Beauty College continues to occupy the Shisler House. 
Sources
Mills, Nikki Bowman. A Makeover, Morgantown Magazine. August 29th 2018. Accessed October 7th 2020. https://morgantownmag.com/a-makeover/.
Rasmussen, Barbara E. Downtown Morgantown Historic District, Monongalia County, WV, National Register of Historic Places. December 10th 1995. Accessed October 7th 2020. http://www.wvculture.org/shpo/nr/pdf/monongalia/96000441.pdf.
Shisler House, Wikimapia. Accessed October 7th 2020. http://wikimapia.org/71751/Shisler-House.
Image Sources
Morgantown Magazine. Accessed October 7, 2020. http://wikimapia.org/71751/Shisler-House.

Additional Information