St. Paul's Cathedral of Buffalo, New York
Introduction
Construction of this Buffalo cathedral began in 1749 and serves a congregation that was established in 1817. The congregation secured its first permanent structure in 1820, and despite the grandeur of this Gothic cathedral, financial woes plagued the church during its first few years until Buffalo experienced a population and economic boom in the mid-nineteenth century. Designed by achitect Richard Upjohn with features inspired by European cathedrals of the thirteenth, fourteenth, and fifteenth century, St. Paul's was built in stages owing to the cost of the under taking. The massive tower was completed in 1871. Richard Upjohn was also the architect of New York City's Trinity Church. A devastating fire in 1888 forced the members to re-build its interior. Robert W. Gibson managed the renovation and the church re-opened early in 1890.
Images
St. Paul's Cathedral Tower 2014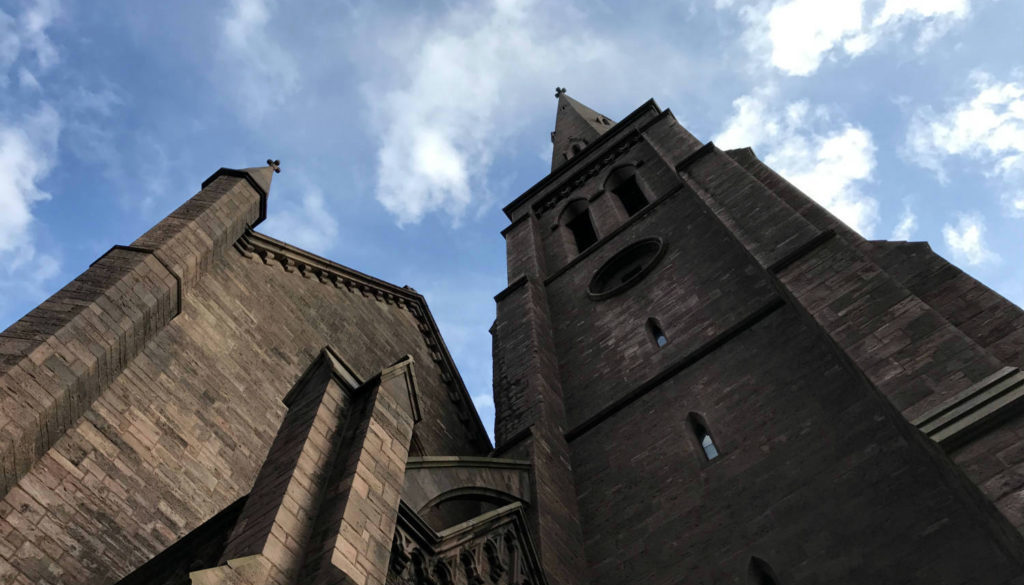 St. Paul's Cathedral interior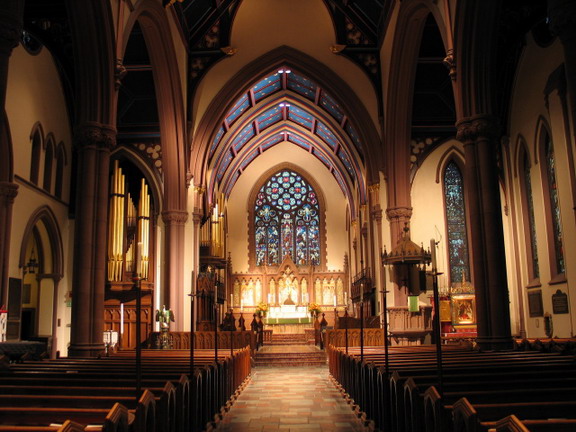 2010 Photo of St. Paul's Cathedral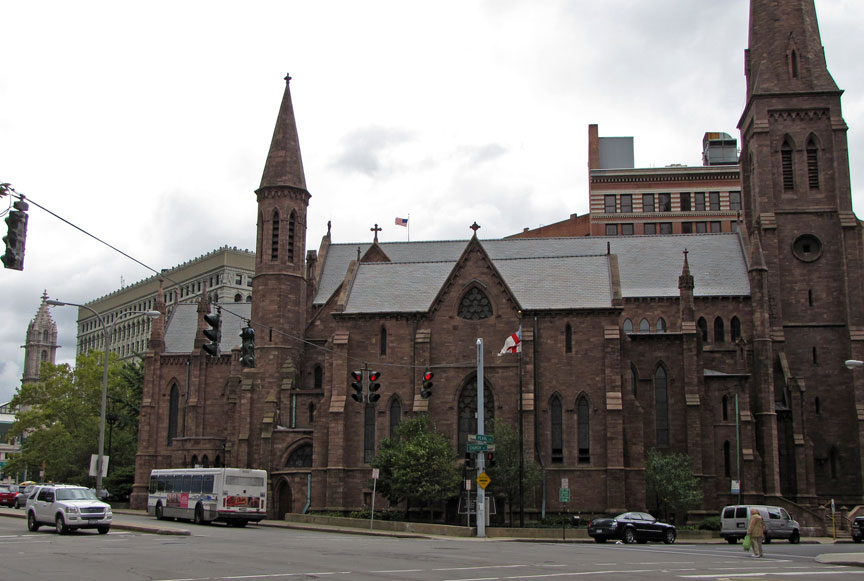 2009 Photo of St. Paul's Cathedral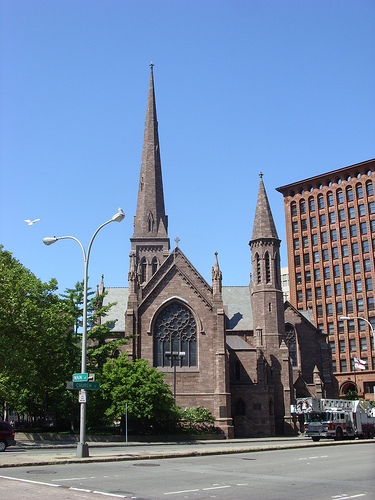 1965 Photo of St. Paul's Cathedral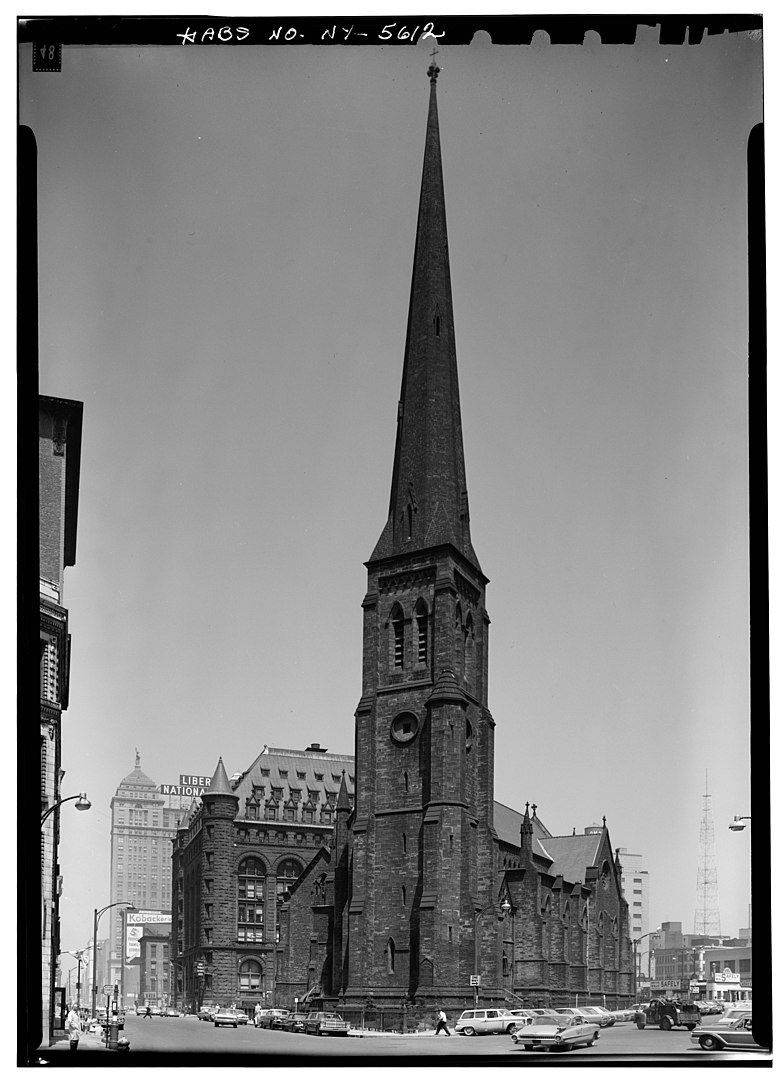 1908 Photo of St. Paul's Cathedral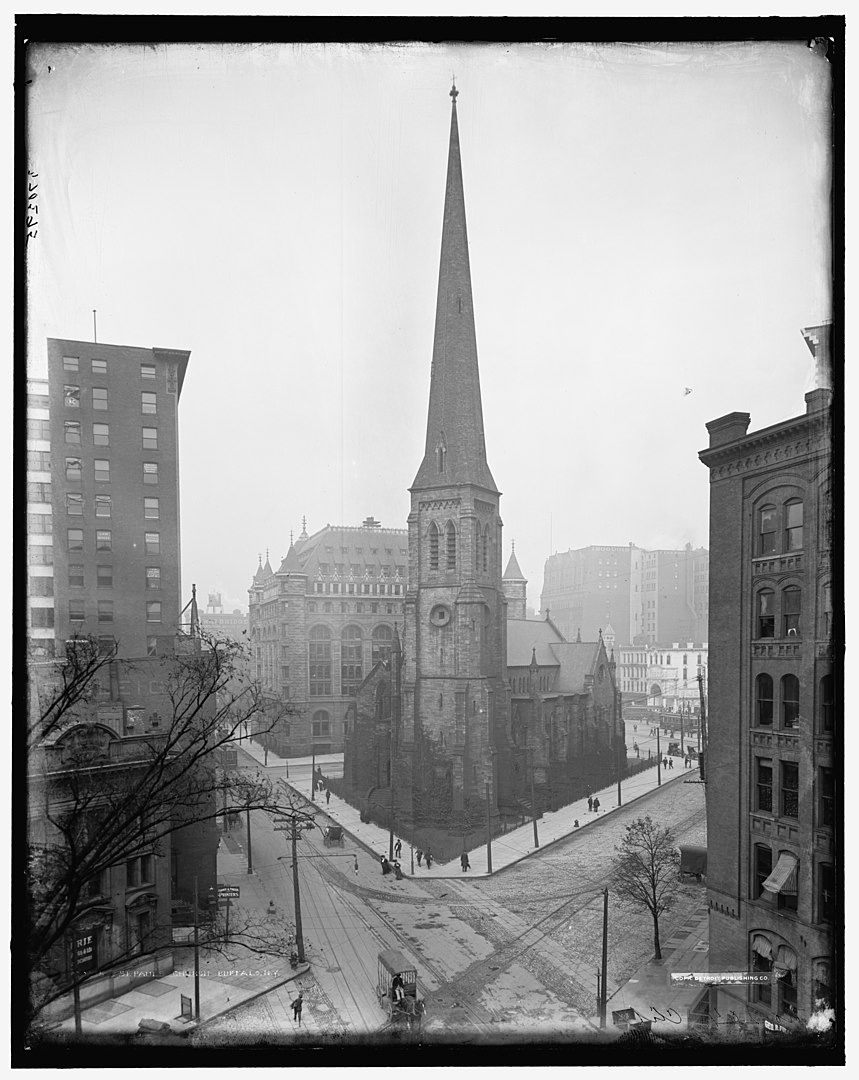 1880 Photo of St. Paul's Cathedral (much of what is in the photo no longer exists)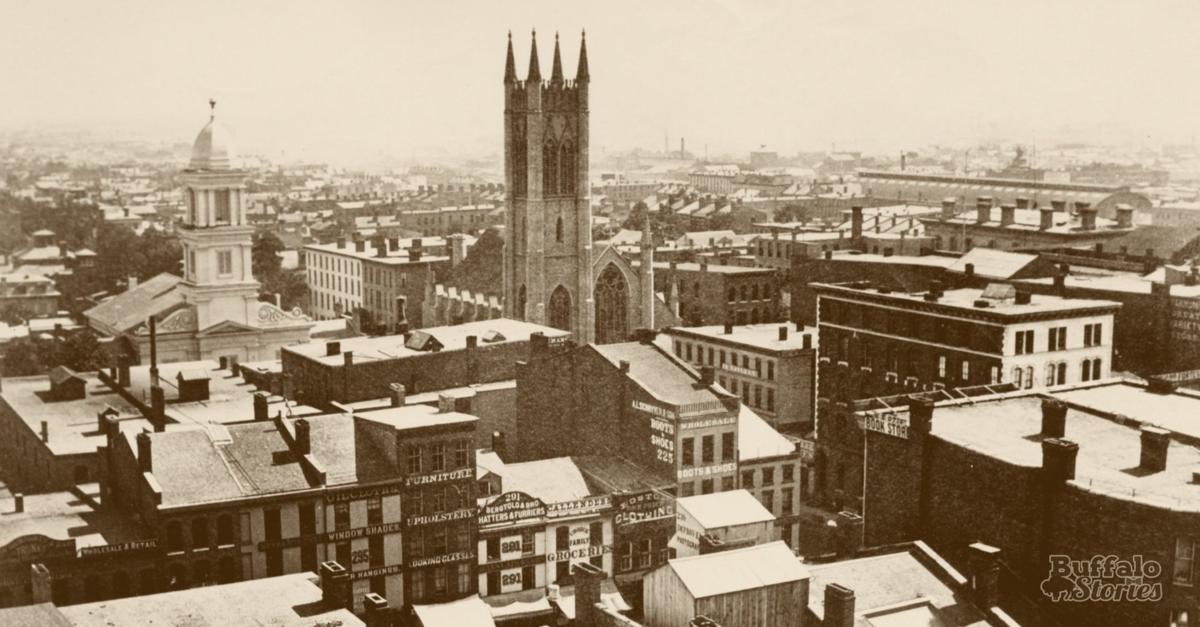 Backstory and Context
St. Paul's Cathedral was built in the mid-19th century and is an exemplary American Gothic-Revival cathedral. The church hired Richard Upjohn to design the structure after he garnered acclaim for his design of New York City's Trinity Church (c. 1846) in New York City. His inspiration for St. Paul's came from Medieval European churches. 
An Episcopal preacher made a brief stay in 1802, and again in 1803, but the town did not see another Episcopal minister until winter of 1816 when the freshly ordained Rev. Samuel Johnston arrived. On February 10, 1817, Johnston organized St. Paul's Episcopal Church with twenty families serving as its congregation, many of whom engaged in missionary work with local Native Americans. Though the new church hoped to build a house of worship, sufficient funds proved tough to obtain. So, the group met first at local taverns. In 1819, helped by donations and a fund drive, the group began construction on its first church building, which they moved into in 1820. However, immediate fiscal trouble forced the church to sell its pew seats (akin to season tickets at modern sports or entertainment venues) to pay for its debts; they spent most of the first half of the decade struggling to maintain financial solvency. 
The 1825 opening of the Erie Canal not only benefited the town's business concerns, but the resultant population boom also helped grow the church. By 1828, they expanded their original church building. A new reverend (William Shelton) led the church by 1829 as the church enjoyed its growth. By the mid-1830s, the church again needed to expand. Still, committees failed to develop a solution, resulting in a portion of the congregation leaving to form a new church in 1836: Trinity Episcopal Church. St. Paul's remaining members also felt pressure from St. John's, whose members built a new chapel in downtown Buffalo in 1845. After a church split and competition from other churches, St. Paul's finally formed a committee that hired architect Richard Upjohn to design the historic Gothic structure.
Besides hosting fundraisers, Rev Shelton again sold pews in the new facility, although he also kept some pews free, unlike with the first chapel. The building committee approved Upjohn's design in 1849 but worried considerably about his budget, a justifiable worry as he did exceed his budget by double. The ballooning costs delayed construction on such items as the bell tower, spires, porches, and gables. Although the building effectively opened in 1851, construction on many of its details continued until 1873. 
In 1888, ten years after UpJohn's death, a fire destroyed the church's interior. The church quickly commissioned Robert W. Gibson (1854-1927) to repair the damaged building. Like Upjohn, Gibson immigrated to the U.S. from England (1881) and had previously designed a church -- Albany's All Saints Cathedral -- before working on St. Paul's. Gibson managed to retain the original walls so that only minor changes to the exterior occurred during the renovation. (The freestanding tower with its 270-foot spire appears today as it did when UpJohn completed his work on the church.) In contrast, Gibson had to largely re-do the entire interior. After a year and a half of construction, the church reopened on January 3, 1890. 
Sources
Brooke, Cornelia E. "Nomination Form: St. Paul's Cathedral." National Register of Historic Places. nps.gov. May, 1972. https://npgallery.nps.gov/GetAsset/0cf7e252-5633-4601-a2b7-1b177ff4f623.
Clemens, Chris. "St. Paul's Episcopal Cathedral – Buffalo, New York." Exploring Upstate (blog). exploringupstate.com. June 25, 2014. https://exploringupstate.com/st-pauls-episcopal-cathedral-buffalo-new-york/.
LaChiusa, Chuck. "St. Paul's Episcopal Cathedral." Buffalo as an Architectural Museum (blog). buffaloah.com. Accessed September 19, 2020. https://buffaloah.com/a/pearl/128/hp.html.
Image Sources
https://exploringupstate.com/st-pauls-episcopal-cathedral-buffalo-new-york/

https://www.musiqueorguequebec.ca/orgues/etatsunis/buffalospec1.html

http://www.galenfrysinger.com/buffalo_st_pauls.htm

By Doug Kerr from Upstate New York - 061409 619, CC BY-SA 2.0, https://commons.wikimedia.org/w/index.php?curid=8465927

By Jack Boucher - This image is available from the United States Library of Congress's Prints and Photographs divisionunder the digital ID hhh.ny0206/photos.116431p.This tag does not indicate the copyright status of the attached work. A normal copyright tag is still required. See Commons:Licensing for more information., Public Domain, https://commons.wikimedia.org/w/index.php?curid=15306564

By Detroit Publishing Co. , publisher - http://hdl.loc.gov/loc.pnp/det.4a22505, Public Domain, https://commons.wikimedia.org/w/index.php?curid=14633027

https://buffalonews.com/news/local/history/from-1880-to-today-view-from-st-paul-s-cathedral-1870/article_95d1b11f-35cd-5f8a-b22b-8aa22c7de74a.html

Additional Information