Sibley and Holmwood Candy Factory and Witkop and Holmes Headquarters
Introduction
Two adjacent city block buildings constructed in 1896 and 1901 mainly stood as the home to two flourishing companies, the Sibley & Holmwood Candy Factory and Witkop and Holmes Grocers. Louise Bethune, the first nationally-recognized female architect, designed the Witkop and Holmes Grocers building. Though both buildings now serve as residential and retail spaces, they survive today as one of the few remaining structures of a once bustling industrial and commercial center of Buffalo. When constructed, the buildings marked a change for Buffalo as electricity and railways allowed factories to operate in locations away from Lake Erie and the Erie Canal.
Images
Sibley and Holmwood Candy Factory and Witkop and Holmes Headquarters, September 2019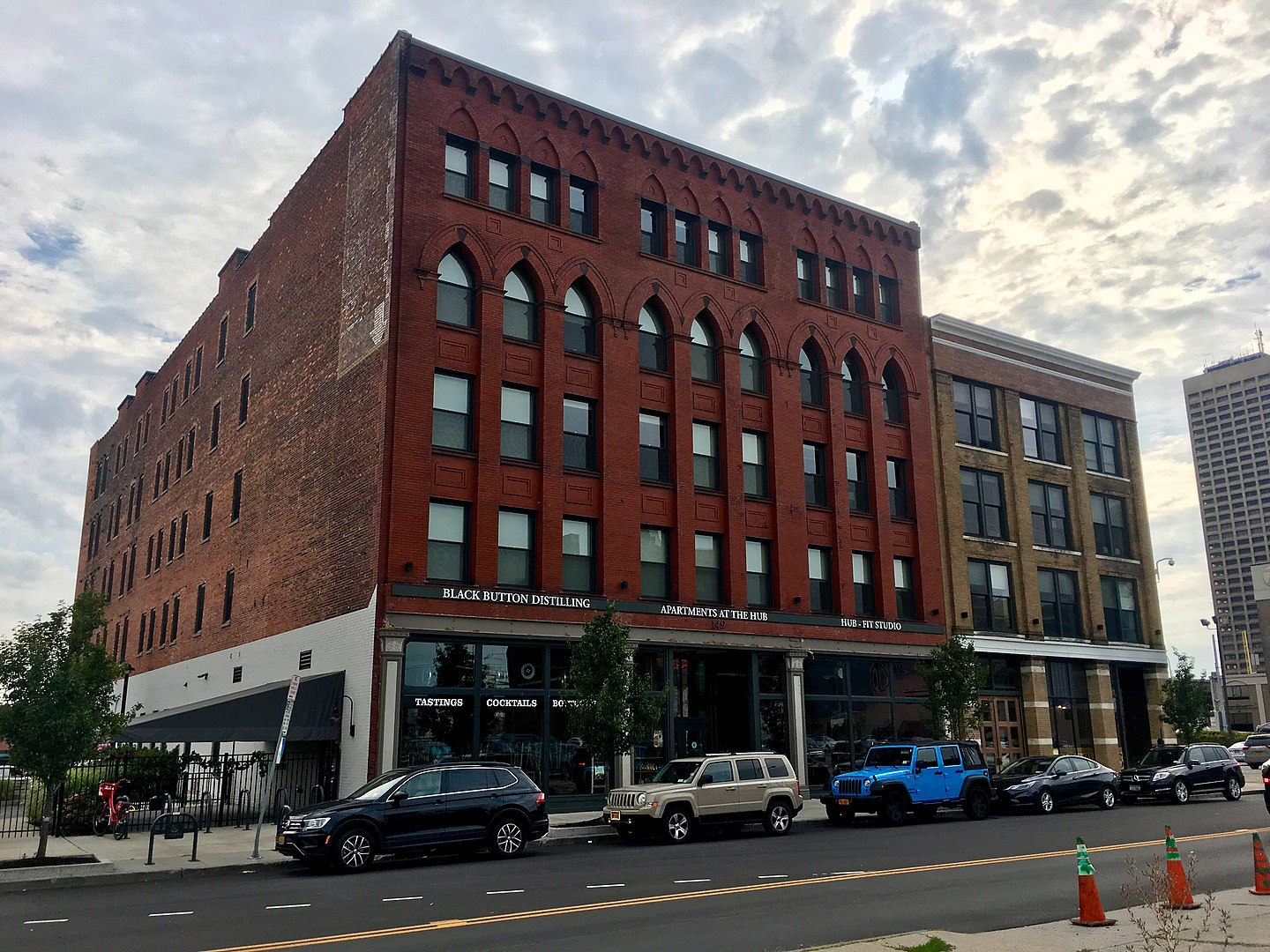 Backstory and Context
Sibley & Holmwood Candy Factory and Witkop & Holmes Headquarters are significant late-nineteenth-century commercial buildings located adjacent to one another in downtown Buffalo. As a pair, they represent a time of transition for Buffalo's commercial (industrial) center away from waterways as railways and electricity changed the nature of how industries operated. Individually, they each possess a unique history that touches on changing retail needs, the first nationally-recognized woman architect, a landmark Supreme Court case, and the nation's burgeoning candy business around the turn-of-the-century. 
Sibley & Holmwood Candy Factory, 149 Swan Street (1896)
From 1866 to 1888, the numbers of Buffalo confectionery businesses grew from fifteen to 126 retailers (and thirteen manufacturers). The explosion in confectionery companies mirrors that of the nation. From 1870 to 1890, the U.S. confectionery industry expanded from 949 to 2,921 producers with an attached gain in employment from 5,825 to 27,211.
James Holmwood immigrated to Western New York shortly after his 1841 birth in Sussex, England. After working in retail for the first half of the 1860s, he took a job as a bookkeeper with Henry Hearne, one of Buffalo's renowned confectioners, where he met Frank Sibley. Sibley, a native of New York state, moved to Buffalo shortly after his birth in 1850. In 1868, Sibly joined Hearne's wholesale confectionery firm as a traveling salesman, before leaving in 1870 to work a similar position for John Benson's Son confectioners. In 1873, he joined Holmwood to form the Sibley & Holmwood Confectionary Company. 
Sibley & Holmwood started small with only eighteen employees, but rapid success turned the company into one of Buffalo's best-recognized confectionary candy manufacturers. The company's first dedicated factory opened in 1880 with such features as a steam-pan confectionery and four floors dedicated to manufacturing and packing. One year later, the company boasted of its 100 employees (including six traveling salesmen). Even a devastating fire that ravaged several blocks of Buffalo (including the candy factory) could not thwart the company's growth; the company employed two hundred workers and produced $200,000 worth of goods by 1895. The immense growth pushed Sibley & Holmwood to construct a new factory, which opened in 1896 and survives today. Seizing on Buffalo's newfound ability to draw power from Niagra Falls, the 1896 factory, an exemplary late Gothic Revival commercial block, enjoyed electric power, which helped increased production. By 1898, the company employed 300 employees and enjoyed national recognition. 
The growing national presence of Sibley & Holmwood allowed Frank Sibley in 1884 to serve as a founding member of the National Confectioners' Association in Chicago. As chair, from 1886-91, he helped the organization's membership grow from 78 to 221 companies. Sibley also served as the organization's vice-president in 1896 and was nominated for the presidency in 1899 (he declined). Three years later, in 1902, Sibley & Holmwood merged with eighteen other companies from around America to form National Candy Company, Inc., based in New Jersey. In 1910, Sibley was elected president of the Cooper Paper Box. Co., a position he served until he died in 1921. The company remained in its historic factory until 1927. 
Witkop & Holmes Headquarters, 145 Swan (1901)
The building enjoys a rich history that involves the nation's first professional female architect, the changing nature of the grocery business, and a 1910 Supreme Court case that courts cited as precedent well into the 1990s. 
Jacob Dold of the Dold Packing Company meatpacking company commissioned the construction of Witkop & Holmes Headquarters. The meatpacking company started as a small butcher shop in 1860, and then rose to one of the nation's largest meatpacking firms. Although signs point to the possibility that Dold planned to move his business into the building, his company never occupied it. Weed & Company, the city's oldest hardware company, served as the building's first tenant, using the building from 1901 to 1905. 
Witkop & Holmes, founded as a home-delivery grocery and tea seller in 1888 by William Holmes and Theodore Witkop, moved into the building in 1906. Witkop & Homes utilized the building as a warehouse and office space until it relocated in 1933. Witkop & Holmes formed at a critical point in the transition of small grocery stores from local retailers of bulk products to more regionalized facilities offering specialized services. Mass production, telegraphs, railways, refrigeration, and advances in packaging allowed retailers of all kinds, including grocers, to transition from one-room stores to more extensive facilities that could efficiently ship goods. Indeed, many stories developed into chains. Thus, by the time the company moved out of the now-historic building in 1933 (even amid the Great Depression), it had expanded to Niagara Falls, Lockport, Batavia, and Jamestown. Also, during the 1920s, the one-small operation had grown not only in size but in what it offered; the company even sold furniture by 1930. 
 Though city customers could easily shop at stores, countryside residents required a day or two's travel to reach cities. Thus, home delivery remained a popular option, and Witkop & Holmes never ceased in offering that service. In fact, the home delivery option served as the subject of a Supreme Court battle between Witkop & Holmes vs. A&P. Witkop & Holmes filed a lawsuit against A&P, alleging that the larger chain had illegally lured one of its drivers away from their company (which would also mean A&P obtained the drivers' clients). The Supreme Court ruled in 1910 that A&P infringed upon Witkop & Holmes's property rights, speaking to a growing anti-chain sentiment coinciding with the nation's Progressive Era; courts routinely cited the case as a precedent throughout the twentieth century for corporate property right enforcement.
Louise Bethune (of Bethune, Bethune, & Fuchs)
Louise Bethune's architectural firm Bethune, Bethune, & Fuchs began in 1881 and designed a substantial number of buildings around Buffalo, including schools, police and fire departments, and residences. Despite never gaining national recognition for her regional architectural work, the firm grew into one of the most influential in Western New York. Although the vast majority of Bethune's work has been demolished, her most famous work remains a prominent feature of Buffalo's culture: the nationally-acclaimed Hotel Lafayette. Though less famous, The Witkop & Holmes Headquarters survives as one of the Bethune's (and her firm's) few remaining extant commercial buildings.
Moreover, her prominence as an advocate for women in architecture is well known. Bethune (1856-1913) became the first woman member of the Western Association of Architects (WAA) in 1888, followed by the well-established American Institute of Architects (AIA.) in 1889. (When the AIA absorbed the WAA in 1889, all WAA members became AIA fellows.). Bethune paved the way for other women to join the field, both by her example and passionate advocacy.; she promoted "Equal Remuneration for Equal Services." Indeed, she declined an invitation to compete in the design of the Woman's Building at Chicago's 1893 World's Columbian Exposition, citing the difference between the women's prize of $1,000 prize versus the men's of $10,000.
Conclusion
In the end, both structures stand as a monument to the early twentieth-century when wholesale grocery businesses expanded but still had to account for rural locations without easy access to cities. As well, the confectionery businesses flourished in the U.S. before the Great Depression. Moreover, one of the buildings exists today as one of the few reminders of the nation's first female architect. Bethune's passion lies not only in design but also in helping women achieve equal pay for equal work -- a fight that went on for decades (and in some respects, continues to this day). 
Sources
Byrnes, Mark.. "Remembering America's First Female Architect: Louise Blanchard Bethune designed a number of important buildings around Buffalo." Bloomberg City Lab. bloomberg.com. June 21, 2013. https://www.bloomberg.com/news/articles/2013-06-21/remembering-america-s-first-female-architect. 
King, Derek and Caitlin Boyle. "Nomination Form: Sibley and Holmwood Candy Factory and Witkop and Holmes Headquarters." National Register of Historic Places. nps.gov. May 30, 2014.https://www.nps.gov/nr/feature/places/pdfs/14000398.pdf.
"Sibley & Holmwood Candy Factory." Preservation Studios Consulting Firm. preservationstudios.com. Accessed October 6, 2020. 
http://preservationstudios.com/portfolio/sibley-holmwood-candy-factory/
"Witkop & Holmes Headquarters." Preservation Studios Consulting Firm. preservationstudios.com. Accessed October 6, 2020. http://preservationstudios.com/portfolio/witkop-holmes-headquarters/.
Image Sources
By Andre Carrotflower - Own work, CC BY-SA 4.0, https://commons.wikimedia.org/w/index.php?curid=82054530

Additional Information