Colored Musicians Club of Buffalo
Introduction
Standing as a monument to both jazz and Black history, the 1934 building has served musicians of color (mainly jazz musicians) since it opened. The 1917 formation of an African American musician union, necessary because all music unions functioned as "Whites-only," provided a place for the black community to congregate, and for black musicians to gain employment. Some of the biggest names in Jazz stopped in Buffalo during the club's heyday. The end of legal segregation in 1969 forced unions to merged, but the white-only attitudes remained in place, thus resulting in many musicians of color struggling again to find music-based jobs. Today, the building serves as both a museum and a jazz hall; it's the oldest such place still in operation in the U.S.
Images
2019 Photo of the Colored Musicians Club in Buffalo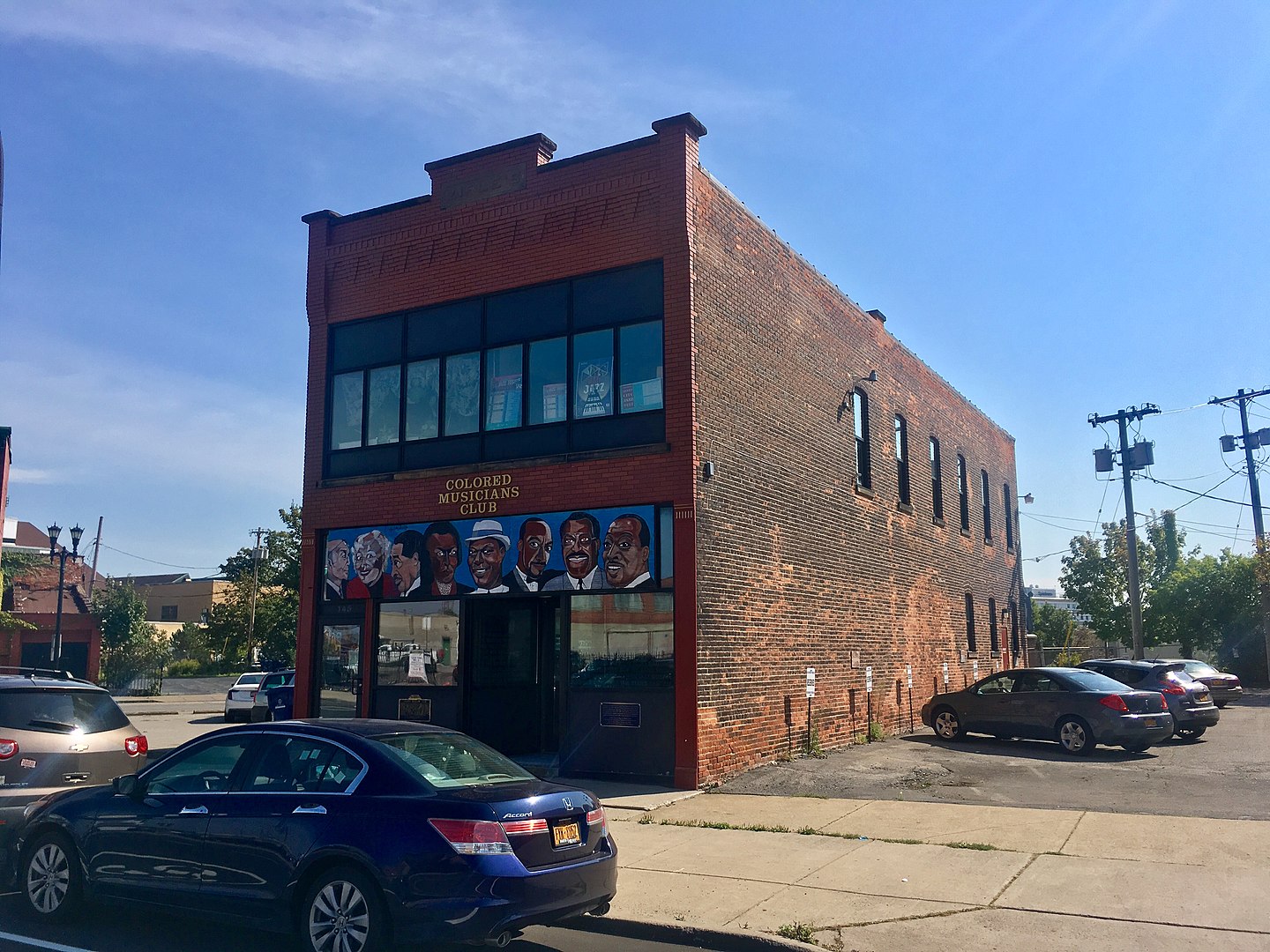 Backstory and Context
The historic club emerged in 1917 during an era of prevalent segregation; southern and rural black Americans migrated in droves to the city to work in its steel mills and other companies. The club represents black history as much as the history of jazz and its musicians. Jazz clubs proved exceptionally popular in African American communities during the interwar period, and it also enjoyed mainstream appeal in some locations. However, white musician unions forbade the acceptance of black musicians, so they formed an independent union. The club started as a social, post-work-day gathering place. However, the club quickly transitioned into a space for band practice, union meetings, and occasional performances. They moved into the now-historic building in 1934, which evolved into a jazz hotspot. Jazz greats routinely visited the club as they traveled through Buffalo along the jazz circuit, which also included places like Kansas City, Chicago, Detroit, New York, and even Paris. 
Until February 1917, only one musician's union existed in Buffalo, and it didn't accept black artists. So, a group of African American musicians decided to create a union that catered to people of color: AFM Local 533. By 1918, they operated a social club, dining hall, and a place to conduct band rehearsals. The Colored Musicians Club, a separate entity from Local 533, purchased a new site and moved there in 1934 (now deemed historic by New York and the National Register). The union held its meetings on the first floor while upstairs while the upstairs played host to lively jazz performances. The jazz club grew into a spot for jazz greats to visit, including Billie Holiday, Miles Davis, Dizzy Gillespie, Count Basie, Duke Ellington, and Ella Fitzgerald. 
In 1969, the American Federation of Musicians' national board ordered Buffalo's black and white musician unions to merge. Together, they created Local 92. While ostensibly serving as a sign of progress in form, the newly united association remained highly biased towards white musicians in function; thus, many black musicians found themselves without jobs. 
Today, it's the only remaining African American club in the country (the oldest-running club of its kind in the nation). Visitors can visit the first Colored Musicians Club Museum on the first floor and enjoy its multimedia archive and exhibits that tell the story of jazz history at the venue, and the broader narrative. The second floor offers visitors a chance to enjoy jazz (guests can enjoy performances and jam sessions on Sundays). The museum also strives to encourage the research and preservation of jazz history in Buffalo. In a much broader sense, the building represents American black history and the disparate cultures forged by white and black Americans during the twentieth century, both tied to legal segregation and prevailing racism that remained after the 1960s. 
Sources
Jackson, Jeffery H. Making Jazz French: Music and Modern Life in Interwar Paris. Durham: Duke University Press, 2003. 
Gargan, Edward A. "Past is Swinging at Club for 'Colored Musicians'." New York Times (New York) August 7th 1985. , B sec.2. https://www.nytimes.com/1985/08/07/nyregion/past-is-swinging-at-club-for-colored-musicians.html#:~:text=In%201969%2C%20the%20national%20board,band%20practice%20and%20jam%20sessions.
Peretti, Burton W. "Jazz, Culture, and Race in the New Deal Era." Reviews in American History 39, no. 1 (2011): 156-62. 
Warner, Gene. "Buffalo's barrier-breaking Colored Musicians Club turns 100." Buffalo News (Buffalo) February 17, 2017. https://buffalonews.com/news/local/buffalos-barrier-breaking-colored-musicians-club-turns-100/article_8f92f0c7-5f10-555c-b975-7611c0258695.html
WGRZ Staff. "Colored Musicians Club added to National Historic Preservation Registry." wgrz.com. October 16, 2018. https://www.wgrz.com/article/news/local/colored-musicians-club-added-to-national-historic-preservation-registry/71-604663036
Wolfe, Kerry. "Colored Musicians Club: Buffalo, New York." Atlas Obscura. atlasobscura.com. Accessed October 14, 2020. https://www.atlasobscura.com/places/colored-musicians-club
Image Sources
By Andre Carrotflower - Own work, CC BY-SA 4.0, https://commons.wikimedia.org/w/index.php?curid=82776579

Additional Information