Tishman Building (10 Lafayette Square)
Introduction
Buffalo's Tishman Building was completed in 1959 and the building replaced an 81-year old landmark structure that had been erected in 1876. The building ended a thirty-year drought in downtown construction in Buffalo and set in motion a string of new projects for the city's commercial center. The building was constructed by a company founded in the 19th century by Polish immigrant Julis Tishman who arrived in Buffalo in 1890 and turned the profit of his dry goods store into a multi-generational family-owned real estate and construction firm. The company continues to build new structures including One World Trade Center in New York City. Today, this building is home to office space, apartments, and a hotel.
Images
1876 Buffalo German Insurance Co. Building was demolished for the Tishman Building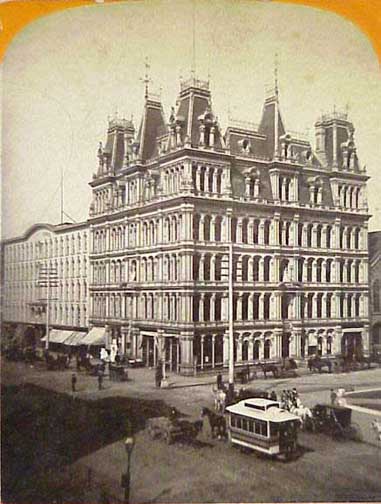 Tishman Building after its 2015 renovation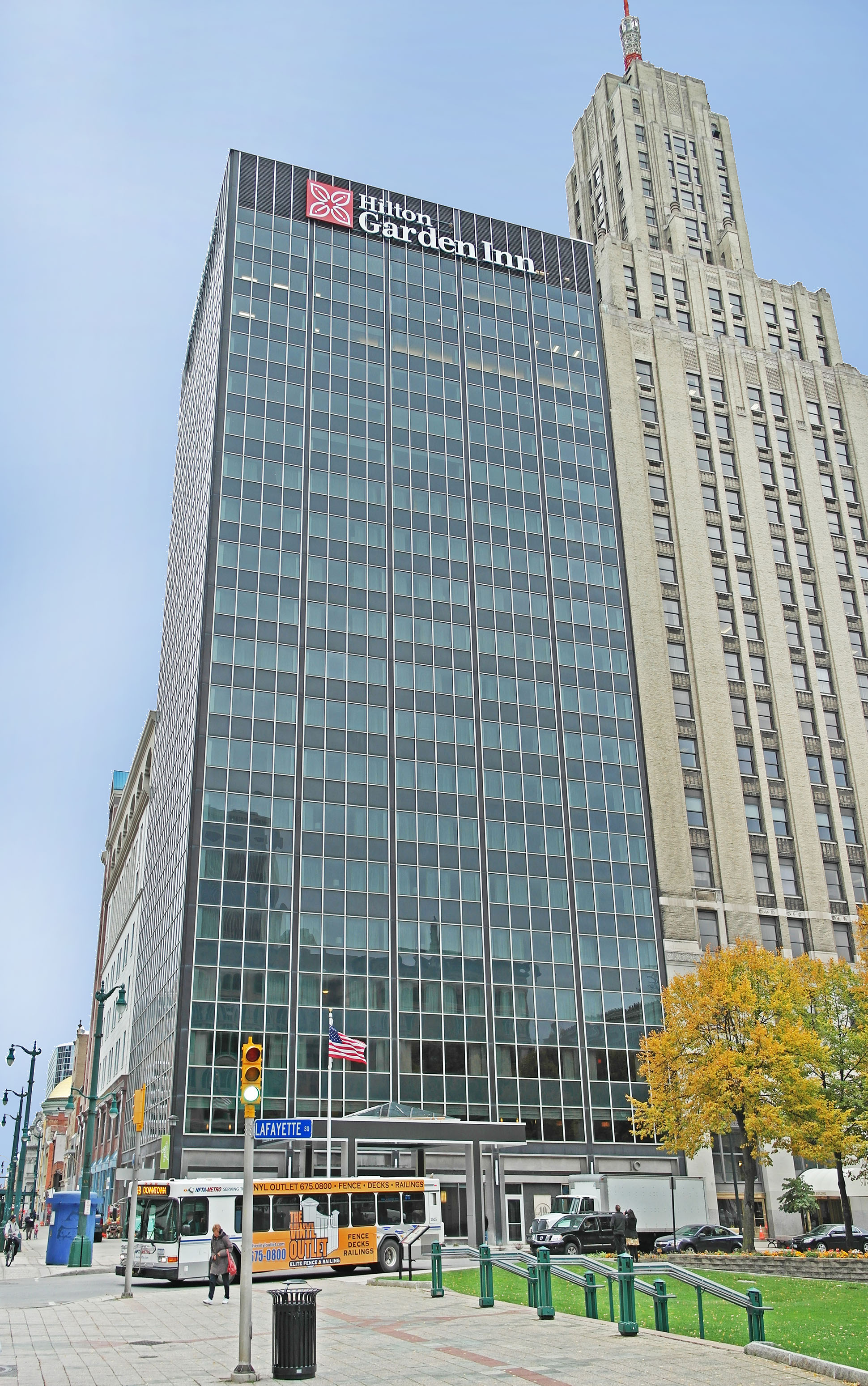 Backstory and Context
Tishman Building, or 10 Lafayette Square, is a 263-foot, twenty-story high-rise office tower completed in 1959, having replaced the six-story Buffalo German Insurance Company Building that stood on that lot for eighty-one years, from 1876 to 1957. The Tishman name comes from a Polish immigrant who turned his success as the owner of an 1895 New York City dry goods store into a real estate company that has built well-known skyscrapers throughout the country. Besides the historic Buffalo building, the Tishman name is attached to such notable skyscrapers as Chicago's John Hancock Center and the newly-built One World Trade Center, which stands in place of the twin towers destroyed during the terrorist attack on September 11, 2001.
The Tishman name comes from Julius Tishman, a Polish immigrant who moved to the U.S. (New York) in 1885. Tishman worked for a merchant on New York's Lower East Side for a few years before opening a dry goods store in 1890 followed by Julius Tishman & Sons department store. His success in the retail world allowed him to invest in real estate, starting with purchasing the tenement building where he lived with his family. Like his success within the realm of retail, his real estate investments gained in size and value so that by the 1920s he financed the building of luxury apartment buildings in otherwise undesirable locations in New York City. The risk he took proved highly profitable, and by 1928 his firm, Tishman Realty & Construction, went public on the New York Curb Exchange. 
Tishman died in 1936, but his company remained relevant throughout the twentieth and into the twenty-first century. The Great Depression and World War II changed how Tishman Realty & Construction conducted business, avoiding development projects, and instead focusing on existing properties. It wasn't until 1946 that the company started to finance original projects such as a property at 445 Park Avenue, the first office building erected on Park Avenue after World War II. The Park Avenue building existed as the first property to have central air conditioning, fluorescent lighting throughout the building, and fully automatic elevators. As the 1950s and 1960s progressed, Tishman's company expanded its reach to the entire country. By the mid-1960s, Tishman served as the second largest office landlord in Chicago, and the company built the city's landmark, 100-story John Hancock Center. 
John Tishman, grandson of Julius, took over the company during the 1970s. The company went on to build and own a vast network of commercial structures, totaling more than 300 million square feet of property in last decades of the twentieth century and early twenty first century. The company's most famous property is one of its most recent projects: One World Trade Center, which was constructed at the site of the former World Trade Center complex in Lower Manhattan. One World Trade Center stands as the tallest building in the Western Hemisphere. The massive structure took its name from the North Tower of the original World Trade Center, which had been destroyed during the terrorist attacks of September 11, 2001.
The Tishman portfolio also includes the historic Buffalo skyscraper, which replaced in 1959 another landmark six-story building that had stood on the lot for eighty-one years prior. Though the Tishman group would never build again in Buffalo, the skyscraper did set in motion a string of downtown construction projects, notable since nothing had been built for thirty years before the Tishman Building. The Tishman building was home to the Fortune 500 company, National Fuel Gas (formerly Iroquois Gas), until 2003. In May 2011, a $41 million renovation project resulted in the building transitioning to a mixed-use building that includes apartments, office space, and a 123-room Hilton Garden Inn. 
Sources
Dunlap, David . "John L. Tishman, builder who shaped American skylines, dies at 90." New York Times (New York). February 7th 2016. Located digitally at CNBC.com: https://www.cnbc.com/2016/02/07/john-l-tishman-builder-who-shaped-american-skylines-dies-at-90.html.
Traynor, Kerry L. "Nomination Form: Tishman Building." National Register of Historic Places. ny.gov. June, 2011. https://cris.parks.ny.gov/. 
Image Sources
https://buffaloah.com/a/lafsq/10/ext/10.html

http://readme.readmedia.com/The-Tishman-Building-at-10-Lafayette-in-Buffalo-to-be-honored/10843107#!prettyPhoto

Additional Information