525-531 N. Milwaukee Avenue - Langworthy's Department Store
Introduction
Built in 1940, this streamlined, stone front store replaced the old Heath residence thereby creating an unbroken line of shops on the west side of Milwaukee Avenue from Cook Avenue to Lake Street. Two commercial spaces were created here. The south portion of the building was occupied by Langworthy's Department Store, while the north housed the relocated A&P Grocery Store. Langworthy's had occupied a number of other buildings on Milwaukee Avenue since starting the business in 1911 as a general store and soda fountain. This location served as Langworthy's home from 1940 until the business closed in 2000.
Images
523-531 N. Milwaukee Avenue, circa 2016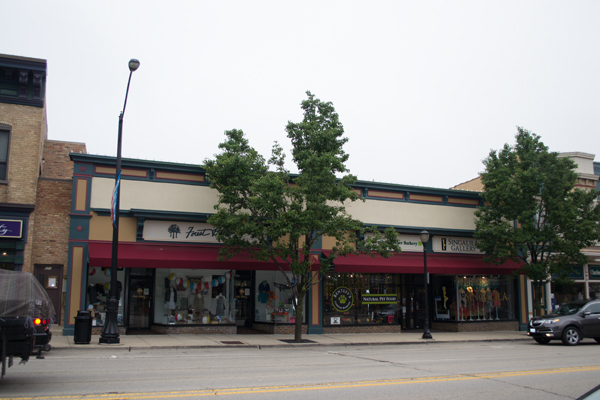 Opening of the building, 1940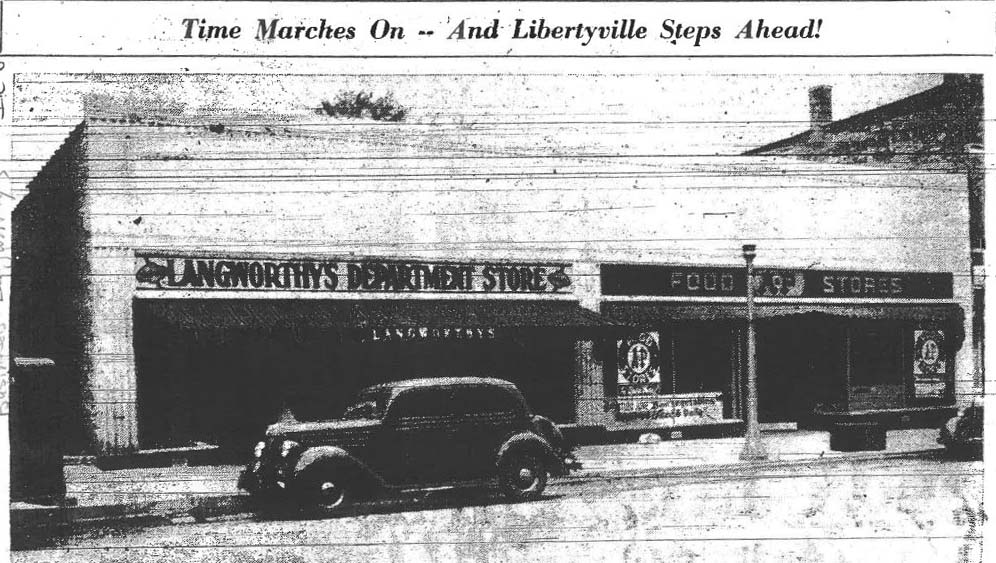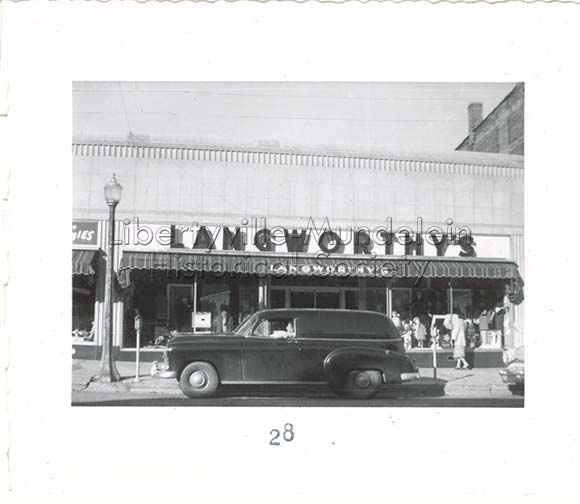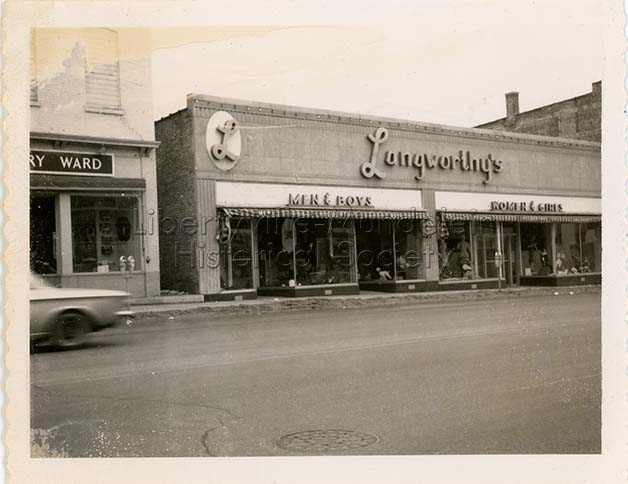 Langworthy's, circa 1974-1976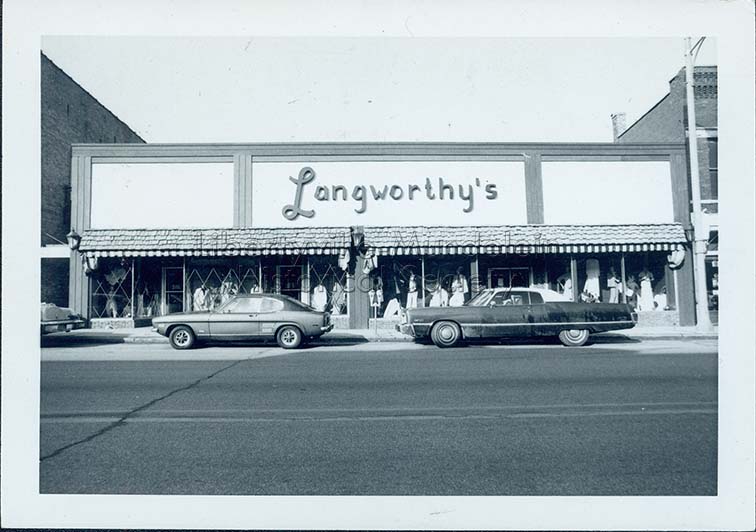 Florence Nyquist at Langworthy's, circa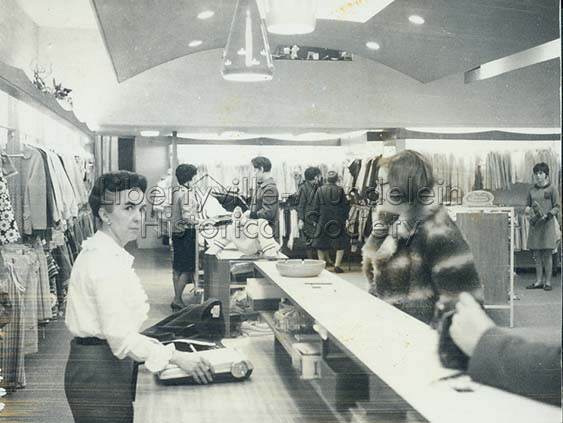 Tom Langworthy and Earl Maether at Langworthy's, circa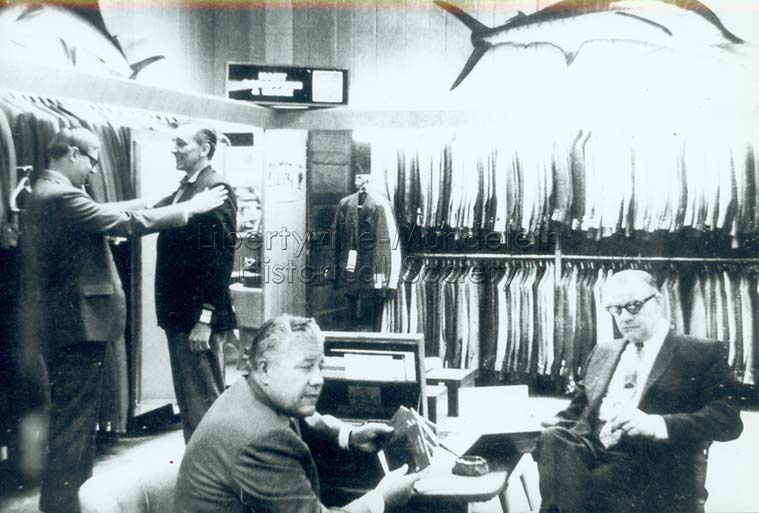 Backstory and Context
Langworthy's was a prominent part of the Milwaukee Avenue business district starting in 1911 when Earl T. Langworthy opened his first general merchandise and soda fountain. Occupying many main street spaces over the course of the following 29 years, his final store was constructed here in 1940. Two stores were the first occupants. Langworthy's was in the south location, while an A&P Grocery Store took the northern spot. Mr. Langworthy described his store as completely modern, including air conditioning, display counters, and lighting. The store offered a greater selection of all lines of merchandise and practical goods. A new fashion department was added to attract customers.
After World War II, Earl's son, Tom, took over the business. The store shifted in 1950, when Taylor and Seiler Paint and Hobbies took the south portion, moving Langworthy's to the north store. At this time, the store's focus became only men's, women's, and children's clothing.
In 1957 both stores were growing and in need of more space. Taylor and Seiler moved to another Milwaukee Avenue location and Langworthy's expanded to fill both storefronts. The connecting wall was removed, so that the two spaces became one store. The south section was the men's and boy's department, and the north section housed women's and girl's clothing and accessories. In the early 1960s, the children's clothing was discontinued.
Moving forward through time, Tom's son, Terry Langworthy, was handed the keys to the business in the 1970s, making him the third generation of owners. Under his direction, updates to the building's appearance were undertaken in 1973 and again in 1996. A cornice was added projecting over the front façade. The rear of the store was updated to include secondary storefronts.
Langworthy's closed its doors in 2000, after 60 years of serving the public at this location. Today (2020) the building is home to three businesses, Bootery Boutique, Bently's Pet Stuff, and Singalila Gallery.
Sources
Eastwood, Stephanie, "End of an Era." The Sun, February 24, 2000, pp 19 and 21.
"End of Langworthy's." The Daily Herald, February 9, 2000, Section 1, p. 3.
Historiclibertyville.com, Properties, Milwaukee Ave N 525-531.
Illinois Bell Telephone Directory, Donnelly Publishing Co., 1911-1960.
"Langworthy's Store to Occupy Half of New Building." Independent Register, April 1940, p. 1.
"New Langworthy Store Has Grand Opening Saturday." Independent Register, July, 18, 1940.
"The New Langworthy Store—A Leader in Progress." Independent Register, August 1, 1940.
"Time Marches On-and Libertyville Steps Ahead." Independent Register, August 1, 1940.
"Two Stores Hold Opening in New Building." Independent Register, June 1940.
Waller, C.L., "End of Langworthy's, Family Store Latest to Close." The Daily Herald, February 9, 2000. 
Image Sources
Village of Libertyville. HistoricLibertyville.com

Independent Register, August 1, 1940.

Libertyville-Mundelein Historical Society, Cizek Collection

Libertyville-Mundelein Historical Society, Photo Book 2

Libertyville-Mundelein Historical Society, Libertyville Township Assessor Collection

Libertyville-Mundelein Historical Society, Photo Book 2

Libertyville-Mundelein Historical Society, Photo Book 2

Additional Information