708 N. Milwaukee Avenue - Liberty Theatre
Introduction
In 1937, Frederick William Dobe engaged Chicago architects to design a theater "befitting a town of Libertyville's stature." The Liberty Theatre was the first commercial building in Libertyville with air conditioning, the workplace of a teenage Marlon Brando, and the site of a world movie premiere in 1942. The property is currently for sale by the owner.
Images
Liberty Theatre, circa 2016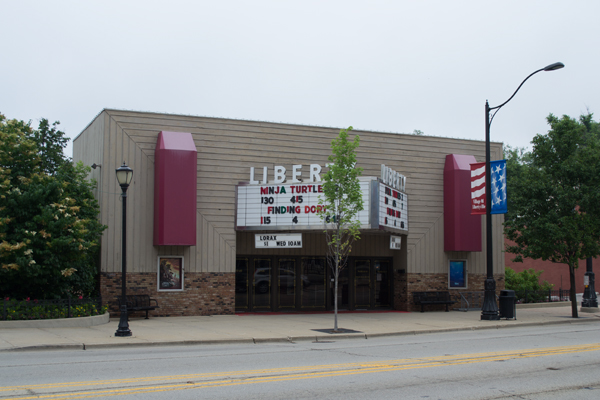 Construction begins on Liberty Theatre, 1937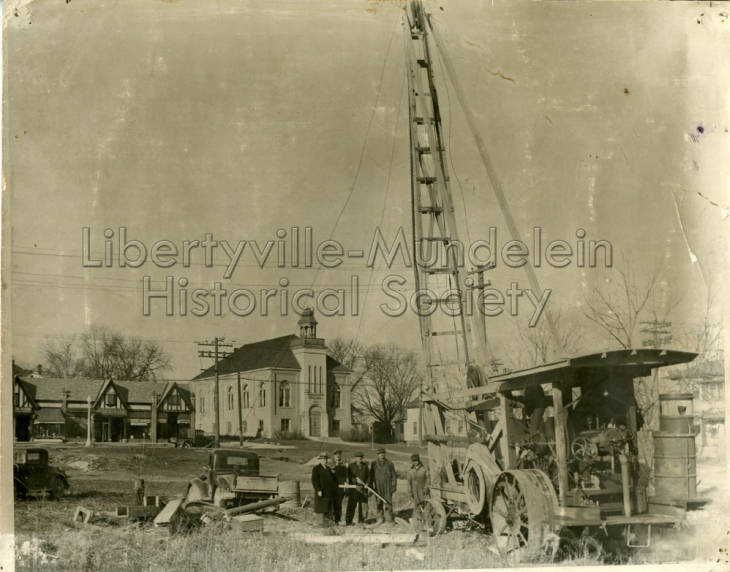 Liberty Theatre with original art deco façade, 1938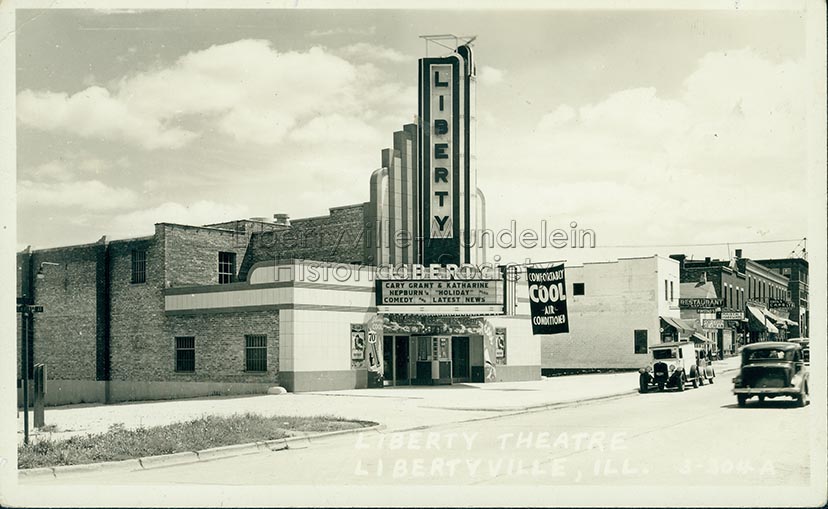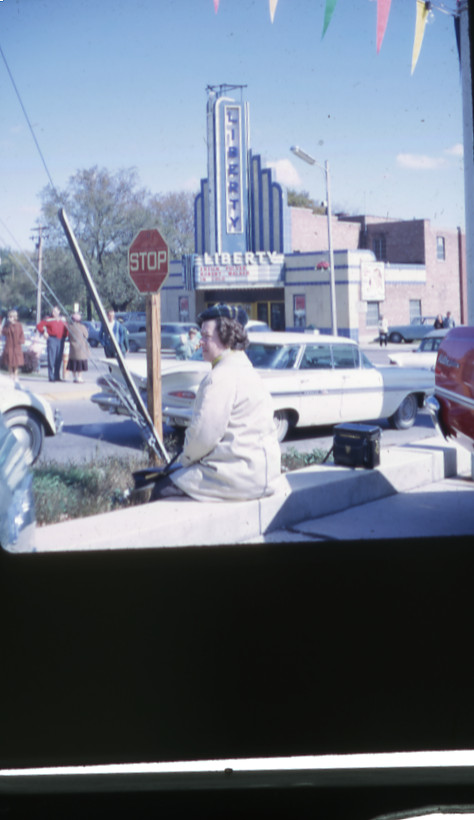 Liberty Theatre, circa 1974-1976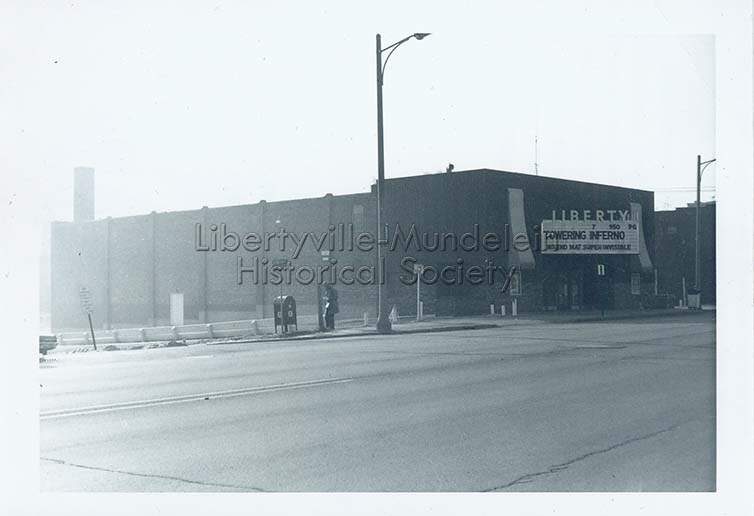 Backstory and Context
Construction began on April 9, 1937, for a building of more than 700 seats with a cream terracotta exterior and a large vertical sign in Art Deco style. The coming of the building stole the front page headline in the Independent Register the two weeks prior to the opening – "Theatre Opens August 27" (IR 8-19-1937), "Theatre Opens Tomorrow" (IR 8-26-1937). The newspaper published a Souvenir Theatre Section in the August 26, 1937, edition. Local businesses took out full page ads welcoming the new movie house, and an editorial proclaimed "Libertyville this week takes another step forward." Libertyville merchants offered "theatre opening sales" and competed in a window trimming contest.
The building opened on August 27, 1937, to a capacity crowd at both of the Friday night shows. The key to the theatre was presented to Mayor A.E. Suter, and other local dignitaries spoke before the showing of Slave Ship starring Warner Baxter, Wallace Berry, Elizabeth Allan, and Mickey Rooney. Lobby walls of satinwood veneer and red carpet aisles welcomed the audience. Air conditioning was produced by cool well water being passed over coils, which then cooled air pulled from outdoors by large fans. The manager, Robert Collier, a cashier, a ticket taker, four ushers, and the janitors contributed to the successful launch of the new theater.
Marlon Brando worked at Liberty Theatre some time between 1939 and 1941. In his autobiography, Brando: Songs My Mother Taught Me, Brando told a story about working at the theater. Apparently, he didn't like the uniforms because they made him hot. He cut up his button down shirt and sewed a pair of cuffs to his jacket to make it look like he was still wearing a second layer. He was fired when one of his coworkers told on him. In revenge, Brando continued, he chopped up rotting broccoli that had been out in the sun for two weeks, mixed it with rotten Limburger cheese and stuffed it into the intake pipe of the air conditioning system, emptying the theater. The person who fired him never figured out who did it.
The Liberty Theatre played a large role in the strong World War II war bond sales in Libertyville. In 1942, Robert Collier, theatre manager and co-chairman of the local war bonds campaign, arranged for actor James Cagney to make an appearance in Libertyville for a bond rally. Cagney arrived to a large crowd in Cook Park on the evening of September 3. During the event, Libertyville residents purchased $110,625 in war bonds (about $1.75 million in 2020 dollars).
Based on this success, Libertyville was selected as a location to host the world premiere of Desperate Journey, a movie starring Errol Flynn, Ronald Reagan, and Raymond Massey. The purchase of a war bond, ranging from $25 to $500, with higher prices for the premiere seats, was the cost of admission for the showing on September 23. While no movie stars were in attendance, the night had Hollywood style. Crowds of people lined Milwaukee Avenue while the high school band played. The guest of honor, Illinois Governor Dwight R. Green, arrived in a horse and carriage loaned for the evening by John F. Cuneo. The event was a success. Libertyville citizens purchased another $40,000 in war bonds (about $636,000 in 2020 dollars).
In the late 1960s, the Liberty Theatre was operated by Rhyan Theaters, which owned several theaters in Lake County, including the Grayslake Drive-In and McHenry Drive-In, which is still in operation. In 1968, Harry Rhyan embarked on a "vast remodeling program" at the Liberty Theatre, which included the removal of the Art Deco marquee. In the 1980s, the single, large auditorium was divided in to two smaller viewing areas.
In 2012, Scott Dehn purchased the theater business and upgraded to modern technology with the purchase of two digital projectors. The building and property were still owned by the Rhyan family, who announced in 2017 that they were putting the building and the property up for sale for potential redevelopment. The theatre remained open until January 2020.
Local individuals and organizations have investigated various plans for purchasing the property and keeping the building as a movie theater or multi-purpose building. Libertyville Mayor Terry Weppler was involved in discussions to save the building and was close to an agreement; however, the COVID-19 crisis brought the process to a halt.
Sources
Libertyville Theaters (interview with Del Mar Bock), Illinois Digital Archives. June 4th 1974. Accessed June 29th 2020. http://www.idaillinois.org/digital/collection/cookmemo11/id/8291/rec/12.
Liberty Theatre, Libertyville, Ill., Illinois Digital Archives. May 8th 2002. Accessed June 17th 2020. http://www.idaillinois.org/digital/collection/cookmemo11/id/121/rec/2.
Morrow, Joe. Let's all go to the movies: The storied history of the Liberty(ville) Theater, ShelfLife (Cook Memorial Public Library. January 25th 2017. Accessed June 17th 2020. https://shelflife.cooklib.org/2017/01/25/lets-all-go-to-the-movies-the-storied-history-of-the-libertyville-theater/.
"Are Theater's Days Numbered?." Daily Herald June 20th 2017. .
"Decorating Plans." Independent Register February 20th 1969. .
"Landmark Torn Down." Independent Register December 19th 1968. .
"Liberty Theatre Owner Seeks to Raze It." Daily Herald August 10th 2019. .
Weppler, Terry. "A Message from the Mayor." Village Views (Libertyville) . Summer 2020 ed, 1-2.
Brando, Marlon. Brando: Songs My Mother Taught Me." New York: Random House, 1994.
Independent Register, Souvenir Theatre Section, August 26, 1937.
"New Theatre Draws From Entire Area." Independent Register, September 2, 1937, p.1.
"Libertyville Buys $110,625 in Bonds at Cagney Rally." Independent Register, September 10, 1942, p.1.
"Famous Movie Star to Appear in Big War Bond Campaign." Independent Register, September 3, 1942. p.1
"To Make Personal Appearance Next Thursday Night." Independent Register, August 27, 1942, p.1.
"Liberty Theatre to Have World Premier of New War Picture." Independent Register, September 10, 1942, p.1.
"Green-Brooks are Coming: Will Participate in Bond Premiere at Liberty Theatre." Independent Register, September 17, 1942, p1.
"Theatre Bond Sale $40,000: Governor Green is Greeted By Crowd at Liberty Theatre." September 24, 1942, p.1.
Image Sources
Village of Libertyville. HistoricLibertyville.com

Libertyville-Mundelein Historical Society. Photo Book 3.

Libertyville-Mundelein Historical Society

Courtesy of David Wheeland

Libertyville-Mundelein Historical Society. Libertyville Township Assessor collection.

Additional Information