John Arch Morrison Statue
Introduction
In 1988, artist in residence Kenneth Ryden created this sculpture in honor of former Anderson College President John Morrison. The college was established in 1917, and Morrison served as the president from 1925 to 1958. In addition to guiding the institution through difficult times such as the Great Depression, he also led the transition from the school's early years as Anderson Bible Training School to an accreditated institution of higher education with courses in the arts and humanities in addition to theology.
Images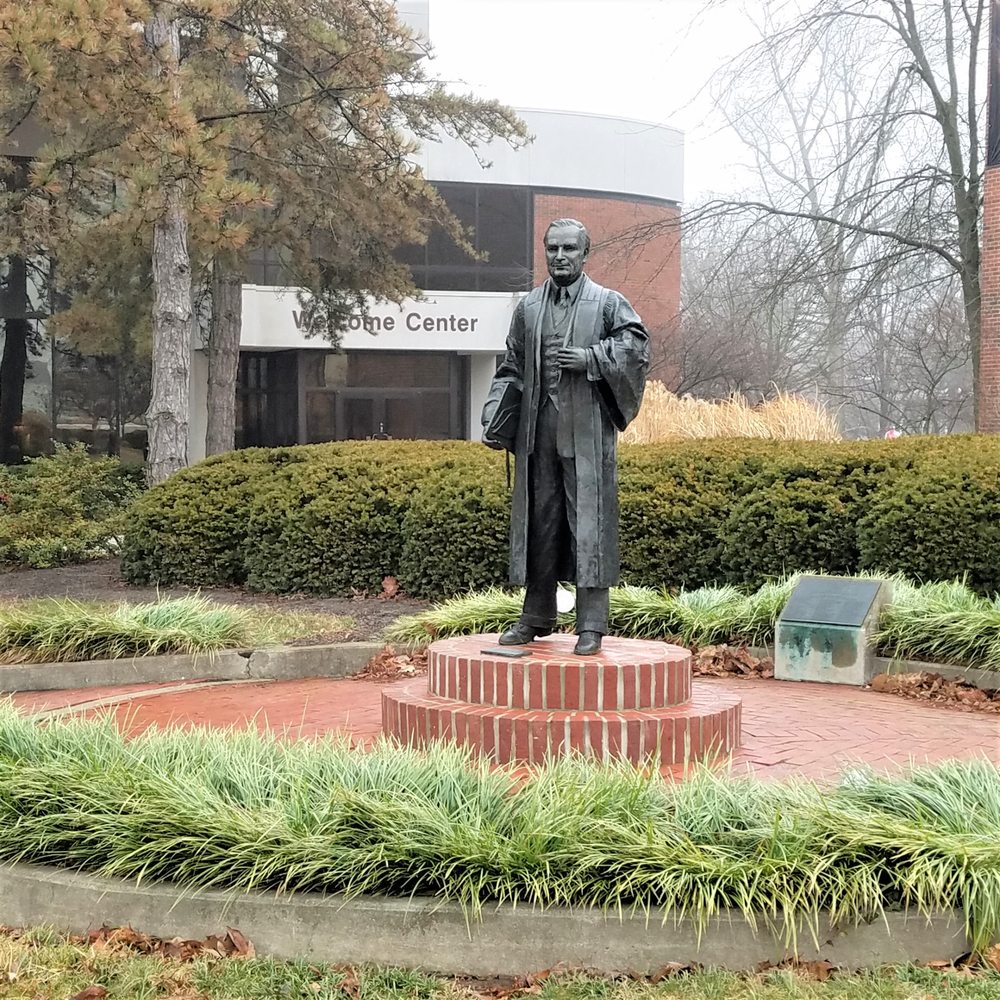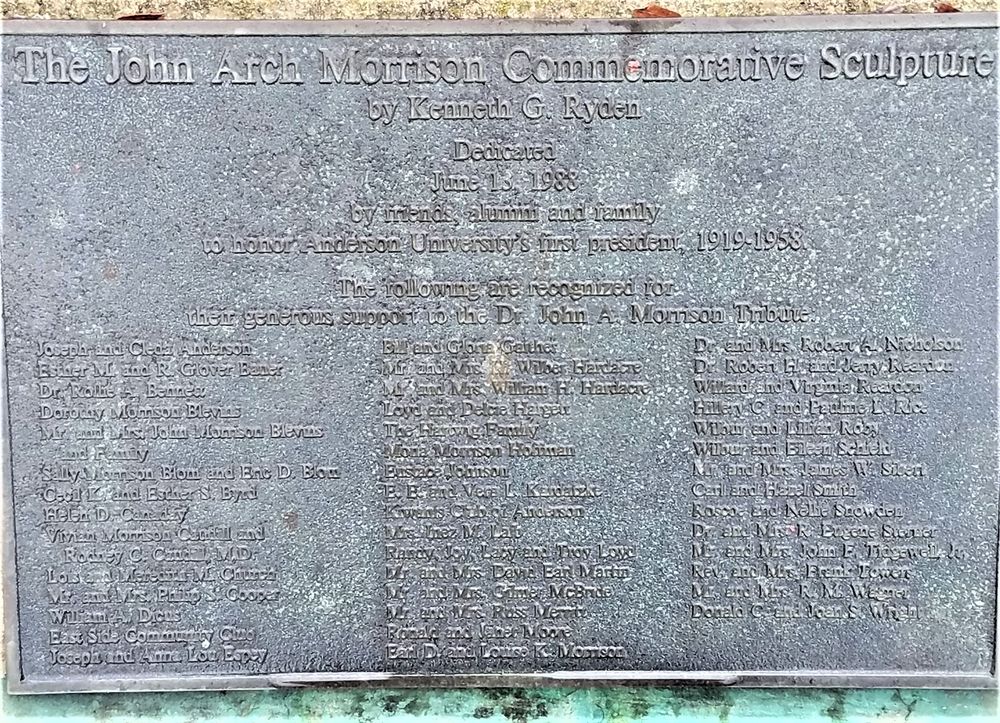 The first four Presidents of Anderson University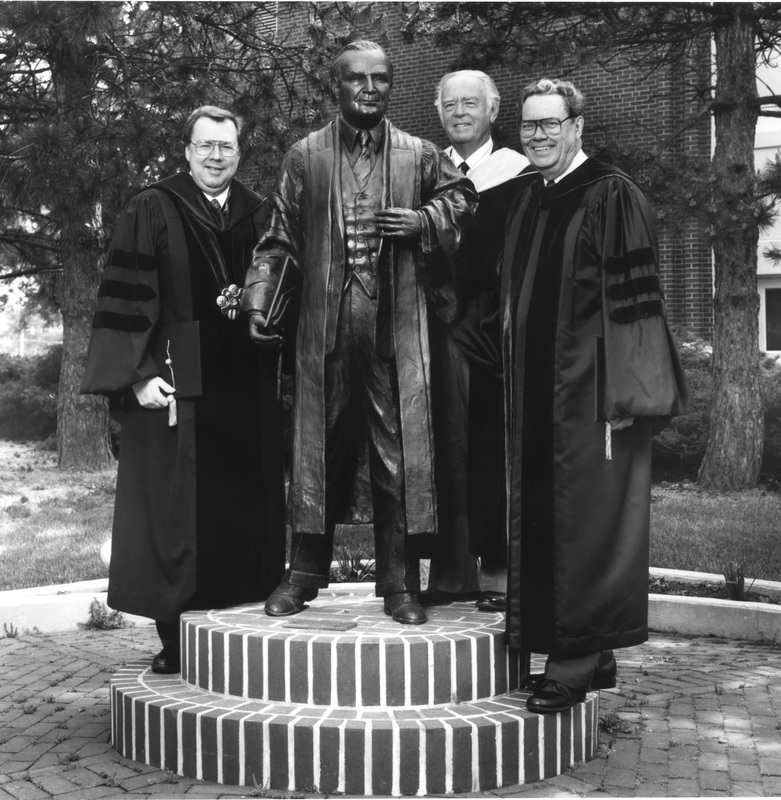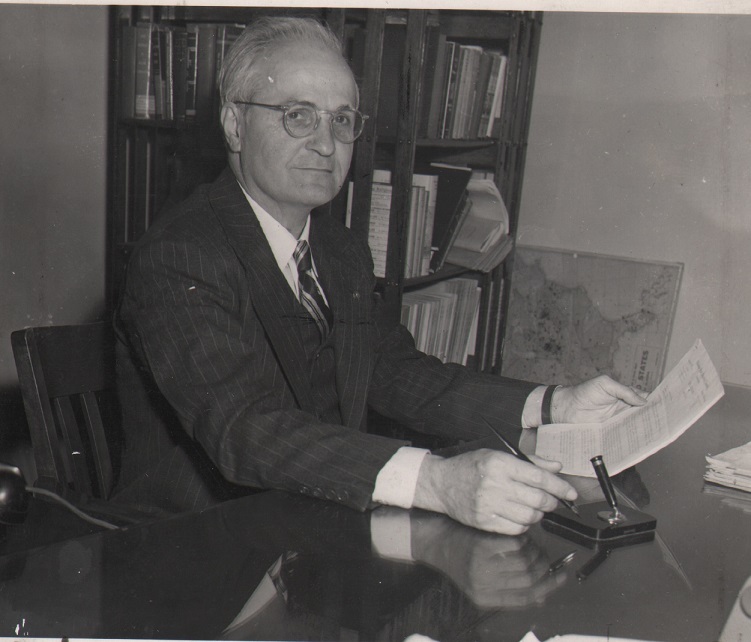 Backstory and Context
John Morrison was born in a cabin in the Ozark region of Missouri in 1893. When he was young, his father got bit by the moving bug. By the time John's age hit double digits, his family had moved ten times around the Ozark region. Even with the uncertainty of moving, Morrison grew up in a very supportive family. He would intermittently attend school in between helping his family with the chores around the house. 
In his early years, John Morrison had three events that shaped his life of faith and service. The first event was in 1907 when his mother died as a result of a miscarriage. In November of the same year, his father remarried Mrs. Amanda Martin. She had three children that combined with the seven Morrison kids. John and his stepbrother, Earl, started a life-long relationship. Even though they had different parents they loved each other like brothers. Half a century later, Earl would be working alongside John at Anderson College. The second event was Morrison's first steady job. For some income to help his financially struggling family, John and Earl both became teachers in small Ozark Schools. John began to teach in a small schoolhouse in a near-by village. His early teaching experience was difficult, but it prepared him for a career in Higher Education. The third event was Morrison's conversion to the Church of God Movement, a denomination whose main goal was to eliminate sectism in the Church. After D.S. Warner's traveling evangelist group visited the Ozarks, Morrison became a follower of the movement. Eventually, John and his wife, Eunice, would move to Colorado to pastor a Church of God Church. 
On February 10, 1919, while pastoring in Colorado, Morrison received a letter from J.T. Wilson, the principal of Anderson Bible Training School. At the time, the school was still in its infancy; it was established in 1917 as a Church of God school in central Indiana. The letter referenced Morrison's experiences as a teacher and a pastor and asked him to consider coming to Anderson to teach. Although he did not feel qualified, he decided to take a risk and move his family again, this time to Anderson, Indiana. He began his first year teaching in October of the same year. In 1925, after several successful years of educating Church of God Pastors, the leadership of Anderson Bible Training School decided to make some necessary changes to expand the college. The trustees established a Board of Trustees, changed the name from Anderson Bible Training School to Anderson College, and elected John Morrison as President. (J.T. Wilson had left to take a pastorate job in Louisville.)
 As President of the College for 37 years, he guided the school through numerous times of difficulty. Morrison stresses in his autobiography that he could not have led the College alone; he had tremendous help from Earl Martin and the Dean of the Collge, Russel Olt. During his tenure, two moments of difficulty really stand out. First, in 1929, the stock market crashed resulting in the Great Depression. Like many other small colleges, Anderson College suffered and almost had to close. The College could not support the faculty. They survived on a salary of about $600 a year and credit from the local general store. For many of the experienced faculty, it would be a better choice for them to look for jobs at other institutions. Instead, none of them left; they kept taking pay cut after pay cut as still remained loyal to the school. Anderson College may not have survived without the leadership of John Morrison and the generosity of Sam Bathauer. (Bathauer was the owner of the local general store. He let college faculty purchase from his store with credit, and when the economy started getting better he generously forgave their debts). 
Morrison also guided Anderson University through its first accreditation process. In 1934, President Morrison and Dean Olt recognized the importance of accreditation to remain competitive with other small colleges. Under the guidance of Olt, they set their inspection date with the Indiana Department of Public Instruction in 1937, giving the school just three years to prepare. They were accepted and accredited in Indiana on an annual basis; however, Olt and Morrison did not want to stop there. They set their sights on accreditation with the North Central Association of Colleges and Secondary Schools. The first step was to get an early inspection to learn what changes are necessary, but when the inspection was finished in 1942, it was embarrassing for Anderson College. They had four years to rework the school to fit into a specific blueprint. In March of 1946, Olt and Morrison traveled to Chicago for the annual meeting of the North Central Association. On Wednesday, March 27, the association met in a full session and announced the names of the newly accredited schools in alphabetical order. Anderson College was the first name read. After the ceremony, Dean Olt phoned the campus to provide them with the good news. That night when Morrison and Olt returned to campus, they were met with a parade from the faculty and students that lasted late into the night.
John Morrison served as the President of the College until his retirement in 1958 due to health complications. On June 13, 1988, the University unveiled a statue of President Morrison in front of the main administrative building, Decker Hall. The bronze sculpture was made by the artist in residence Kenneth G. Ryden. While creating the statue Ryden said: "Creating the sculpture of Dr. Morrison has been a rich and meaningful experience for me. I did not know him personally, but I feel as though I did. I see evidence of his achievements throughout this institution and in the vivid memories of his family and friends." 
Sources
Callen, Barry. The Guide of Soul and Mind: The Story of Anderson University. Anderson, Indiana. Warner Press, Inc, 1992.
Morrison, John A.. As The River Flows. Anderson, IN. Anderson College Press, 1962.
Strege, Merle D.. The Desk as Alter: The Centennial History of Anderson University. Anderson, Indiana. Anderson University Press, 2016.
Image Sources
https://www.yelp.com/biz/john-morrison-statue-anderson

https://www.yelp.com/biz/john-morrison-statue-anderson

Anderson University & Church of God Archives

Anderson University and Church of God Archives People Files

Additional Information