Charles W. Squires House
Introduction
Charles W. Squires was an architect who contributed his talents to designing scores of buildings in town and thousands in Kansas in the late nineteenth and early twentieth centuries. Squires designed the house at 613 Exchange Street in 1895 for himself and his wife, Susan Howey. Squires was fond of adding quirky details to his houses, such as shingles that curved toward a window instead of laying flat like normal cladding. The architect lived in the home until his death in 1934. The home was been carved up into rental apartments and was up for sale in early 2020.
Images
Charles W. Squires House in Emporia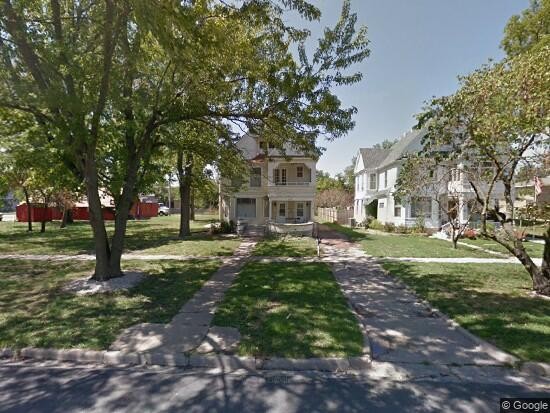 Recipe for roast wild duck contributed by Mrs. Susan Squires to the local First Presbyterian Church cookbook in 1900

Emporia newspaper article mentioning marriage of Charles W. Squires to Susan Howey in late 1881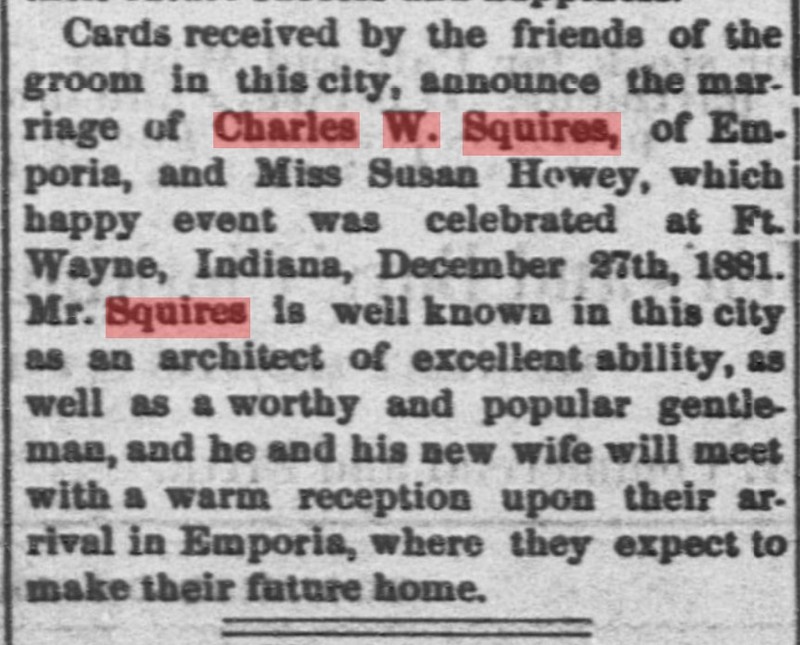 Backstory and Context
Charles Wesley Squires was born on Long Island, New York, in 1851 and moved to Ohio in 1870 to study architecture in Columbus. He moved to Fort Wayne, Indiana around 1876 and then relocated to Springfield, Illinois in 1877. His next move was his last, to Emporia in 1879. He married Susan Howey in Fort Wayne in 1881 and had three children: Shirley in 1885, Wesley H, in 1886 and Anna S. in 1890. He and his young family moved to their new home at 613 Exchange Street designed by Mr. Squires in 1895. The family was part of the congregation of Emporia's First Presbyterian Church. See the images for a copy of the recipe Mrs. Squires contributed to a cookbook published by the church in 1900.
Squires designed two more houses on the same block as his home. Right next door to the north is a very similar house that Squires designed for the long-time superintendent of Emporia schools, L.A. Lowther. Further up the street, at 637 Exchange Street, is the 1906 home of Dr. William Meffert. Years before he designed these houses, he was the architect for the Emporia High School (1880), the International Order of Oddfellows (I.O.O.F.) Hall at Emporia (1880), the Fifth Avenue Hotel in Emporia (1881), the Osage County Bank in Osage City (1881), the Whitley Opera House in Emporia (1881), and the Welsh Congregational Church in Emporia (1882), among dozens of others.
The Squires home was occupied in 1910 by Charles W. Squires (age 56); his wife, Susan (50); their daughter, Shirley (25); their son-in-law, William C. Nash (35); and their married daughter, Anna S. (20). Shirley was a stenographer in a real estate office and William worked in a "moving pictures" theater. The son of Charles W. and Susan (Wesley H.) had passed away by 1910, according to the population census data. In 1920, Shirley was no longer living in the house, but a young grandson, Charles W. Nash, had been added to the family. The elder Nash worked in 1920 as a promoter for an oil field. By 1930, the elder Nash had passed away but the rest of the family still lived at 613 Exchange Street; one roomer also resided in the house. Charles W. Squires was buried in Maplewood Memorial Lawn Cemetery in town after his death in 1934; Susan died in the prior year.
The nearly 3,000-sqare foot home currently has three apartments within. The two-bedroom ground floor apartment is below two one-bedroom apartments on the second story - one with a balcony. Most of the windows have been replaced with vinyl and two of the apartments contain new flooring.
Sources
Gardiner, Tiger. Comment to Restoring Emporia blog entry, Looking for Mr. Squires, by Restoring Ross. August 7th 2014. Accessed June 29th 2020. https://restoringross.com/looking-for-mr-squires/.
Hanschu, Steven. Mallein, Darla Hodges. Emporia. Images of America. Charleston, SC. Arcadia Publishing, 2015.
MacTaggart, Ross. Looking for Mr. Squires, Restoring Emporia blog by Restoring Ross. August 7th 2014. Accessed June 29th 2020. https://restoringross.com/looking-for-mr-squires/.
Murphy, Regina. "Starting the new century off right: Emporia recipes from 1900 - 1929." Emporia Gazette (Emporia, KS) December 5th 2007. News sec.
Smith, Brandy. 613 Exchange St, Emporia, KS 66801, Zillow.com. February 27th 2020. Accessed June 29th 2020. https://www.zillow.com/homedetails/613-Exchange-St-Emporia-KS-66801/300561684_zpid/.
Image Sources
Zillow real estate listings, https://www.zillow.com/homedetails/613-Exchange-St-APT-1-Emporia-KS-66801/2124578816_zpid/

Emporia Gazette newspaper article about historic recipes of Emporia from 1900 to 1929 (Murphy 2007)

Emporia Weekly News, January 5, 1882 p. 5 (Library of Congress Chronicling America website)

Additional Information