International Swimming Hall of Fame
Introduction
Michael Phelps was born June 30th, 1985 in Baltimore Maryland. Michael Phelps was raised with a family of swimmers and started swimming at the age of seven. He is the most decorated Olympic athlete with a total of 28 medals including 23 gold medals. Michael turned his love for the sport into a remarkable career. The International Swimming Hall of fame is the mecca for swimming, diving, water polo and synchronized swimming. The museum, library, and archive contain the worlds largest collection of aquatic memorabilia and the largest source of books, manuscripts and literature. The sport of swimming doesn't really have many statues or artwork that pay tribute to and recognize the talent of swimmers. The International Swimming Hall of Fame wants to change that. Michael Phelps raised the interest and awareness of the sport. They wanted to recognize him and his intense efforts.
Images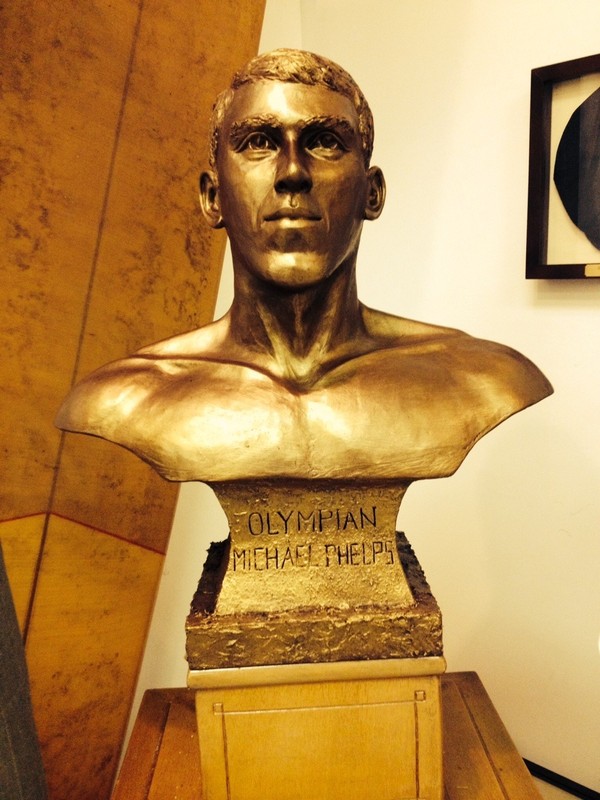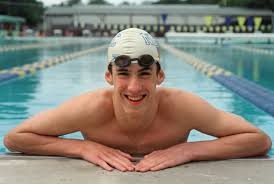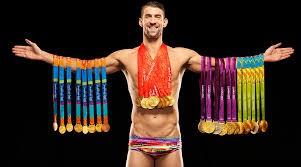 Backstory and Context
Michael started swimming at the age of seven. He and his family were all into swimming. They all swam at the North Baltimore Aquatic Center. He began to love the sport and excel at it at a very young age. 
Michael Phelps started his Olympic career at the age of 15 at the Sydney Olympics in 2000. At 15 he began setting world records and he continued to do that throughout his entire swimming career. Michael Phelps became the most decorated athlete to perform in the Olympics. He is very dedicated to his job and loves what he does. There are no days off for Michael Phelps. He gets into the pool on holidays and even his own birthday. His hard work and dedication are what sets him apart from the other athletes and it payed off.
In 2001 at the age of 15 Michael Phelps was swimming in the U.S. Spring Olympic games and set the world record for the 200m Butterfly posting a score of 1 minute 54.92 seconds. This was just the beginning of Michael Phelps breaking records in the sport of swimming. A year later he ended up winning his first ever international title at the world championship in Fukuoka Japan.
 In 2002 Michael Phelps claimed five medals, including three gold at the Pan Pacific Championship at the U.S. Spring Nationals in 2003 he became the first ever male swimmer to claim three titles in three different swimming strokes at a single national championship. Michael Phelps went on to break five individual world records at the championship in Barcelona Spain. To finish off his astonishing young career he went on to win five more titles at the U.S. summer nationals. This was the most wins by a single swimmer in a championship.
In the 2004 Olympic games in Athens Greece he started to dominate on the Olympic stage. He captured six gold medals, two bronze medals while setting five Olympic world records. While Phelps was dominating the sport, he ended up tying Mark Spitz Olympics records.
The 2008 Olympics in Beijing is where the whole world got to witness history from the greatest swimmer ever. Going into these Olympics Michael Phelps had a mission and that was to beat Spitz's record which had lasted 36 years. The record was suddenly going to change because Michael Phelps started off strong taking gold in the first three events. To finish his trip at the 2008 Olympics he went on to break Spitz's record and won eight gold medals. This was by far one of the most entertaining Olympics in recent history.
 Four years later at the 2012 Olympics in London, once again Michael Phelps put on a show that didn't disappoint. Believe it or not he didn't start the way he had hoped to. He didn't medal in the first event. In his next event he ended up winning silver in two events. He finally won a gold medal in the 4x 200-meter freestyle. That win that was his 19th career Olympic medal passing soviet gymnast Larisa Latynina. Michael Phelps ended the London Olympics games with a gold medal then announced he was planning to retire after those games.
He ended up missing the sport and competition and decide to give it one more run at 2016 Olympics in Rio De Janeiro in Brazil. He was the flag bearer representing the U.S. at the opening ceremonies. His final event which was the 200-meter butterfly. By no surprise it was going to be emotional for Michael Phelps and deep down he wanted to win that gold for his country and go out like a champion. That is indeed what Phelps ended up doing beating Chad Le Cos by four-hundredths of a second. Michael Phelps got to end an amazing swimming career on a high note. Michael Phelps finished with a total of 28 Olympic medals. Some might say Michael Phelps is the Michael Jordan of basketball. He had historic swimming career and I am glad I got to witness greatness throughout the different Olympics.
In 2014 a statue of Michael Phelps was erected at the International Swimming Hall of Fame in Ft. Lauderdale Florida. He would not be eligible to be elected to the Hall of Fame until at least 2016. However, many officials and fans alike believed he deserved the statue because of his great, unheard of accomplishments in the sport.  
Sources
The Editors of Encyclopaedia Britannica. (2020, February 14). Michael Phelps. Retrieved from https://www.britannica.com/biography/Michael-Phelps
Michael PHELPS. (2019, September 18). Retrieved from https://www.olympic.org/michael-phelps
Crouse, K. (2008, August 17). Phelps's Epic Journey Ends in Perfection. Retrieved from https://www.nytimes.com/2008/08/17/sports/olympics/17swim.html
Museum. (n.d.). Retrieved from https://ishof.org/museum.html
Michael Phelps Statue Put On Display at International Swimming Hall of Fame For First Time. (2014, January 9). Retrieved from https://swimswam.com/michael-phelps-statue-put-display-international-swimming-hall-fame-first-time/