Calamity Cafe (1992-2005)
Introduction
Located at the corner of Third Avenue and Hal Greer Boulevard, Calamity Cafe was popular among Huntington locals for over a decade. The cafe, which opened for business in 1992, was owned and operated by Terre Thomas and Roy Clark. The cafe featured a Southwestern-themed menu, with popular items like Black Goddess Earth Pasta and cheese soup. Calamity Cafe was best-known as a popular venue for local musicians, artists, and poets. However, this evening portion of Calamity's business declined following a 2004 ordinance banning smoking in Cabell County restaurants. While bars and night clubs continued to permit smoking until a new ordinance in 2010 expanded the ban, Calamity Cafe's owners found their status as a restaurant prohibitive and they closed the business in 2005. Various establishments have occupied the building over the next fourteen years. The most successful of these establishments, Black Sheep Burritos and Brews, also held live music in this space before moving to a larger building in Pulman Square. In September 2019, Calamity J Grill & Bar opened at the location. The restaurant was inspired by the original Calamity Cafe and offers a Southwestern-inspired menu, including some of the cafe's old menu items.
Images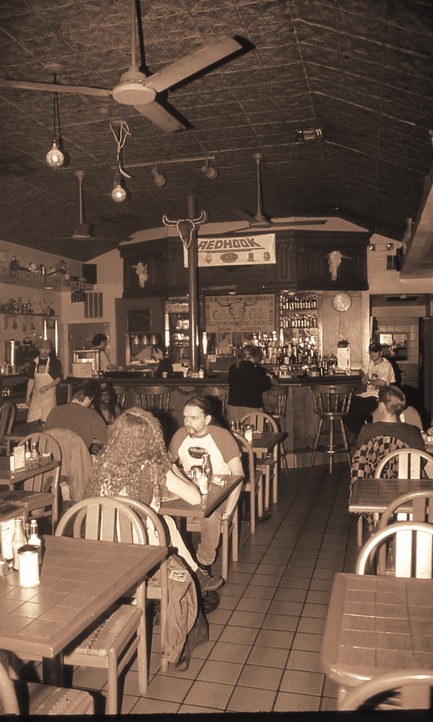 A sign inside Calamity Cafe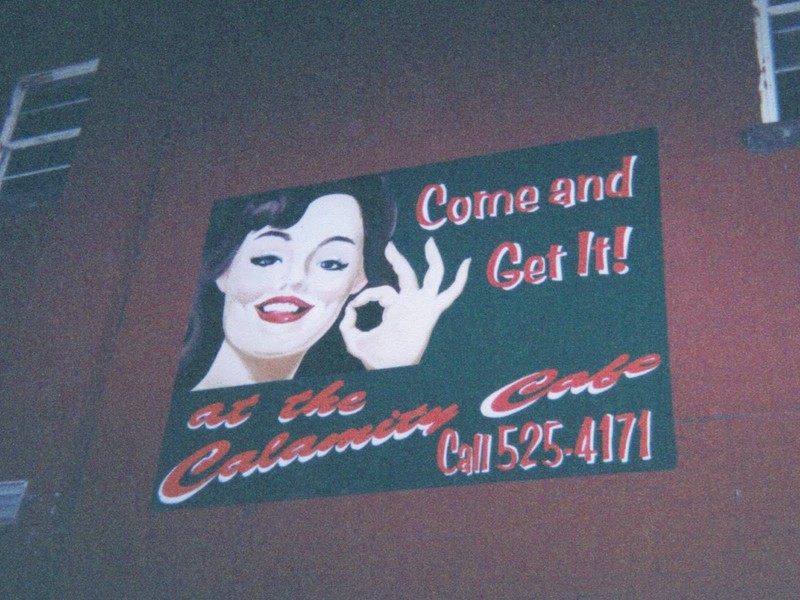 The recipe for Calamity's cheese soup was published in the newspaper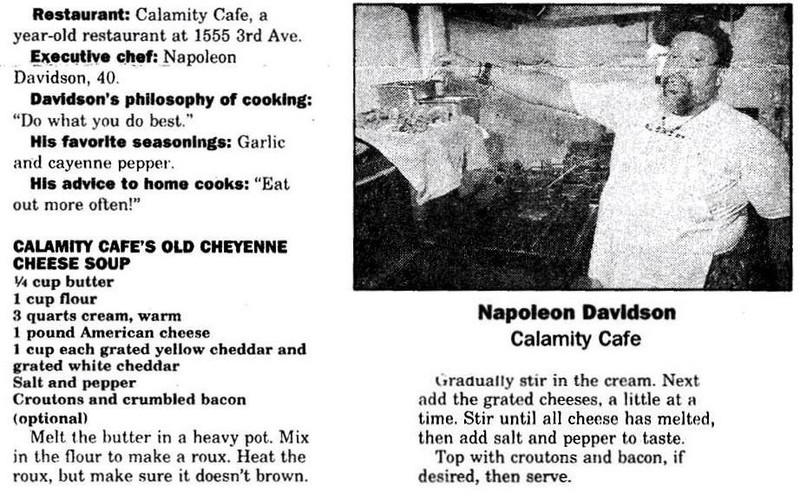 The former cafe also housed the Java Joint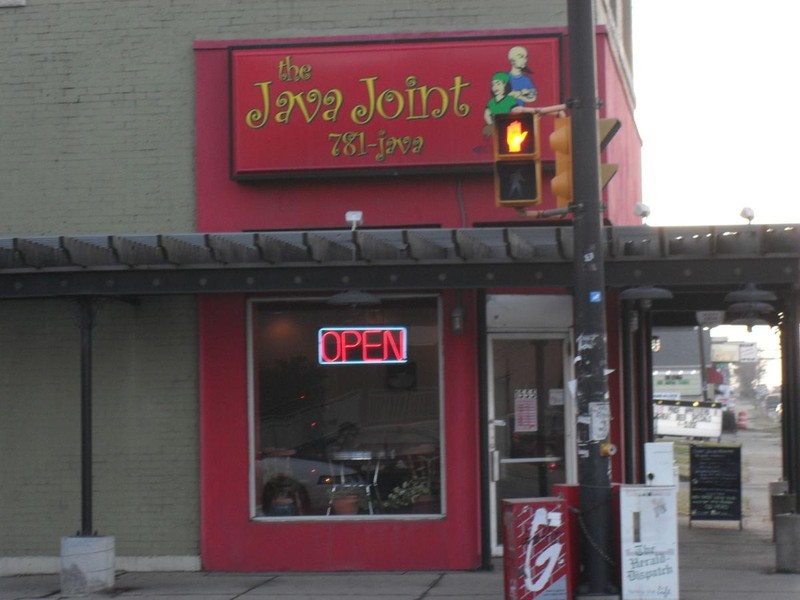 The building also housed Black Sheep Burrito & Brews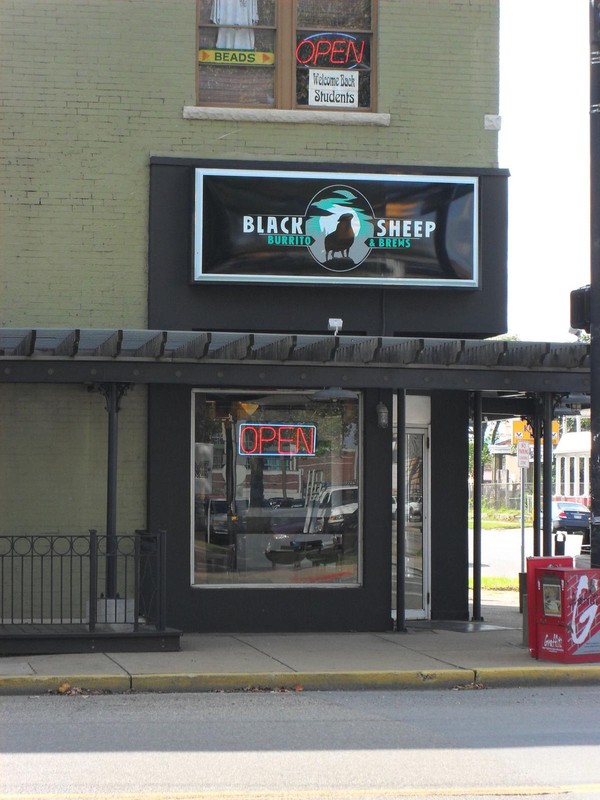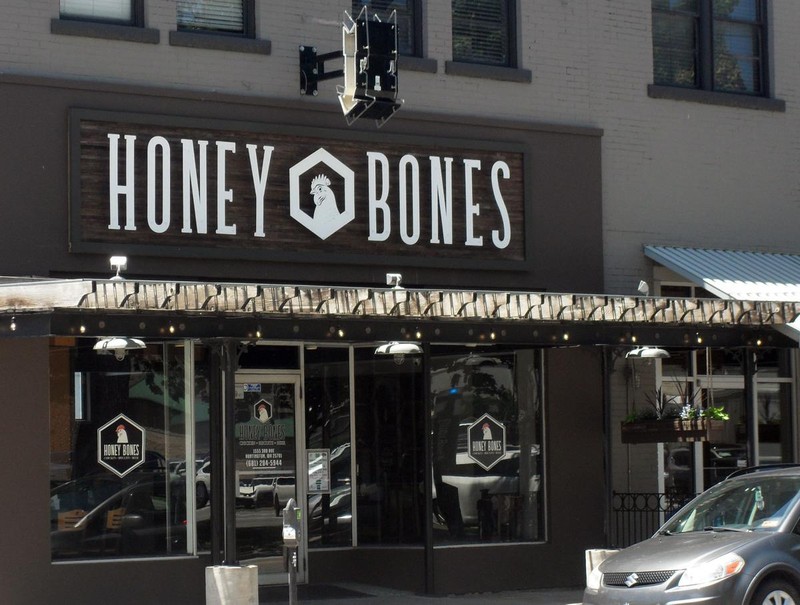 Remodeling of the new Calamity J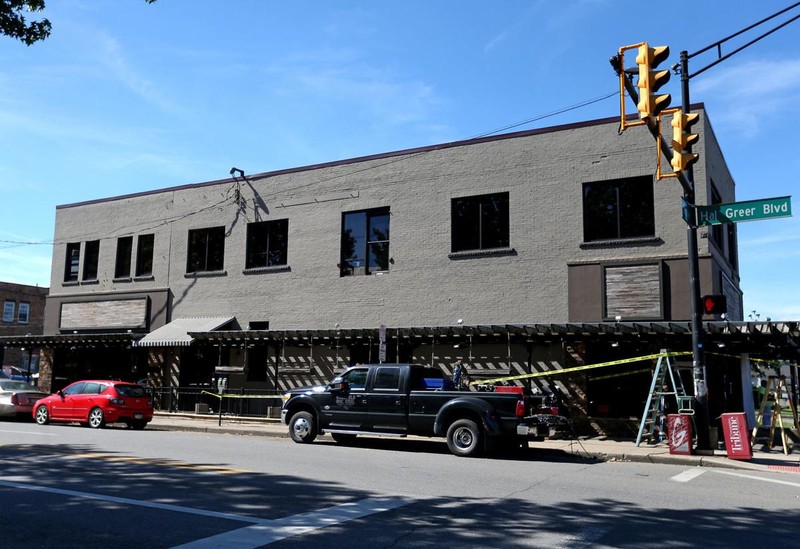 Inside the new Calamity J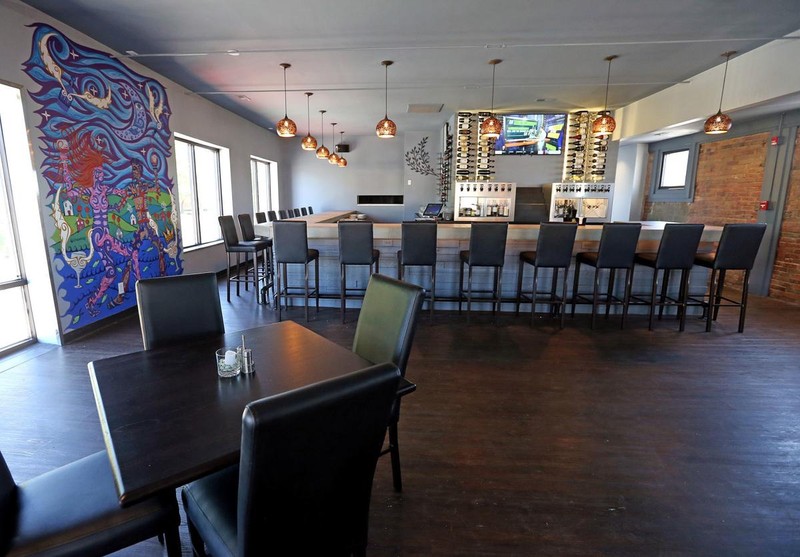 Mural inside the new Calamity J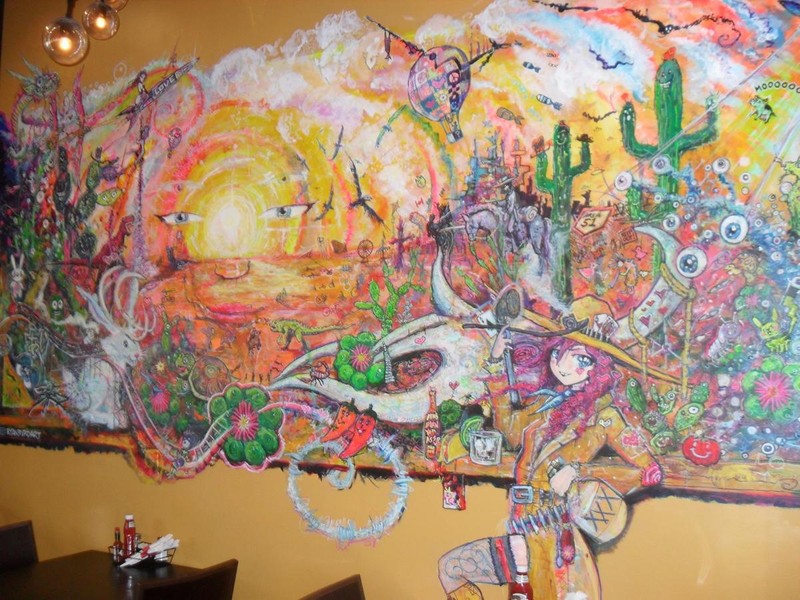 Backstory and Context
Calamity Cafe was opened in 1992 by the husband and wife team of Roy Clark and Terre Thomas. Situated at the corner of Third Avenue and Hal Greer Boulevard, the cafe was conveniently located next to the Marshall University campus. With its Southwestern-inspired menu, it quickly became a favorite among students, faculty, and other locals. Most of Calamity's dishes had creative names, such as Psychedelic Nachos, a plate loaded with multi-colored chips, beef, chili and a host of peppers and cheeses. Also popular was the Black Goddess Earth Pasta, which featured chili pepper pasta, Black beans, chicken, scallions and cheese alongside sides of salad, cornbread, and sourdough rolls. The cafe's soups were equally popular, including Black bean soup, baked potato soup, and fan favorite cheese soup. For dessert, the cafe offered treats like Arizona Mud Pie and Dirty Roy's Peach Cobbler.  
For many, Calamity Cafe was more than a restaurant. Despite being adjacent to the Marshall campus, the cafe drew in a wider audience than just college students and faculty. With its eccentric decor of art and antiques, the cafe allowed local artists to showcase their works, and frequent concerts and open mic nights enabled musicians and poets to share their talents. Although Calamity was too small to accommodate a real stage, the venue made do by clearing a corner of the seating area for performers. The cafe featured a revolving schedule of acts, with different themes each night. Tuesday, for instance, was Blues Night, with specials on Bleu Cheese burgers and blue drinks. Wednesday was open mic night, and Thursday was dedicated to folk music, while Fridays and Saturdays featured a mix of local and regional acts. 
With its tasty food and unique music scene, Calamity Cafe was a local favorite for over a decade. In 2004, however, Cabell County enacted a ban that prohibited smoking in all places aside from bingo halls and bars, which it defined as establishments where over eighty percent of sales came from alcohol. Because Calamity Cafe operated as a restaurant by day, it did not qualify as a bar, so smoking in the building was banned. According to Calamity's owners, business almost immediately declined by thirty percent following the smoking ban, and in 2005 the cafe closed its doors for good. Over the years that followed, Calamity's iconic building was occupied by several different restaurants. Shortly after the cafe closed, it housed the Java Joint, a coffee house that also offered breakfast and lunch. In 2011, Patrick Guthrie and Jessica Bright opened Black Sheep Burrito and Brews at Calamity Cafe's former location. The restaurant proved successful, and, after undergoing a remodeling and expansion, it relocated to Pullman Square in 2017. After Black Sheep moved to its new home, Guthrie and Bright opened Honey Bones, an upscale fried chicken restaurant, in June 2018.  
In September 2019, a new restaurant was opened on the corner of Third Avenue and Hal Greer Boulevard. Named in honor of the old Calamity Cafe, Calamity J Grill and Bar is a new version of the former eatery. It was opened by Clint Artrip, who founded the Fat Patty's regional chain of restaurants before he sold them in August 2018. When he saw that Calamity's former building was for sale, Artrip decided to purchase it and bring back his own spin on the cafe's concept. Downstairs, the restaurant features a sports bar and large dining room, while the upstairs offers a wine bar, bistro, and large outdoor balcony. Like Calamity Cafe, Calamity J's menu is Southwestern-inspired, and even features many of the cafe's popular menu items and recipes, like the Earth Goddess Penne Pasta and the cheese soup. 
Sources
Casto, James E. Lost Huntington: Calamity Cafe, Huntington Herald-Dispatch. August 20th 2019. Accessed May 26th 2020. https://www.herald-dispatch.com/special/lost_huntington/lost-huntington-calamity-cafe/article_f023d6c3-b9d9-5af7-9eb2-cc5c799c5585.html.
Casto, Jim. Huntington's Favorite Former Eateries, Part 2, Huntington Quarterly. Summer 2011. Accessed May 26th 2020. https://huntingtonquarterly.com/2018/09/26/issue-74-former-eateries/.
Pace, Fred. New version of 'Calamity' opens in same location, Huntington Herald-Dispatch. September 29th 2019. Accessed May 26th 2020. https://www.herald-dispatch.com/business/new-version-of-calamity-opens-in-same-location/article_4dc787b3-1370-5476-9796-f09ee17becc6.html.
Sebert, Paul. Calamity J a recreation of original restaurant, Huntington Herald-Dispatch. October 17th 2019. Accessed May 26th 2020. https://www.herald-dispatch.com/features_entertainment/dining_guide/calamity-j-a-recreation-of-original-restaurant/article_5b3403dc-48a1-54aa-97a5-2465b7040f83.html.
Image Sources
https://huntingtonquarterly.com/2018/09/26/issue-74-former-eateries/

http://hcarblog.blogspot.com/2011/04/barography-calamity-cafe.html

https://www.facebook.com/photo.php?fbid=1500753389964849&set=p.1500753389964849&type=3&theater

https://www.herald-dispatch.com/features_entertainment/java-joint-juggles-coffee-comfort-food-breakfast/article_8096f93c-30d6-52d8-8a33-8f4565af78c3.html

https://www.herald-dispatch.com/features_entertainment/black-sheep-offers-specialty-burritos-brews/article_d4d2af82-1e0c-50e9-9c4b-c2659d5f13a6.html

https://www.herald-dispatch.com/features_entertainment/dining_guide/honey-bones-focuses-on-chicken-biscuits/article_26b753a5-483c-5217-8bf4-9a2cc7fdadc2.html

https://www.herald-dispatch.com/business/new-version-of-calamity-opens-in-same-location/article_4dc787b3-1370-5476-9796-f09ee17becc6.html

https://www.herald-dispatch.com/business/new-version-of-calamity-opens-in-same-location/article_4dc787b3-1370-5476-9796-f09ee17becc6.html

https://www.herald-dispatch.com/features_entertainment/dining_guide/calamity-j-a-recreation-of-original-restaurant/article_5b3403dc-48a1-54aa-97a5-2465b7040f83.html

Additional Information