George and Leah McKenna Museum of African American Art
Introduction
Featuring the private collection of Dr. Dwight McKenna, the Museum presents works by local and internationally-renowned artists such as Henry Ossawa Tanner, William Edouard Scott, Clementine Hunter, Ernie Barnes and Ulrich Jean Pierre.
Images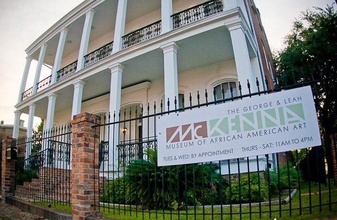 Backstory and Context
The George & Leah McKenna Museum is named in honor of the parents of Dr. Dwight McKenna, the museum's founder and owner. The McKenna family has a long legacy of advocating educational excellence, especially amongst youth. George Joachim McKenna, Jr. was born in 1911 in New Orleans, Louisiana. He received a B.A. degree from Xavier University and M.A. degree from Catholic University in Washington, DC. He eventually returned to New Orleans and served in facets as a faculty member at his alma mater, Xavier University. During his professoriate career, his titles ranged from Chair of the Economic and Sociology Departments to Dean of the Faculty. His wife, Leah Metoyer McKenna, was also well educated, having also attended Xavier University, where she received both B.A. and M.A. degrees with highest honors. She was appointed principal at Rivers Frederick Junior High School in 1954, making her the first Black female principal of a racially- integrated secondary school in New Orleans. Both George and Leah McKenna dedicated their lives to educating others and the pursuit of excellence. It was this same spirit of achievement and community involvement that was passed down to their three sons, Doctors George III, Dwight and Stephen McKenna.


Dr. Dwight McKenna has always been a champion of the African-American community and young people. After pursuing his undergraduate education, Dr. Dwight McKenna received his M.D. from Meharry Medical College and completed his specialty in surgery from Howard University. He has been practicing medicine in New Orleans ever since. In addition to his medical career, Dr. McKenna has taken a strong interest in literacy and cultural preservation. Thirty years ago, he began collecting original art work from African American fine artists. In 1985, Dr. Dwight McKenna and Beverly Stanton McKenna, founded the New Orleans Tribune along with Kermit Thomas and James Borders. Nearly 25 years later, the New Orleans Tribune still serves as a substantial media outlet for the African-American community in New Orleans.