Willis Porter Corwin Historical Marker
Introduction
This historical marker commemorates the life and accomplishments of engineer and radio pioneer Wilis Porter. In a shack at this location on the night of January 27, 1917, eighteen-year-old and amateur radio operator Willis Porter Corwin received and transmitted three Morse code messages from Denver and sent them to Albany, New York. On that day, he was part of an amateur radio team that sent the messages from Los Angeles, California to Hartford, Connecticut. This relay was the first successful one-way transcontinental radio transmission in U.S. history. Corwin participated in another experiment two weeks later in which a message was successfully sent in both directions in a span of eighty minutes. After serving in World War I, Corwin built the city's first commercial AM radio station.
Images
This historical marker commemorates Willis Porter Corwin, who was the first-known amateur radio operator in Jefferson City. He participated in the first successful one-way and two-way transcontinental radio transmissions in U.S. history in 1917.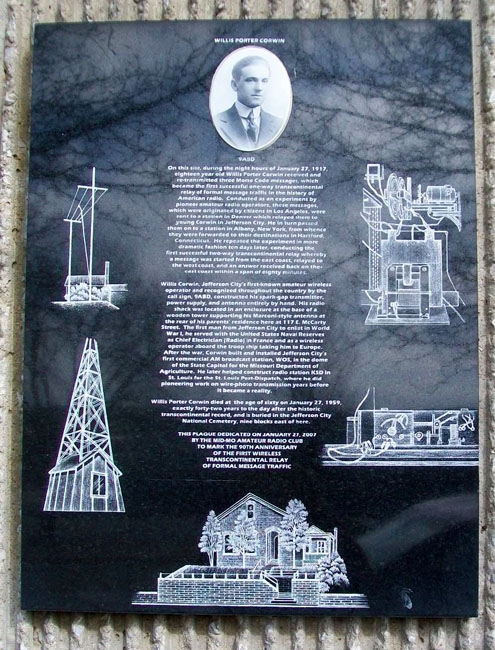 Willis Porter Corwin (1899-1959)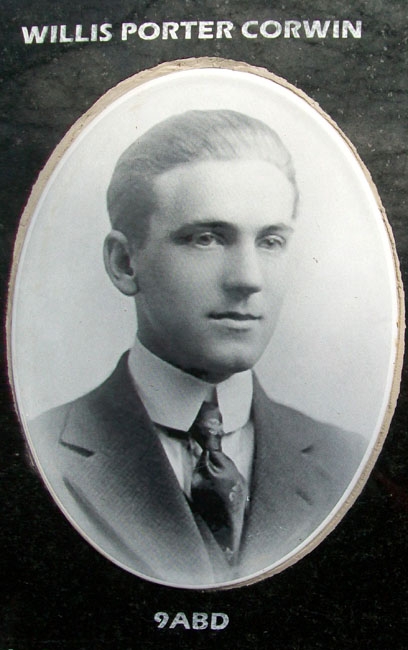 Backstory and Context
Willis Porter Corwin was born in Jefferson City in 1899. By his teenage years he became the city's first-known amateur radio operator. The shack was at the base of a wooden tower he built in his parent's backyard. He also hand-built a spark-gap transmitter, Marconi-style antenna, and power supply. The antenna was attached to the top of the tower and reached a height of 85 feet. Corwin was one of the first radio operators in the country to receive a call sign (9ABD) from the federal government.
After learning that the military needed radio operators to serve in World War I, Corwin enlisted, becoming the first from Jefferson City to do so. He enlisted a month before graduating from high school but earned his diploma in absentia. He served in France with the U.S. Naval Reserves as Chief Electrician (Radio) and as a wireless operator on the troopship he took to Europe. He also served in Navy installations in Great Lakes, Illinois, and Manistique, Michigan.
As noted above, when he returned to Jefferson City Corwin built the city's first AM radio station, WOS, for the state department of agriculture. It was located in the dome of the capitol building. He also played a role in building radio station KSD in St. Louis for the St. Louis Post-Dispatch. He made strides in wire-photo transmission while working on the station. Unfortunately, Corwin suffered from mental health issues which forced him to live at the V.A. Home in Knoxville, Iowa for the last 29 years of his life. He died on January 27, 1959 (42 years to the day of the first transcontinental relay) and was laid to rest in the Jefferson City National Cemetery.
Sources
"Amateur Radio Pioneer Willis Corwin, Jefferson City, MO." Waymarking. Accessed April 28, 2022. https://www.waymarking.com/waymarks/wm9CPE_Amateur_Radio_Pioneer_Willis_Corwin_Jefferson_City_MO.
Trimble, Kent W. "Wireless History on East McCarty Street." The National Association for Amateur Radio. September 25, 2008. https://www.arrl.org/news/wireless-history-on-east-mccarty-street.
"Willis Porter Corwin." The Historical Marker Database. Accessed April 28, 2022. https://www.hmdb.org/m.asp?m=62312.
Image Sources
Both images via The Historical Marker Database

Additional Information