Desmond Doss Historical Marker
Introduction
Dedicated in 2017, this historical marker commemorates the life of Desmond Doss who was awarded the Congressional Medal of Honor in 1945. A native of Lynchburg, Virginia, Doss was the first soldier who refused to carry a weapon to receive this award. Desmond Doss was not a conscientious objector and voluntarily enlisted. The medic achieved the rank of colonel, and while he never held a weapon in accordance with his religious views, he also became widely regarded as a war hero. Early in the war, however, Doss's peers harassed him and his commanding officers tried to court-martial him for his refusal to carry a weapon. Doss eventually won their respect for his selfless actions to save other soldiers in battles from Guam to Okinawa. Doss is best known for his demonstration of heroism at Hacksaw Ridge when he disobeyed orders to stay behind and treat the wounded. His actions are credited with saving the lives of seventy-five men. Doss moved to Georgia after the war and lived until 2006. Ten years later, his story reached millions through the Hollywood movie Hacksaw Ridge.
Images
Desmond Doss Jr. Standing by one of two historical markers for his father.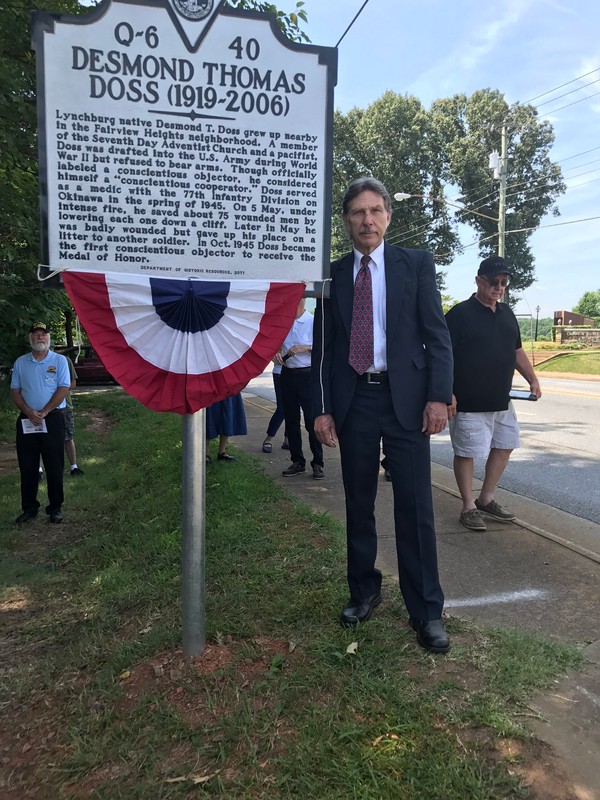 The Health Clinic that was was dedicated in the memory of Desmond Doss. This picture features his son.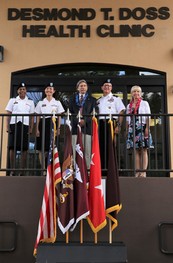 President Harry S. Truman rewarding the Medal of Honor to Desmond Doss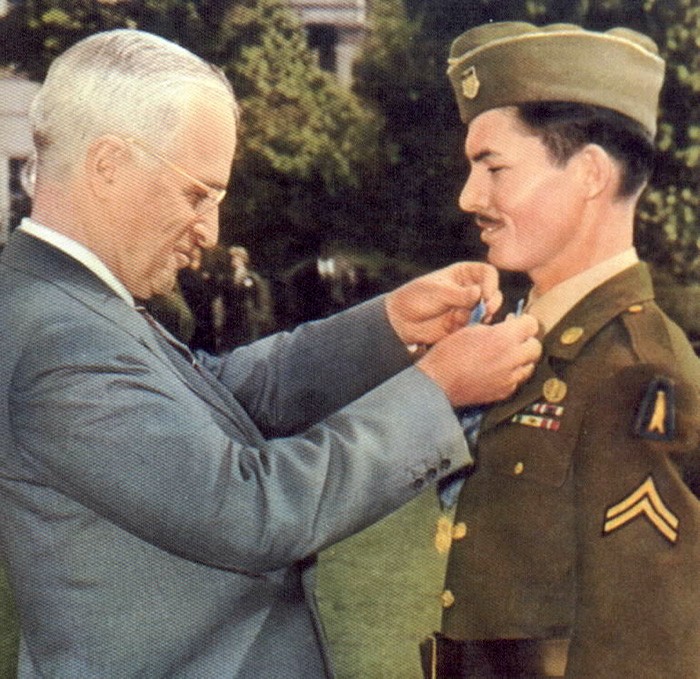 A photo of the 400-foot Maeda Escarpment or known as Hacksaw Ridge
Photo of Desmond Doss and wife, Dorothy Doss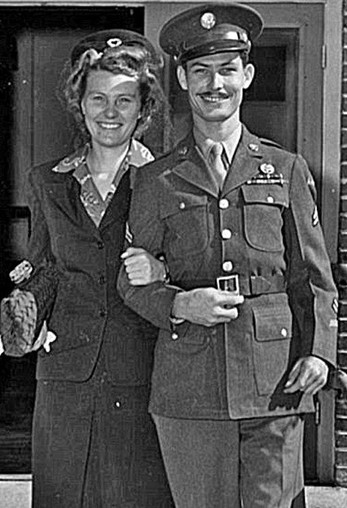 This photo is of Desmond Doss and features all of his awards including the Medal of Honor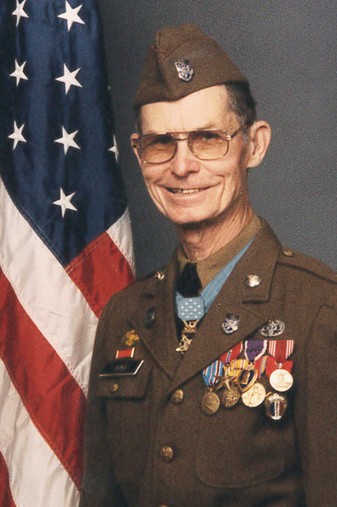 Backstory and Context
President Harry S. Truman awarded Desmond T. Doss the Medal of Honor in 1945 for his actions at Hacksaw Ridge and throughout his military career. Doss was the first soldier who refused to fight to receive the Congressional Medal of Honor.
Before his birth in 1919, William and Bertha Doss purchased a portrait of the Ten Commandments and the Lord's Prayer. Desmond Doss credited these items and his religious upbringing as a Seventh Day Adventist with his opposition to killing, even in war. He also credits his faith and miracles to several incidents where he healed from accidents to the surprise of physicians.
Prior to his military career, Desmond Doss would serve as the Deacon of his church by the age. Additionally, he would work for the Craddock Terry Shoe Company and the Newport News as a ship joiner. Although Newport News would offer military deferment, Desmond decided to enlist in the Army after the attack on Pearl Harbor.
Bringing his minister with him to his enlistment, Desmond Doss tried to enlist under the classification of a non-combatant. According to the recruiter, this was not possible, and he would need to enlist as a conscientious objector. Believing he was more so a cooperator because he was still willing to serve, wear the uniform, perform his duties, Desmond Doss eventually agreed to enlist under the 1-A-O Conscientious Objector classification. He was sent to Fort Jackson for his basic training and attached as a medic for the B Company in the 1st Battalion of the 307th Regiment in the 77th Infantry Division.
Basic training and his army career were not easy for Desmond Doss because of his religious beliefs and refusing to carry a weapon. Many soldiers thought that he would not survive when they deployed into the war. He was often bullied, harassed, mocked, and found as a liability by comrades. Especially after requesting to have Saturdays off for the Sabbath, Officers tried to court-martial him as well as claim he is mentally unfit. However, Desmond Doss was persisted. 
Proving himself among his fellow soldiers was a difficult process, but he never stopped being genuine and kindhearted to others. Desmond Doss would put his own life on the line for others or sacrifice his equipment to aid others, such as the time when someone fainted from heat stroke, and he gave up his water. He had a way to treat blisters that would quickly relieve the pain. Desmond Doss would jump towards the cry of medic no matter where the call came from. From the events at Guam, Leyte, and the Philippines, his courage and bravery was seen by everyone.
The United States' strategy of "island hopping" in the Pacific proved successful in bringing the B-29 Bombers into the range of Japan's home islands. There were two main attacks in this stage of the war, the Battle of Iwo Jima and the Battle of Okinawa. Starting five weeks after Iwo Jima, the Battle of Okinawa began on April 1st, 1945, and would be the last major battle of the war. Desmond Doss and his unit would not arrive until April 29th.
The mission was to secure the 400-foot cliff, Maeda Escarpment, or known as Hacksaw Ridge. Prior to stepping off for the mission, B Company bowed their heads while Doss offered a prayer of safety. Initially, their unit was able to successfully secure the cliff until May 5th when the Japanese counterattacked them. As the enemy attacked, Company B retreated and left behind many wounded in the firefight. 
"I will never leave a fallen comrade" is an army value that Desmond Doss followed, even as his unit retreated down the cliff. Disobeying his commanding officers, Doss stayed in the line of fire tending to the wounded. For the next twelve hours, he manually lowered each soldier down the cliff with a rope. With each soldier, Doss prayed to God for him to "let him rescue just one more man." The best estimate of men he saved and the only one he would agree to, was seventy-five men.
Another example of bravery from Desmond Doss was on May 21st. He and three others crawled into a hole so they could wait for the cover of darkness, when a grenade was thrown. The explosion sent shrapnel throughout his leg, but instead of calling another medic, Doss decided to treat himself. As he was being littered out, Desmond jumped off the litter to allow other soldiers with more severe wounds to be rescued before himself. Desmond was struck in the arm by a bullet and used a rifle stock as a splint until he arrived at a medic station.
After being discharged from the Army, he was diagnosed with tuberculosis in 1946. This resulted in one lung and five ribs being removed. Desmond Doss never was fully able to recover from the war especially wasn't capable of holding down a full-time job. He moved to Georgia with Dorothy and their son until she died in November 1991. Desmond married Frances May Duman in July of 1993 before he would kill his respiratory condition in 2006. 
Desmond Doss's heroic acts of bravery were a true inspiration to everyone. Leading up to being rewarded two historical markers in his hometown, there was more recognition within the community that was dedicated to him. After being discharged, he would use the majority of his hundred-dollar stipend that he received for the Medal of Honor towards the Civilian Defense Rescue Service for Walker County, Georgia. In his hometown of Lynchburg, a Christian academy was named after Doss and the United States Army named a health clinic in Hawaii in his honor.
Sources
ARMY, HEADQUARTERS DEPARTMENT OF THE. ARMY LEADERSHIP AND THE PROFESSION (ADP 6-22). S.l.: LULU COM, 2019. https://fas.org/irp/doddir/army/adp6_22.pdf.
Congressional Medal of Honor Society. "MedalOfHonor." CMOHS.org - Private First Class DOSS, DESMOND T., U.S. Army. Congressional Medal of Honor Society. Accessed April 18, 2020. http://www.cmohs.org/recipient-detail/2717/doss-desmond-t.php.
Daniels, Lillian. "U.S. Army Health Clinic Dedicated in Honor of Cpl. Desmond Doss." U.S. Indo-Pacific Command. U.S. Indo-Pacific Command, May 9, 2019. https://www.pacom.mil/Media/News/News-Article-View/Article/1843247/us-army-health-clinic-dedicated-in-honor-of-cpl-desmond-doss/.
"Desmond Doss: The Real Story." Desmond Doss: The Real Story. Accessed April 18, 2020. https://desmonddoss.com/bio/bio-real.php.
Desmond T. Doss Christian Academy. "History of Desmond Doss." Desmond T. Doss Christian Academy. Desmond T. Doss Christian Academy. Accessed April 18, 2020. https://desmondtdoss.org/about-us/history-of-desmond-doss/.
Hall of Valor: The Military Medals Database. "Desmond Doss - Recipient." The Hall of Valor Project. Hall of Valor: The
Military Medals Database. Accessed April 18, 2020. https://valor.militarytimes.com/hero/650.
Lange, Katie. "Pfc. Desmond Doss: The Unlikely Hero behind 'Hacksaw Ridge'." www.army.mil. DOD News, February 28, 2017. https://www.army.mil/article/183328/pfc_desmond_doss_the_unlikely_hero_behind_hacksaw_ridge.
Medal of Honor and Military History. "Desmond T. Doss, A Conscientious Objector." Home of Heroes . Medal of Honor and Military History, 2009. https://homeofheroes.com/heroes-stories/world-war-ii/desmond-doss/.
Military Health System. "Pfc. Desmond T. Doss." Military Health System. Military Health System. Accessed April 18, 2020. https://health.mil/Military-Health-Topics/Military-Medical-History/Military-Health-Medal-of-Honor-Recipients/World-War-II-Recipients/Pfc-Desmond-T-Doss.
Taylor, John, and John Taylor. The Bible. Rutland: Fay & Davison, 1978.
The Library of Congress. "Desmond Thomas Doss." Desmond Thomas Doss collection: Veterans History Project (Library of Congress. The Library of Congress. Accessed April 18, 2020. https://memory.loc.gov/diglib/vhp-stories/loc.natlib.afc2001001.32978/.
Turyn, Noreen. "Lynchburg Hero Desmond Doss Set to Get Two Historical Markers." WSET. ABC 13 News, May 19, 2017. https://wset.com/news/local/lynchburg-hero-desmond-doss-set-to-get-two-historical-markers.
Image Sources
https://wset.com/news/local/lynchburg-wwii-hero-desmond-doss-receives-two-historical-markers

https://www.pacom.mil/Media/News/News-Article-View/Article/1843247/us-army-health-clinic-dedicated-in-honor-of-cpl-desmond-doss/

https://desmondtdoss.org/about-us/history-of-desmond-doss/

https://www.army.mil/article/183328/pfc_desmond_doss_the_unlikely_hero_behind_hacksaw_ridge

https://www.chinookobserver.com/news/local/he-was-just-my-dad/article_7309aa46-1575-5791-90e2-ba1358ae604a.html

https://www.idahostatejournal.com/faith/the-conscientious-objector/article_c89a032a-1865-5a4e-bbee-0d76c97a06a4.html

Additional Information