Kinsey Institute for Sex Research
Introduction
Alfred Kinsey was a professor of zoology before pursuing his main area of study in sex research. In 1947, the Institute for Sex Research was founded by him in our beloved Bloomington, Indiana. Here is where Professor Kinsey would be able to show his dedication and passion for gender, sexuality and reproduction studies. Fast forward to today, the institute has been renamed the Kinsey Institute for Sex Research, paying homage to Professor Kinsey and his works. The institute carries on his legacy each day by sharing the same drive for research on sex topics and also plays an important role in LGBTQ+ history because of its devotion for research on gender and sexuality studies. This institution is filled with a great deal of history, controversy, and groundbreaking research.
Images
Kinsey Institute at Indiana University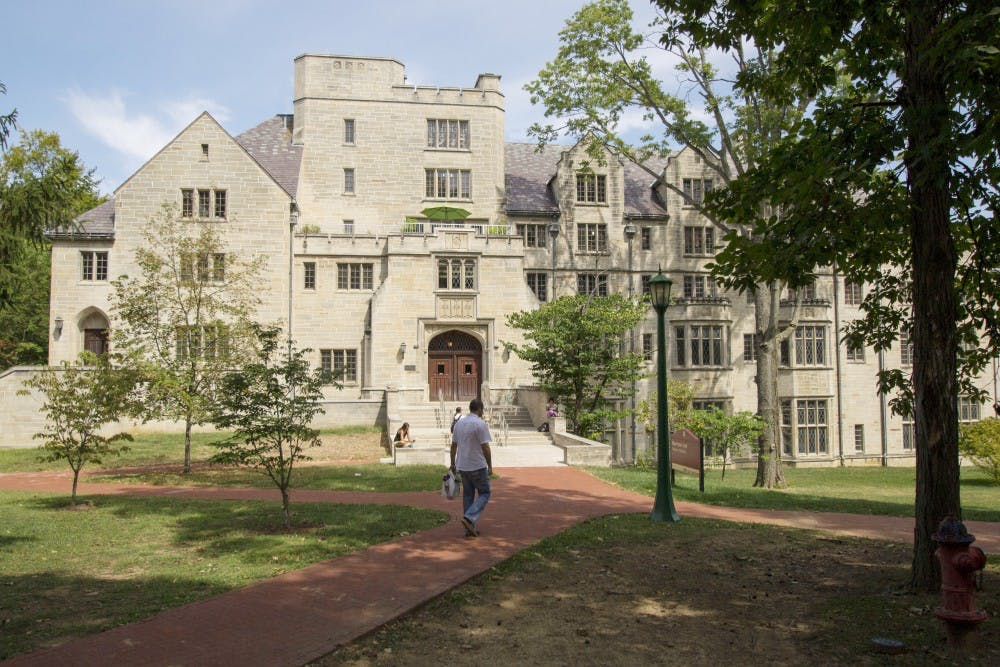 Kinsey Institute Website Home Page features Lesbian Couple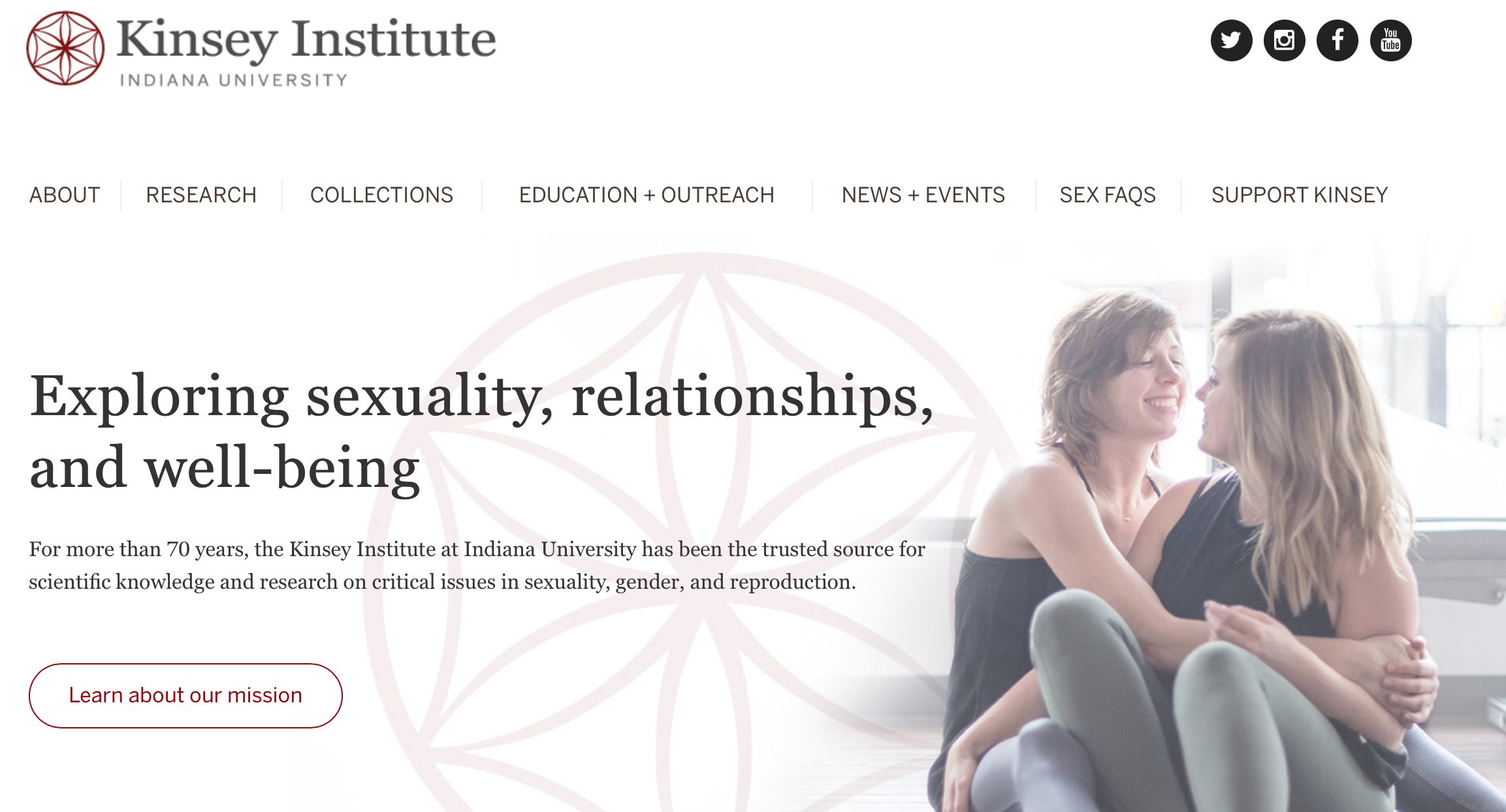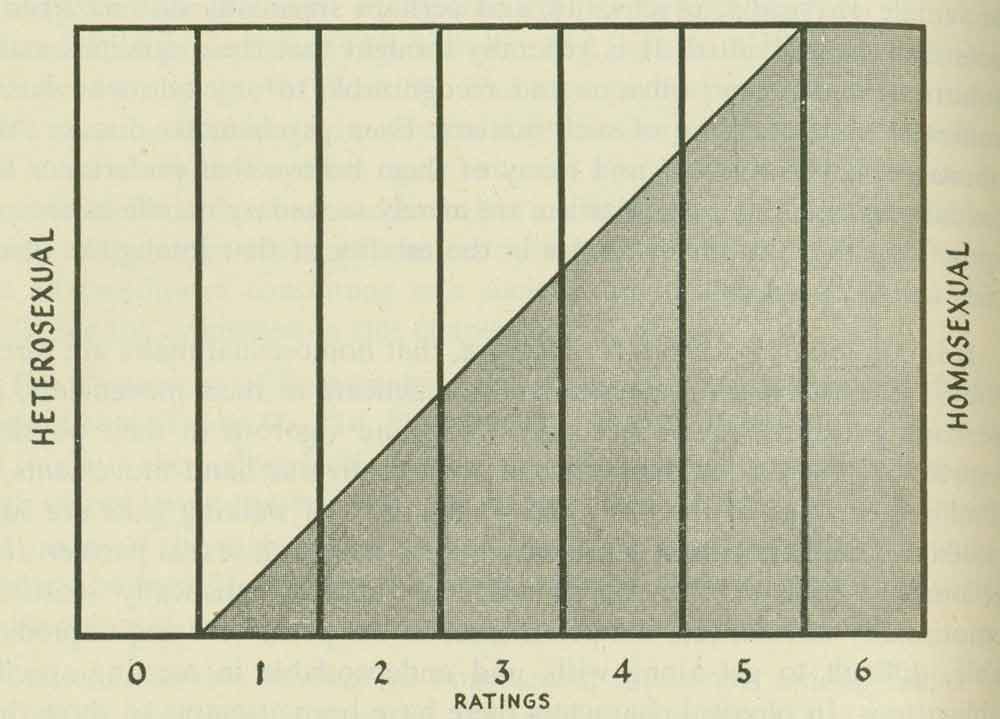 Dr. Alfred Kinsey on the Cover of Time Magazine- Augst 1953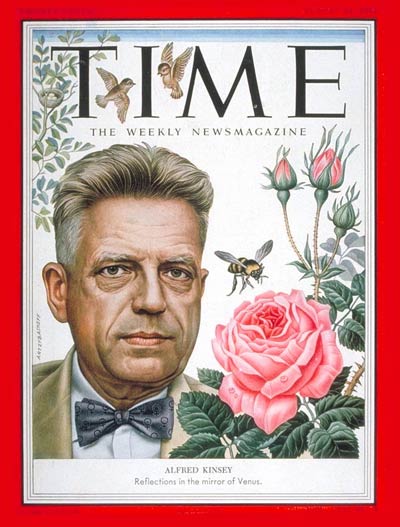 Backstory and Context
Professor Alfred Kinsey revolutionized the sex research area of study when he released his most famous writings most known as, The Kinsey Reports. These records are two scholarly written books about human sexual behavior. He released the two books separately with the first being about the human male and the second about the human female. In Justin J. Lehmiller's book "The Psychology of Human Sexuality" he specifically mentions Professor Kinsey's reports as "perhaps the most famous sexuality surveys ever conducted" (Lehmiller 35). Although his research is noted as some of the most legendary research on sex studies, there was controversy with his methodology. He mainly focused on sexuality between men and women rather than exploring other sexualities like being asexual and pansexual.  
            With all of Dr. Kinsey's research and findings came the creation of the Kinsey Scale. This scale was developed to expound upon a person's sexual orientation based on their personal experiences and the way that they respond in sexual instances. With a scale of 0 to six, the scale explores levels of sexuality from being exclusively heterosexual to being exclusively homosexual. While many sources state that there is an actual test, there is not. The scale was designed to just give a number 0-6 to its interviewees based their own sexual history. What in interesting is the addition of 'x' to the scale which deems no sexual contact or interaction for the person being assessed. Legal action was taken by the federal government to prohibit the use of Kinsey's works and to seize his importing of obscene content, or pornographic photos. The case is known as United States v. 31 Photographs: Dr. Alfred Kinsey and the Obscenity Law.
            Fast forward to present day and The Kinsey Reports are still the most renowned set of writings pertaining to human sexuality. The institute has progressed with the times all while still retaining merit for the research that was conducted in the early 20thcentury. In 2019, the institute did a unique study correlating sex to technology. This study involved research from porn engagement to phone sex interaction. The institute stays a legendary research facility and a place for LBTQ+ members to go to and learn more about their sexuality. With the many new studies like mentioned above, homosexual couples can find comfort in looking into some of the studies done at The Kinsey Institute.
Sources
Eubanks, Lee. LGBTQ+ History, Indiana University Bicentennial. January 1st 2020. Accessed April 12th 2020. https://200.iu.edu/history/timelines/lgbtq.html.
Lehmiller, Justin J. The Psychology of Human Sexuality. Wiley Blackwell, 2018.
United States v. 31 Photographs: Dr. Alfred Kinsey and the Obscenity Law. Indiana Magazine of History. December 1, 1975.
Image Sources
iubloomington

https://kinseyinstitute.org

https://kinseyinstitute.org

Time Magazine

Additional Information