Cove Cemetery
Introduction
Cove Cemetery is the final resting place of renowned classicist, Edith Hamilton from Fort Wayne. She was born on August 12, 1867, in Germany to American parents. After her birth, her family returned to Fort Wayne, Indiana. Her grandparents were leaders in the Fort Wayne community, they were very active in local charities and the Presbyterian church. They moved back to be closer to her grandparents where her father became a successful farmer. In fact, Edith received no formal educational lessons until she was seventeen. She was homeschooled by her parents where she was exposed to the Greek and Latin languages. Her parents believe that a girl's education should be just as informative of the classics as boys, this interest in ancient Greek civilizations is something that would stick with her for the rest of her life.
Images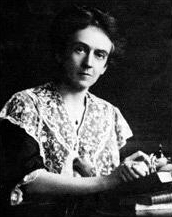 Backstory and Context
Her first career began as an educator. She was the head administer of Bryn Mawr School; an all-girls prep school in Maryland for twenty-six years until she retired. Here at Bryn Mawr she channeled the sexism she had received during her schooling and focused on prepping young women for a college education. Still interested in Greek civilizations she began her second act as an author. She wrote multiple essays and books on ancient Greek and Roman civilizations. She began by writing essays on Greek dramas and comedies for the Theater Arts Monthly. She published her first book, The Greek Way, at age sixty-two in 1930. It is known as her most famous work and was filled with essays about the times achievements and aesthetics. It was praised for interesting the everyday person about a time period in history. It showed the culture of the Greek people by writing about them and allowing room for connections throughout history. Her second book, The Roman Way, was published in 1932 and provided the reader to understand ancient Rome the same way she did for ancient Greece in her first book. Her writing inspired a mini revival of Greek/Roman history and culture. She also began commenting on education specifically that a quality education is fundamental for our society. Later in her life she visited Greece, where she was named an honorary citizen by the mayor of Athens. She died in Washington D.C. where she had spent the remainder of her life in 1963 at age ninety-five.
Sources
"The Greek Way," The Age, December 6, 1930 https://newscomwc.newspapers.com/image/123355522/?terms=the%2Bgreek%2Bway&pqsid=pyIp1OrxL6Bk4wD_0B4lrg%3A691000%3A719397922
Indiana Magazine of History. "Edith Hamilton: A Mythical Hoosier." Moment of Indiana History - Indiana Public Media. Accessed April 2, 2020. https://indianapublicmedia.org/momentofindianahistory/edith-hamilton-mythical-hoosier/.
Jayes, Janice Lee. "Hamilton, Edith (1867–1963)." Women in World History: A Biographical Encyclopedia, edited by Anne Commire, vol. 6, Yorkin Publications, 2002, pp. 728-732. Gale eBooks, https://link.gale.com/apps/doc/CX2591303785/GVRL?u=upitt_main&sid=GVRL&xid=1093b124. Accessed 3 May 2020.

Image Sources
https://www.findagrave.com/memorial/135744839/edith-hamilton

https://www.findagrave.com/memorial/135744839/edith-hamilton