Saint Meinrad Archabbey
Introduction
Dubois County in Indiana is known for its German Catholic heritage and a staple of the local Catholic community is the Saint Meinrad Archabbey. The Saint Meinrad is located in nearby Spencer County in the town of Saint Meinrad. The Archabbey was founded in 1854 and is still operational today. The Saint Meinrad Archabbey operates a graduate seminary school and a school of theology.
Images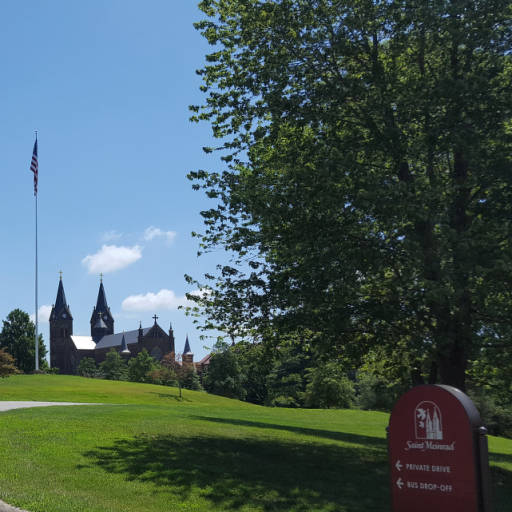 Backstory and Context
The Saint Meinrad Archabbey was founded in 1854 by Swiss monks who came from the Einsiedeln Abbey in Switzerland. The Archabbey is located in northern Spencer County, Indiana in the town of Saint Meinrad, which is named after the Archabbey. Unlike the majority of Spencer County the Archabbey is located in the Archdiocese of Indianapolis. The Archabbey currently operates a graduate seminary, and a school of theology. In 2010 there was 135 new students trying to join the priesthood by attending the seminary. There are currently around 85 monks who call Saint Meinrad home.
The monks originally came to Southern Indiana at the request of a local priest was needing help serving the pastoral needs of the growing German-speaking Catholic population. The monks have been known for helping the needs of the Catholic parishes in the surrounding area. Not only do they help with the lay duties of the local parishes, but they also provide free concerts and events for the local community. For example in 2015 the monastery offered free admittence to members of the community to attend the National Players classic touring company. As mentioned previously it has long been a mission for the Archabbey to train local men into the priesthood. In 1861, the Archabbey began to offer undergraduate classes in theology and philosophy. The Saint Archabbey has longed served the Catholics of Spencer County, and its surrounding counties. Like the Sisters of Saint Benedict in Ferdinand the monks of Saint Meinrad help isn't limited to helping the German Catholic Community, but the community as a whole. The Monks and Nuns may have come to help the needs of the German Catholic Community
Sources
History, Saint Meinrad. Accessed April 17th 2020. https://www.saintmeinrad.org/the-monastery/history/.
,
"Local Sources". "National Players to perform three plays at Saint Meinrad." Dubois County Herald (Jasper, Indiana) February 5th 2015. https://duboiscountyherald.com/b/national-playenational-players-to-perform-three-plays-at-saint-m