Block Stadium
Introduction
Living in a country far from home can often create the feeling of isolation. For the Mexicans living in Indiana Harbor this problem was intensified by the discrimination that they often faced in their day to day lives. To help face these shared hardships members of these northern colonies organized community groups such as the ones that participated in this stadium. Early baseball teams played an important role for Mexicans living in Indiana Harbor helping to create a scene of belonging and to help with the cultural acceptance of Americans.
Images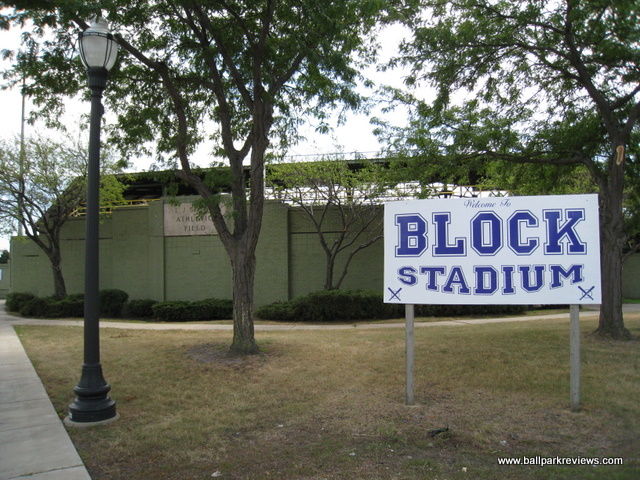 Backstory and Context
        For the Mexican communities living in the shadow of the smokestacks of Inland Steel life could often seem bleak. To help confront this bleakness, Mexicans living the Indiana Harbor turned to the national pastime of baseball. Early teams such as Los Gallos, La Gallinas, El Club Azteca, and, Los Obreros were formed by catholic churches and community beneficiary societies. These clubs were important cultural icons around which the Mexican community living in Indiana Harbor could identify with and build a sense of civic and cultural pride "Those who lived and played when the Gallos and Gallinas played baseball remember these teams not just for their athletic exploits, but for what they represented to the community." The popularity of baseball and baseball teams helped Mexican communities in East Chicago to assimilate with American culture, particularly during the 1930s and 1940s when these colonies were especially isolated from Mexico and its culture.
For these teams to serve the important civic and cultural role they played however, they would need fields to play in. Most early sites where Mexican baseball teams played where small fields in or near the general area of the Indiana Harbor community. Places like 142nd Euclid, Washington Park, Block Stadium, and El parque Anahuac all started as small fields that were accessible for play. Eventually some of these places, like Block stadium and El parque Anahuac, grew to incorporate bleachers and a more professional appearance to accommodate that large crowds that would come to watch such as "one Club Azteca game [that] attracted nearly 3,000 spectators."
However, not all these places would stand the test of time. At the height of the Great Depression, when the need for fuel to heat homes was reaching a crisis, an untapped deposit of coal was discovered beneath El parquet Anahuac. Driven by the desperate situation, local chopped up the bleachers and dug up the field for fuel to heat their homes.
Thankfully, Block stadium still stands as an example of the pride which early Mexican communities in Indiana Harbor held for their baseball teams. Block stadium also stands as a symbol for the connection and power that Inland Steel held over this community. Named after Emanuel J. Block, an official at Inland Steel, the stadium was built with material and funding from the steel mills.                 
Sources
James B. Lane, E. J. (n.d.). Forging a community The latino experience in nj.
Mendieta, E. (2012). Celebrating Mexican Culture and Lending a Helping Hand: Indiana Harbor's Sociedad Mutualista Benito Juarez, 1924-1957. Indiana Magazine of History.
Rosales, F. &. (1981). Mexican Immigrant Experience in the Ubran Midwest: East Chicago, Indiana, 1919-1945. Indiana Magazine of History.