The Burning of the Alice Dean
Introduction
Between the border of Indiana and Kentucky the Ohio river has been incredibly vital to the survival of these people throughout the ages. During the American civil war this water way played an even more essential role in aiding both the north and south through various means. From transporting supplies to troops up and down the territories this river was key. However, this also means it's a target for both sides to disrupt the enemy's lines. Thus, whenever John Hunt Morgan made his push into Indiana he saw this as a golden opportunity for him and his raiders.
Images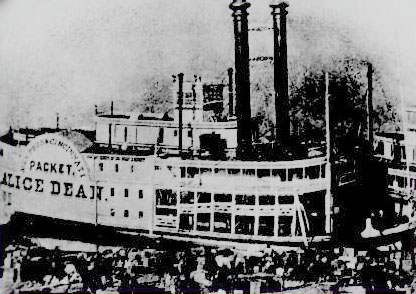 Backstory and Context
After confederates initial crossing and take over of Mauckport just across the Ohio one of Morgan's men made a suggestion to capture a steam boat and head up the river. It would be easier to transport troops, supplies, and they could easily stop and restart their raid with this boat anywhere alongside the river. The plan sounded full proof and as luck just so had it two ships were just docked between the city of Bradenburg, KT and the town Mauckport, one of them being the Alice Dean. Throughout the war this ship had been used to transport federal troops across the Ohio, thus it would make perfect sense for the rebels to do the same. So on July 9th the day after their initial crossing the confederates captured the ship and used it to transport some heavier gear they had left on the other side of the river. However, the rebels made the mistake of freeing the crew of the ship, to which the transmitted a message about their impending plans. Morgan's men caught wind of this and once they'd gotten all of their supplies and men back over they decided to burn the ship and head north east.
Sources
https://www.connerprairie.org/explore/experiences/1863-civil-war-journey/general-morgans-raid-on-indiana/
https://en.wikipedia.org/wiki/PS_Alice_Dean_(1863)
https://www.greensburgdailynews.com/community/the-th-anniversary-of-morgan-s-raid-on-indiana/article_515c2bb2-4547-59b7-af5e-3ef61f04098e.html