Ross-Ade Stadium
Introduction
In a move that would inspire their downstate rivals to follow-suit, Ross-Ade Stadium has been a landmark on the campus of Purdue University for nearly one hundred years. Opened in 1924, countless legends have played as the home team and as visitors, and through expansion and renovation, the stadium has maintained its character.
Images
Former South End Zone entrance to Ross-Ade Stadium.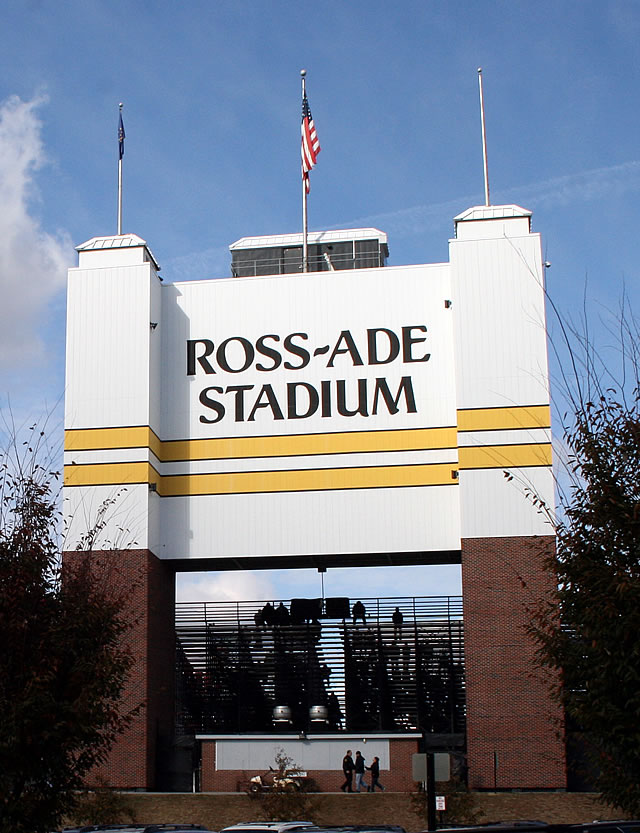 Backstory and Context
As home to more Old Oaken Bucket games than any other venue, it wouldn't be right to leave Ross-Ade off of this list. While it was one of the last Big Ten venues to add spotlights, and wasn't enclosed until very recently, it's often been a formidable place for opponents, and the Hoosiers have struggled to rack up wins here over the years[1]. Their most recent came in overtime at the end of the previous season, with a 44-41 victory over the Boilermakers. While neither team in the rivalry has ever seriously contended for a National Championship, the Boilermakers have come closer more recently than the Hoosiers have. Ross-Ade Stadium was home to future NFL Super Bowl Champion Drew Brees during his college career, and Brees would carry Purdue all the way to the Rose Bowl in 2001, where they would lose a tightly-contested battle with the Washington Huskies. More recently, in 2018, the Boilermakers upset the Number 2 Ohio State Buckeyes by a score of 49-20, culminating in that forever-iconic image of college fans storming the field[2]. A beloved fixture of the campus, Boilermaker fans can't imagine life without this stadium, and with more renovations planned, it doesn't seem as though they'll have to any time soon.
Sources
[1] Kriebel, Bob. "The birth of Ross-Ade Stadium," Lafayette Journal & Courier, 20 November 2016. https://www.jconline.com/get-access/?return=https%3A%2F%2Fwww.jconline.com%2Fstory%2Fnews%2Fhistory%2F2016%2F11%2F18%2Fbirth-ross-ade-stadium%2F90287066%2F
[2] Axson, Scooby. "Purdue Puts on a Clinic to Engineer Stunning Takedown of No. 2 Ohio State," Sports Illustrated, 21 October 2018. https://www.si.com/college/2018/10/21/purdue-beats-ohio-state-big-ten-upset-final-score
Image Sources
http://1.bp.blogspot.com/-SedsW-MDu0E/VlUHTY5uukI/AAAAAAABnak/I1I0RwRFaIM/s1600/ross-ade-stadium-640x833.jpg