The Original Assembly Hall
Introduction
After literally beginning in a barn, Hoosier fans received their first home court in 1892, in a building that would look more at-home being used as a lecture hall today. Few Hoosiers today realize that when crossing over the Owen Hall parking lot, they're stepping on the foundations of Indiana basketball.
Images
The original Assembly Hall, with Owen Hall visible in the background.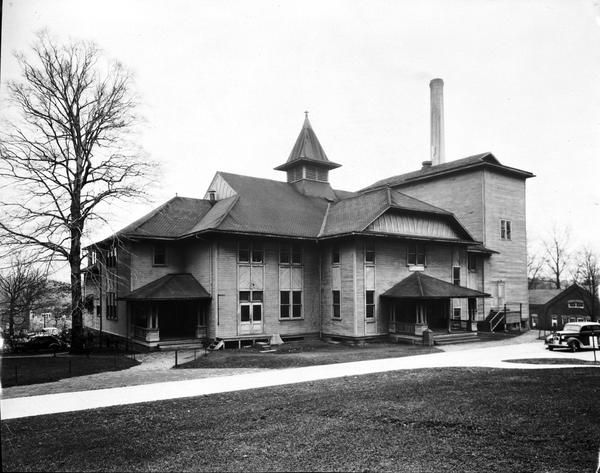 The interior of the building.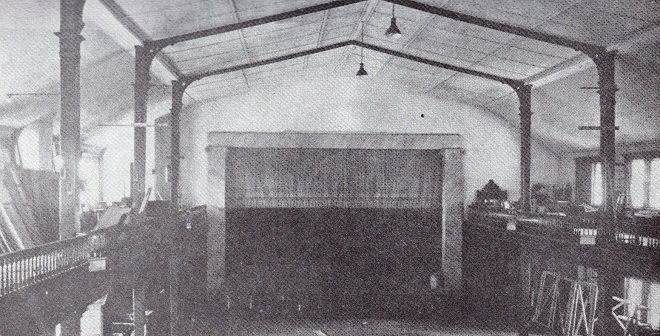 Backstory and Context
The Hoosiers and Assembly Hall have become intertwined, but the existing one wasn't the first. The current arena, built in the 1970s, was named after the original at the suggestion of Herman B. Wells, arguably the school's greatest president[2]. The original was incredibly small, but notable for several historical events. Some of the earliest Indiana/Purdue basketball games were played in this venue, as well as the first Indiana men's high school basketball tournament[1]. One of the few surviving images of the original Assembly Hall shows the student fans having stormed the playing surface after defeating Purdue in a 1910 match up. The annual, state-wide "Hoosier Hysteria" began here. With a maximum capacity of just over one thousand fans, as well as the rise of popularity of basketball within the state, it was obvious that the original Assembly Hall's days were numbered. The Hoosiers would, in fact, move out in 1917, to the new Men's Gymnasium on Seventh Street, meaning that this facility hosted Hoosier home games for sixteen years, and countless memories were made there. Sadly, preservation was not a thought to the university once the Hoosiers had found a new home elsewhere on campus, and the building was demolished in 1938. Today, a plaque on the edge of the parking lot commemorates the gymnasium.
Sources
[1] Schumann, Mike. "Retracing Glory: The Original Assembly Hall," The Daily Hoosier, 'Basketball History,' 30 June 2018. https://www.thedailyhoosier.com/retracing-glory-the-originial-assembly-hall/
[2] McEnerney, Shannon. "Herman B. Wells: The father of IU," Indiana Daily Student, 5 June 2008. https://www.idsnews.com/article/2008/06/herman-b-wells-the-father-of-iu
Image Sources
https://i0.wp.com/www.thedailyhoosier.com/wp-content/uploads/2018/06/original-assembly-hall.jpg?fit=600%2C473&ssl=1

https://historicindianapolis.com/wp-content/uploads/2015/03/Original-Assembly-Hall.jpg