Indiana State Prison
Introduction
The Indiana State Prison was established in 1859 but was expanded in the 1930s. The Prison was were D.C. Stephenson, Grand Dragon of the Ku Klux Klan, served his prison sentence starting in 1925. He was sentenced to life in prison, however, he was pardoned in 1950, after only serving 25 years. The imprisonment of D.C. Stephenson did not just mark the decline of Stephenson's power, but also the decline of the Ku Klux Klan at large.
Images
Modern Indiana State Prison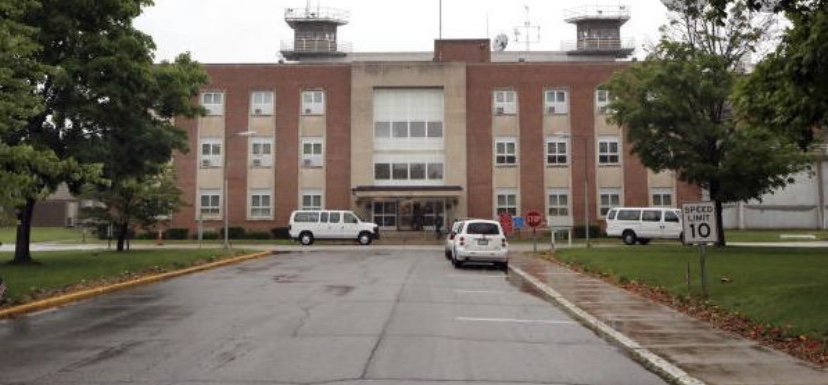 Indiana Prison Illustration 1927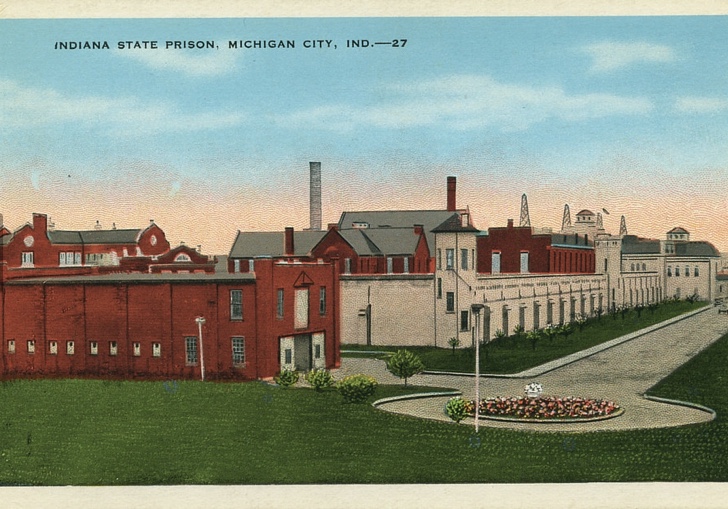 Backstory and Context
D.C. Stephenson was convicted of the murder of Madge Oberholtzer in November of 1925 and sentenced to life in prison, one to be served at the newer Indiana State Prison in Michigan City, Indiana. Stephenson during this time was at the peak of his success with the Klan, and was a key figure in Indiana politics, especially in the election of Governor Edward L. Jackson, who served as Indiana Governor from 1925-1929. Stephenson and Jackson were allies, beginning when Jackson defended the KKK as Secretary of the State of Indiana, prior to his election as Governor. Because of their quasi friendship, Stephenson believed that he would get a pardon from the Governor. When Stephenson found out he would not be getting a pardon from his friend Gov. Jackson, he went ballistic and became very vengeful. He released documents implicating Jackson in political fraud, and he did it from his cell from in Michigan City. Jackson governorship did not end, however he only served one term and his time in office was marked by the scandal. Jackson never returned to public office, instead he returned to practicing law. D.C. was, unfortunately for him, still stuck in the Indiana State Prison, where he remained for 25 years, and was paroled on the condition that he never return to the state of Indiana. He broke the terms of his parole, and was sent back to prison for another 6 years. He eventually settled down in Tennessee. In many ways, Stephenson's imprisonment, and subsequent fleeing from the state, marked the decline of the powerful KKK. Stephenson had great influence over the organization of more than 5 million members, and was seen by many as the public face of the Klan, especially in the North. This idea is described in detail by Leonard Moore in an article written for the Indiana Magazine of History, entitled "Indiana and The Klan: A Review Essay." In his essay, Moore's says, "Perhaps most significantly, he was so well known that the scandal surrounding his convictions for rape and second degree murder in 1925 played a large part in undermining the Klan movement not only in Indiana but throughout the nation." Stephenson was so well known in the Klan that his imprisonment was not just a catalyst for the end of his influence, but in many ways also the beginning of the end for the Ku Klux Klan.
Sources
Abott, Karen. "Murder Wasn't Very Pretty": The Rise and Fall of D.C. Stephenson, Smithsonian Magazine. August 30th 2012. Accessed April 17th 2020. https://www.smithsonianmag.com/history/murder-wasnt-very-pretty-the-rise-and-fall-of-dc-stephenson-18935042/.
Moore, L. (1992). Indiana and the Klan: A Review Essay. Indiana Magazine of History. Retrieved from https://scholarworks.iu.edu/journals/index.php/imh/article/view/11213