Eugenics Recording Office
Introduction
Long gone is the important office that once stood here, the Eugenics Recording office. Making it even more important as a stop on my History trail. This was the first national office to open in 1910. That allowed the doctors to explore this idea of social sciences and eugenics. Offices like this opened up across the nations as the popularity in this moment grew.
Images
This is a post card form the Cold Spring Harboer Eugenic research facility.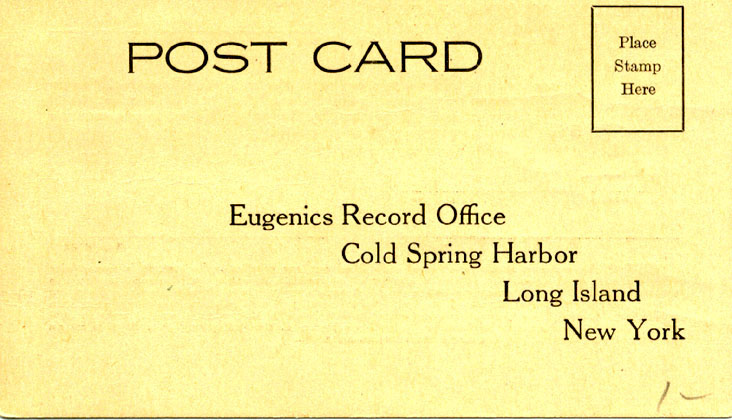 Backstory and Context
The fourth stop on our Hoosier History trail takes out of the state of Indiana. This next stop is Cold Spring Harbor, in New York. This stop is the Eugenics Record Office. This was the first eugenics office to open and spurred the growth of these offices across the nation. This office was opened in 1910 by Mrs. E. H. Harrimen and then later fostered on by Rockefeller. It was here that Dr. Hubert Work, Dr. H.M. Carey and Dr. Charles G. Hill explored this topic of eugenics and social sciences. After being open for three years of research, they announced some of their findings to the public, in a newspaper. In December of 1913, these scientists announced their first set of recommendations based on their discoveries, such as taking feeble-minded students out of school, males were not allowed to be detained until the all the women of child-bearing age had been safe-guarded. They argued that people that were feeble minded learned like "parrots" and therefore textbook learning was not an effective way to go about learning for these people. In addition to publicly announcing their findings in newspapers, they also their key research findings to governors of each state. As a way to help guide states decisions when it came to eugenics. In 1915, six professionals from this office came to Indiana, to help the Committee of Mental Defectives to map out the "undesirable" families in the state. During their time here they looked extensively at 31 different counties to decide which families were desirable and undesirable. It was through the opening of offices like this that caused the Eugenic Movement to grow nationally. And helping a state that was already practicing Eugenics, to reinforce this idea of forcing sterilization of the 'feeble-minded' was the right thing to do. This office grew the movement deeper in Indiana, making this our fourth stop on this tour.   and many Americans. 
Sources
"Eugenics Records Office Issues Its First Report." The Brooklyn Daily Eagle, December 14, 1913.
"February 25, 1996 (Page 16 of 224)." Indianapolis Star (1923-2004), Feb 25, 1996, https://proxyiub.uits.iu.edu/login?qurl=https%3A%2F%2Fsearch.proquest.com%2Fdocview%2F1900517416%3Faccountid%3D11620 (accessed April 30, 2020).
Image Sources
http://syossetscrapbook.freeservers.com/csh_eugenics_vintage1.jpg