Men's Gymnasium (School of Public Health)
Introduction
In the early twentieth century, basketball quickly became the statewide obsession. Simple facilities like the original Assembly Hall at Indiana University were no longer considered adequate, so a new facility was decided upon. Located on the former site of the Dunn House, the Men's Gymnasium stands to this day as a classic reminder of IU's storied history in the sport.
Images
IU's Men's Gymnasium before the adjoining Fieldhouse was constructed.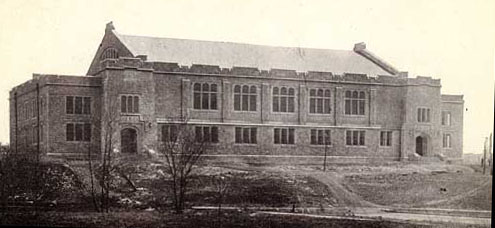 The interior of the Men's Gymnasium during its heyday.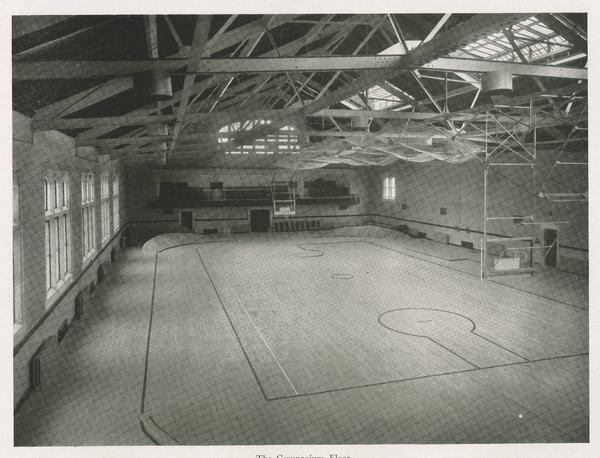 Backstory and Context
After outgrowing the original Assembly Hall, the Hoosiers found a new home in an on-campus, then state-of-the-art gymnasium for the 1917 season. Here, coached by the "Father" of Indiana basketball, Everett Dean, the Hoosiers began to experience national relevance on the basketball court for the first time. In the 1925-26 season the Hoosiers won their first regular season Big Ten Conference title[1]. Times would change quickly, and the facility that was considered a modern marvel at its opening quickly became antiquated by Big Ten standards. The Hoosiers moved into the Fieldhouse (today the Wildermuth Intramural Center) in 1928. The two buildings were built side-by-side on the same hill and are still connected today. If you visit the gymnasium on the second floor today, you're walking in the footsteps of Everett Dean.
Years later, the facility would be at the center of a campus controversy, proving that its status as an important piece of IU is still maintained. The source of controversy were tiles containing symbols of "good health" from around the world. Unfortunately, even considering its context as originally a Hindu symbol for "well-being," the tiles included swastikas[2]. Given the historical context, the university made the decision to remove the tiles, and the building continues to serve students of the School of Public Health, as long as those who are simply looking to get a workout in.
Sources
[1] Schumann, Mike. "Retracing Glory: The Men's Gymnasium on 7th Street," The Daily Hoosier, 'Basketball History,' 9 July 2018. https://www.thedailyhoosier.com/retracing-glory-the-mens-gymnasium-on-7th-street/
[2] Runevitch, Jennie. "Swastika tiles removed from Indiana University building," WTHR, 9 July 2019. https://www.wthr.com/article/swastika-tiles-removed-indiana-university-building
Image Sources
http://www.bigbluehistory.net/bb/Graphics/Arenas/indianagymnasium2.jpg

IU Archives - http://purl.dlib.indiana.edu/iudl/archives/photos/screen/P0028064