Indiana State Fairgrounds
Introduction
Here at the home of the cotton candy and fried food during the month of August, marks the end of summer for many Hoosier families. However, back in the 1900s this venue marked the beginning of another important time for Hoosiers, Baby week. It was here at the Indiana State fairgrounds that Hoosier moms and dads signed there babies up to be judged to find out who had the best babies.
Images
A baby is weighed and measured as a contestant in the Better Baby contest at the Indiana State fairgrounds.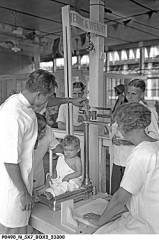 Backstory and Context
The next stop on our Hoosier Trails, is somewhere you might find familiar, the Indiana State Fairgrounds. In the period of 1915-1924, basically no sterilizations were performed. However, that did not a put a stop to the Eugenics movement. Better Baby contests and National Baby Week continued to bring to light the idea of eugenics. Which is the reasoning behind, this next stop. It was within the Indiana State fairgrounds, and many county fairgrounds across the state that babies would take part in Better Baby Contests. These were part of a bigger nationwide movement called Baby Week. Baby Week consisted of men and women gathering to learn about infant health and well care. Baby Week was a big deal in the state of Indiana. Churches, schools and businessmen all got days off to take part in events during the week, so that they could learn more about infant health and well care. Each day had different stations with various topics in infant health care. Topics such as prenatal care, infant sleeping habits and other similar topics were presented. Better Baby Contests were the crown jewel of Baby Week. It was contests like these that parents could enter their children in up to age two and would be judged by doctors and nurses in the community to decide which baby was the best. Babies were divided up between city and country babies and then divided up again on their ages. There were four classes girls aged 12-24 months and girls aged 24-30 months, and boys divided up in the same age groups. Each baby was weighed and had various amounts of measurements performed. Based on measurements; babies were given a score out of 1,000 points. The winning baby won prize money, ranging on the competition they were in. Each of these contests were community events which is why these were performed at fairgrounds across the state. The Indiana State Fairgrounds had the biggest number of competitors which is why our stop is here at the Indiana State fairgrounds. From the years of 1915-1924, the eugenics movement was moved forward through these contests at the fairgrounds. Making this our third stop on our Eugenic History Tour. 
Sources
"CITY PREPARED FOR BABY WEEK: MEN AND WOMEN OF INDIANAPOLIS WILL GIVE ATTENTION TO ALL PROBLEMS RELATING TO LITTLE ONES CHURCHES TO AID TODAY ONE HUNDRED MINISTERS PLAN SPECIAL SERVICES--CONTESTS WILL BE BEGUN AT STATE HOUSE TOMORROW--CONTINUE UNTIL SATURDAY." Indianapolis Star (1907-1922), Oct 03, 1915.
"100 ENTER CONTEST FOR "BETTER BABIES": MANY REGISTRATIONS ARE BEING RECEIVED AT PURE MILK STATIONS AND MOTHERS ARE SHOWING GREAT DEAL OF INTEREST." Indianapolis Star (1907-1922), Aug 08, 1915. https://proxyiub.uits.iu.edu/login?qurl=https%3A%2F%2Fsearch.proquest.com%2Fdocview%2F365640067%3Fac
Image Sources
http://images.indianahistory.org/cdm/ref/collection/dc034/id/101