Jordan Field (Site)
Introduction
Every university begins somewhere when it comes to sports. IU basketball began in a barn-like building south of the Union and today plays in front of crowds of 17,000. Sadly, over time, many of the sites that were home to memories, triumphs, heartbreak, and defeat are often forgotten. Today, Hoosier students and faculty park their cars on the home to our first football field.
Images
Aerial view of Jordan Field, visible by its baseball diamond. Much of the surrounding campus remains recognizable.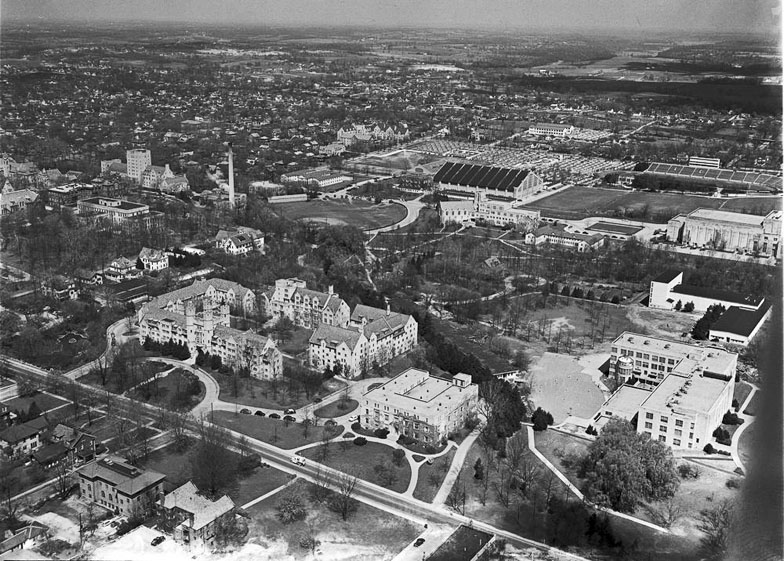 Backstory and Context
Constructed in 1887, Jordan Field was exactly what it sounds like. There was hardly any seating to speak of, spectators were often limited by the small capacity, and it was only useful in the spring months of the year, especially due to its location. The field sat just east of the Jordan River, sitting most squarely on what is today the parking lot of the Indiana Memorial Union. While the football played here, especially against upstate rival, Purdue, was often one-sided, Jordan Field became an institution at the university. The facility would play host to IU football, basketball, and even ice-skating during the winter months in its later years. While Purdue was undeniably dominant during the first match ups of the rivalry, the Hoosiers soon began to fight back. After winning against Purdue for the first two times in West Lafayette, Indiana, for the first time, beat Purdue at Jordan Field in 1901, by a score of 11-6. Fans rejoiced, loved the facility, and even today many old photos of football and baseball teams are posing on Jordan Field, on a site that we walk over each day. Over time, the facility became even more ill-suited to host a major school's football program, resulting in the Hoosiers moving into Memorial Stadium (the old one, that today the Arboretum occupies the site) in 1925.
Sources
Kellams, Dina. "You're skating on... campus ice?" Blogging Hoosier History, 28 January 2013.
Image Sources
http://www.digitalballparks.com/SpringTraining/Jordan_-_Aerial_V2T.jpg