United States Post Office
Introduction
The United States Post Office in Okanogan is one of the city's most important landmarks. Constructed in 1941, it is significant for its architecture and affiliation with the federal government. In terms of architecture, it is a simple and rare example of the American Colonial style in the Northwest. It features a red-brick exterior, a symmetrical design, little decoration, and a gable roof with chimneys on each end. The building also represents the federal government's presence not only in the city but in the north-central region as well, which is somewhat isolated.
Images
The United States Post Office was built in 1941.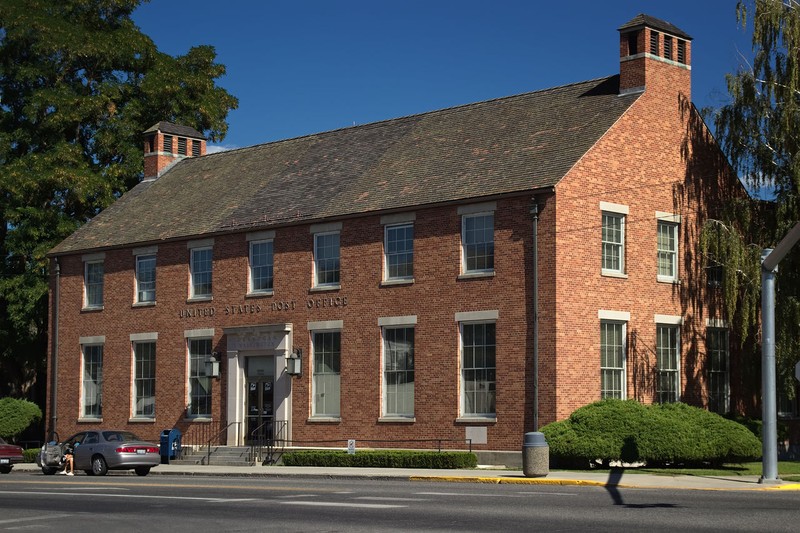 Backstory and Context
Native Americans had used the site of Okanogan as a hunting and fishing ground long before the arrival of explorers and traders. Okanogan's more modern history dates back to 1886 when a man named Frank J. "Pard" Cummings established a trading post and a ferry service across the Okanogan River, which attracted others to the community. It was named Alma in 1888 and the first post office opened that year as well (Cummings became the first postmaster). The town continued to grow and in 1905 was renamed Pogue after prominent local doctor and orchard grower, Dr. J.I. Pogue. The town's name was changed to Okanogan in 1907.
Presumably, other post offices were built in the coming years but that information is not readily available. In addition to its design and association with an important function of the federal government, the current post office is also notable for the organization that built it: the Works Progress Administration (WPA). The WPA was one of the federal programs that put Americans to work during the Great Depression. Building the post office provided work to local contractors, thereby providng a boost to the local economy (the WPA also funded a number of other building and infrastructure projects in the region). As such, the post office symbolizes the federal government's efforts to help citizens during a difficult period in American history. The building also represents how important the federal government considered Okanogan was at the time.
Sources
Kershner, Jim. "Okanogan - Thumbnail History." HistoryLink.org. September 27, 2010. https://www.historylink.org/File/9592.
Kolva, H.J. & Franks, Steve. "Okanogan Main Post Office." National Park Service - National Register of Historic Places Nomination Form. May 30, 1991. https://npgallery.nps.gov/GetAsset/395c7e13-a67c-4a6f-bd7a-3b9bbc2bdb74.
Image Sources
Steven Pavlov, via Loving Washington: http://lovingwa.blogspot.com

Additional Information