Devil's Cafe
Introduction
The Devil's Cafe was a Greek ran cafe and among some of the first Greek owned businesses started in Indianapolis in the early 1900s. It owes its unique and controversial at the time name to a mistranslation when the owner, James Cafouros, started the business. The Cafe itself represented Greeks sharing their culture with the city, as well as Greeks climbing up the social ladder to the status of business ownership.
Images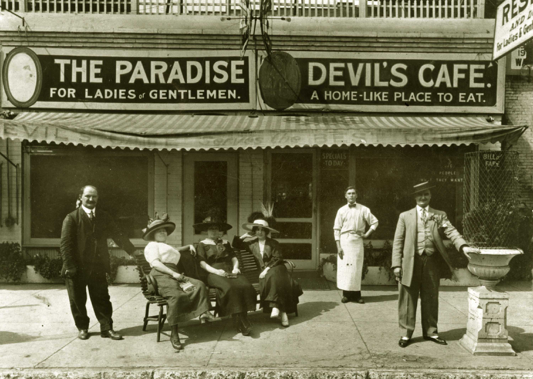 Backstory and Context
On August 25, 1911, James Cafouros was born to Pantelis Cafouros, the owner of the Greek café "Devil Café" in Indianapolis. James was the first son born to Pantelis Cafouros, and as was tradition, Pantelis wanted to celebrate the birth of his son with a twenty one gun salute, historically symbolizing the arrival of another soldier in the fight against the "unspeakable Turks" In order to properly celebrate the occasion, Pantelis Cafouros reportedly bought one hundred dollar's worth of fireworks with the intention of setting them off from atop of his café. That night, Pantelis Cafouros conducted the largest fireworks display ever seen in Indianapolis up until that point in time and captured the attention of thousands of Hoosiers that night and apparently causing no small amount of controversy. Even leading up to the event, James Cafouros himself was getting letters from "New York, Chicago, and western cities" over his celebration plans being only if the newborn child was a boy, James believed these letters were "written by suffragettes." (Indianapolis Star, 1911) Not only Did James himself deal with backlash to his planned celebrations, but the Indianapolis Board of Public Safety received backlash as well. According to the Indianapolis Star, The board received "several jeering statements for having permitted the Greek to follow one of the customs of his native land." This fun little historical event shows an instance of the Greek community practicing its culture within their new homes in America, and also show how even though the Greek community in Indianapolis was quite small, they were by no means unheard of within the city at large. This event also shows that while the Greek community in Indianapolis understood that adjusting to American norms was something that needed to happen in order to succeed, they still very much saw value in preserving and practicing their culture, even if the they were scrutinized for it.
Sources
Cafouros, Carl Christian. "The Community of Indianapolis: A Microcosm of the Greek Immigrant Experience." University of Illinois, University of Illinois, 1981.
Hostetler, Joan. "Indianapolis Then and Now: The Paradise and Devil's Cafe, 108-110 W. Maryland Street - Historic Indianapolis: All Things Indianapolis History." Historic Indianapolis | All Things Indianapolis History, 31 May 2017, historicindianapolis.com/indianapolis-then-and-now-the-paradise-and-devils-cafe-108-110-w-maryland-street/.
"Greek Denounced for Desiring Son." Indianapolis Star, 17 Aug. 1911, pp. 9–9.