Memorial Stadium
Introduction
Memorial Stadium is the long time home of the Indiana Football team. George Taliafaferro was the first African American to play college football and he played for the Indiana football team in the 1940's. He broke the color barrier and revolutionized college sports and paved a way that many athletes followed.
Images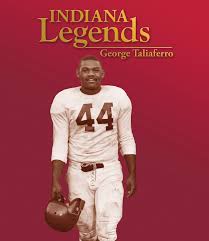 Backstory and Context
George Taliaferro was an African American football player who played for Indiana University in the 1940's. During his college career he was a three time all-american for the Hoosiers and led them to their only undefeated season in program history. He grew up in Chicago and after commiting to IU he would become the first African American to play for the Hoosiers football team in program history. Taliaferro was excited to come to Indiana University, however when he got to IU he was badly discriminated against. For example he was not able to live in the dorms like the rest of the students and restraunts would refuse to serve him. Talieferro struggled with the transition to the new college life and at one point told his father that he would be returning to Gary Indiana to work in a steel plant. That decison would be reconsidered because Taliaferro remembered what his mother and father told him every day before he went to school, "we love you and you must be educated" and then he realized that "the other reason for my being at Indiana University… was to be educated" (The Undefeated). In 1949 Taliafero was drafted by the Chicago Bears and he became the first African American to be drafted by an NFL team. Many African Americans followed Talliefero and played in the NFL and in 1981 he was inducted in the college football hall of fame. George Tallieferro not only broke the racial barrier but he improved and fought for equality for Black students at IU "he fought to integrate our classrooms, cafeterias, movie theaters and restaurants. And he continued to be a champion for fairness, compassion and equality well past his playing days" (Indiana University). George Tallieferro was the first African American football/basketball player at IU and he opened the door for people like Bill Garrett and other African American athletes.
Sources
Jerrybembry. "George Taliaferro Played Quarterback and a Whole Lot More." The Undefeated, The Undefeated, 29 Sept. 2017, theundefeated.com/features/george-taliaferro-Black-quarterback-first-african-american-drafted-into-the-nfl/.
Indiana University Athletics. "Remembering George Taliaferro." Indiana University Athletics, Indiana University Athletics, 9 Oct. 2018, iuhoosiers.com/news/2018/10/9/football-remembering-george-taliaferro.aspx.
Image Sources
https://www.amazon.com/Indiana-Legends-George-Taliaferro-WTIU/dp/025303065X