Miami Indians at Kekionga
Introduction
Kekionga was a fort and Miami settlement located in present day Fort Wayne, Indiana. It was also home to a trading post for European settlers in the region. Many Miami villages surrounded Kekionga, and its prime location for the Miami made it a target for frequent attacks from the French and the United States.
Images
Map of villages burned by General Harmar at Kekionga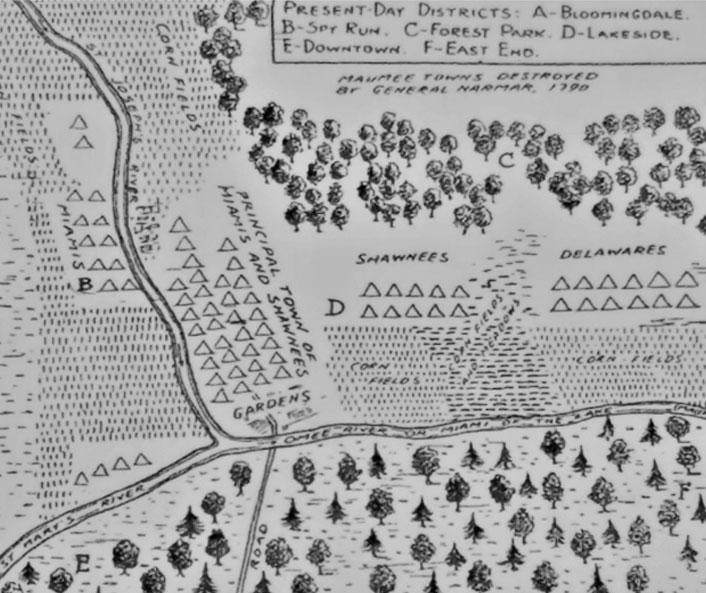 Backstory and Context
The Miami Indians benefited greatly from European traders during the 18th century, and eventually Kekionga became a centralized site for the Miami nation. It contained a sizeable meeting house where tribal councils would occur. Several Miami chiefs, including Little Turtle, only live a few miles away from Kekionga, which aided in its frequent use by the Miami's. During the Revolutionary War, Miami Chief Little Turtle and his fellow Miami Warriors defended Kekionga from an attacking French force, the French being led by Augustin de la Balme en route to take over Detroit from the British. The Miamis successfully defeated the French, an important moment, as the Miamis at Kekionga had economic ties with the fort at Detroit.
Later in the 1790s, Chief Little Turtle once again had to defend the Kekionga region, but this time from attacks from the United States. US General Harmar led invasions across the region, and burned several Miami villages outside of Kekionga. The local traders who had fled to Fort Detroit had given their guns and ammunition to the Miamis before leaving. Though he successfully burned several villages, General Harmar had to retreat due to suffering high losses from battles with Little Turtle. At the Treaty of Greenvile, Chief Little Turtle called Kekionga "the glorious gate through which all the good words of our chiefs had to pass from the north to the south, and from the east to the west." After the Treaty of Greenville, the Miami Indians focused their attention and community more towards the Forks of the Wabash region in present day Huntington, Indiana.
Sources
Warner, M. (1987). General Josiah Harmar's Campaign Reconsidered: How the Americans Lost the Battle of Kekionga. Indiana Magazine of History. Retrieved from https://scholarworks.iu.edu/journals/index.php/imh/article/view/10767
Poinsatte, Charles R. Fort Wayne during the canal era. Indianapolis, Indiana Historical Bureau. 1969. https://books.google.com/books/about/Fort_Wayne_During_the_Canal_Era_1828_185.html?id=fiwUAAAAYAAJ
Image Sources
https://www.google.com/search?q=kekionga+fort+wayne&source=lnms&tbm=isch&sa=X&ved=2ahUKEwj2wrairu7oAhWHXc0KHaCyDvQQ_AUoBHoECA4QBg&biw=1440&bih=750#imgrc=ZRgkpYzofOywuM&imgdii=JafRZUK0OwCMdM