Milan High School
Introduction
Everyone in Indiana has hopefully seen the movie Hoosiers starring Gene Hackman, where a small high school named Hickory High School, with not even 100 students, lives a Cinderella story and wins the state championship in basketball in Hinkle Fieldhouse. What most people do not know is that Hoosiers was based off of what happened at Milan High School in 1954. The details in the movie vary from the actual story, but the story itself of the Milan basketball team winning the championship is a prime example of rural Indiana basketball, and how important basketball means to the state of Indiana.
Images
Milan High School from the inside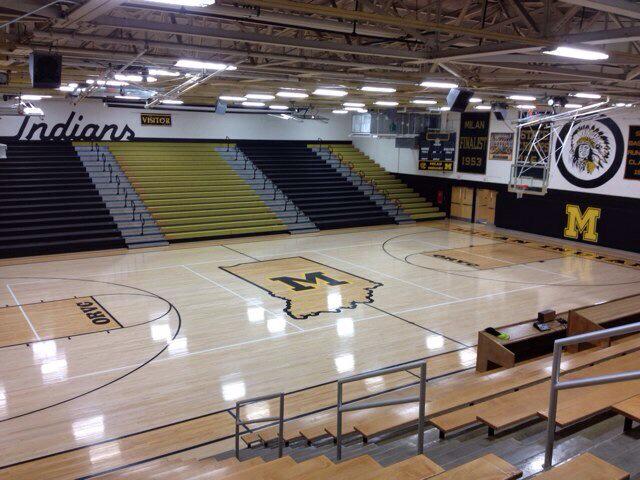 Backstory and Context
The Milan High School falls right under the category of rural Indiana, and they are known as the Milan High School Indians. This high school is a key part in the tradition of Indiana basketball mainly because of their men's basketball state victory in 1954. With an enrollment of only 161 at the time of the championship, they were the smallest school to ever win a single class state basketball tournament. They defeated Muncie Central High School, which was over ten times the size of Milan, at the legendary Hinkle Fieldhouse, which also appears on this tour. This high school reflects the passion and legacy behind rural Indiana basketball, and how any team can win a championship as long as they are willing to work hard enough at it. The main character of Hoosiers is Jimmy Chitwood, and that character was based off of Bobby Plump, who was the man who hit the shot in real life. After his high school basketball career, Bobby went on the star at Butler University and then went on to open up a bar in Indianapolis that is currently being run by his son.
Sources
Kiisel, Ty. "The 1954 Milan High School State Champions and Successful Work Management." Tech, 2010, it.toolbox.com/blogs/tkiisel/the-1954-milan-high-school-state-champions-and-successful-work-management-042910.
Image Sources
https://farm5.staticflickr.com/4895/46343572561_15f2515ced_z.jpg

https://pbs.twimg.com/media/CEhyGboUMAACW89.jpg

Additional Information