The Rupp House
Introduction
Located at 5115 East Trindle Road in Mechanicsburg, the Rupp House was built in 1787 by Jonas Rupp. It later served as the headquarters for Confederate raider Albert G. Jenkins during the Confederate invasion of Pennsylvania in late June 1863. During this invasion, Jenkins and his men captured free African American women and children with the intent of selling them into slavery. It was from this location that Jenkins would order his troops east toward the state capital of Harrisburg, where they would clash with Union militia. The resulting conflict would become known as the Skirmish of Oyster Point (present-day Camp Hill). The Rupp House is currently not open to the public but visitors are free to park in the adjacent lot and view the house and markers from the outside.
Images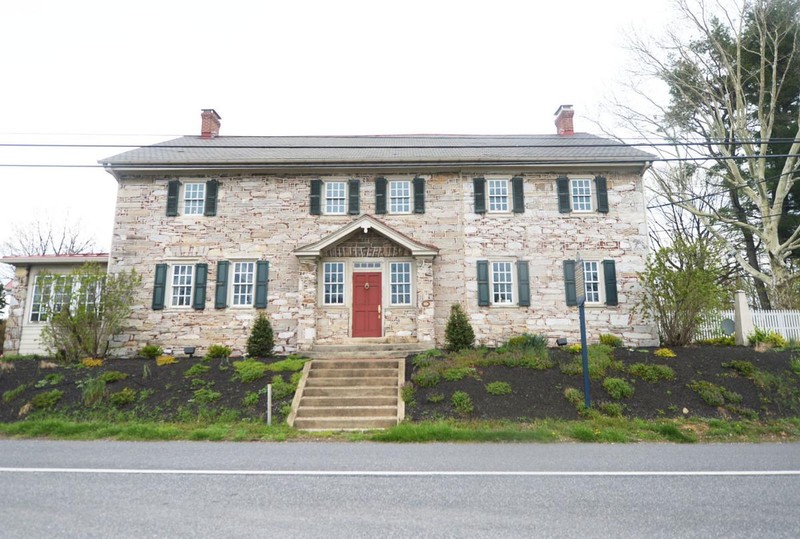 PHMC Marker outside the Rupp House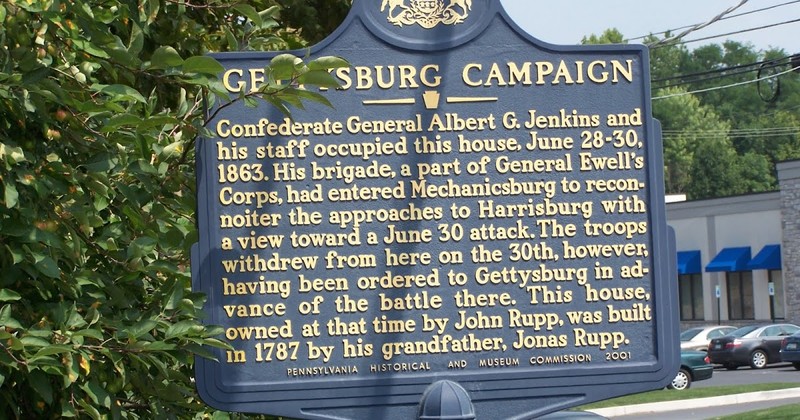 Backstory and Context
John Rupp, the grandson of Jonas Rupp, was residing in Lancaster during the Confederate invasion in June 1863. General Jenkins and his brigade, who were under the command of General Ewell's Corps, established a headquarters at the Rupp House after they captured Mechanicsburg on June 27. Jenkins subsequently split his forces in two, sending half farther east down Trindle Road and the other half east along the Carlisle Pike. Artillery positions were established at the Samuel Albright House on the Carlisle Pike and Peace Church on Trindle Road. These artillery units shelled Union militia located at Oyster Point on and off for two days as Jenkins rode south to observe Harrisburg's defenses from Slate Hill and New Cumberland Heights. Jenkins and his staff abandoned the Rupp House on June 30 as they were ordered to retreat back west due to the imminent battle that was soon to take place in Gettysburg. Jenkins' rearguard would become involved in the Battle of Sporting Hill as they were pursued by Union militia along the Carlisle Pike. This engagement was some of the northernmost fighting of the American Civil War.
In the summer of 1863, Jenkins led raids on Greencastle and Chambersburg, two adjacent Pennsylvania communities. During these raids, there were multiple instances where local residents witnessed and recorded Jenkins and his men capturing people of color with the intention of selling them into slavery. Among those who were captured were the children of Priscilla Marshall, whose letter asking for hep finding her children is included in the links below.
Sources
Gettysburg Campaign, Pennsylvania Historical and Museum Commission. April 25th 2001. Accessed April 16th 2020. http://www.phmc.state.pa.us/apps/historical-markers.html.
Rupp House - Mechanicsburg, Explore PA History. Accessed April 16th 2020. http://explorepahistory.com/attraction.php?id=1-B-38E3.
Rupp House - Mechanicsburg, PA, House Divided. Accessed April 16th 2020. https://housedivided.dickinson.edu/sites/blogdivided/2010/08/29/rupp-house-mechanicsburg-pa/.
Wingert, Cooper H. The Confederate Approach on Harrisburg: The Gettysburg Campaign's Northernmost Reaches. Charleston, SC. The History Press, 2012.
Image Sources
The Sentinel

Civil War Sallie

Additional Information