1927 Crash Site of Frank Sheehan
Introduction
On February 14, 1927, at approximately 9:42 A.M., local aviator Frank Sheehan crashed landed on the corner of Ninth and Frederica Streets. He was killed instantly. Sheehan had been testing out the newest model of the Kentucky Cardinal biplane when an issue arose with the wings. Observers noticed parts of the wings falling off the plane as Sheehan tried to turn around to make it back to the airfield. They also heard him shouting for people to move out of the way as the plane went down. Afterwards, his plant shut down and was eventually sold. Sheehan's death is considered the end of any hopes of Owensboro becoming an aviation manufacturing center. Locals consider the event even more tragic as Sheehan had just married local socialite Ruby Beal several days beforehand.
Images
Crash scene of the Kentucky Cardinal, February 14, 1927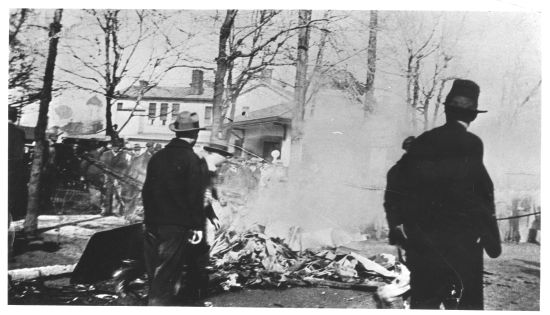 Crash scene of the Kentucky Cardinal, February 14, 1927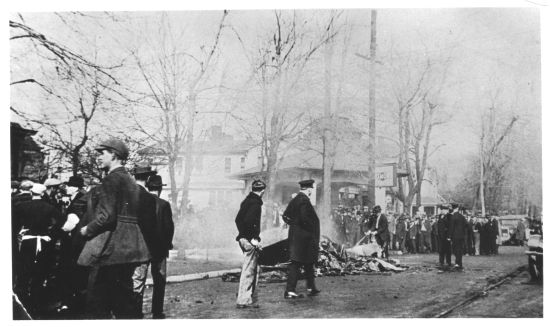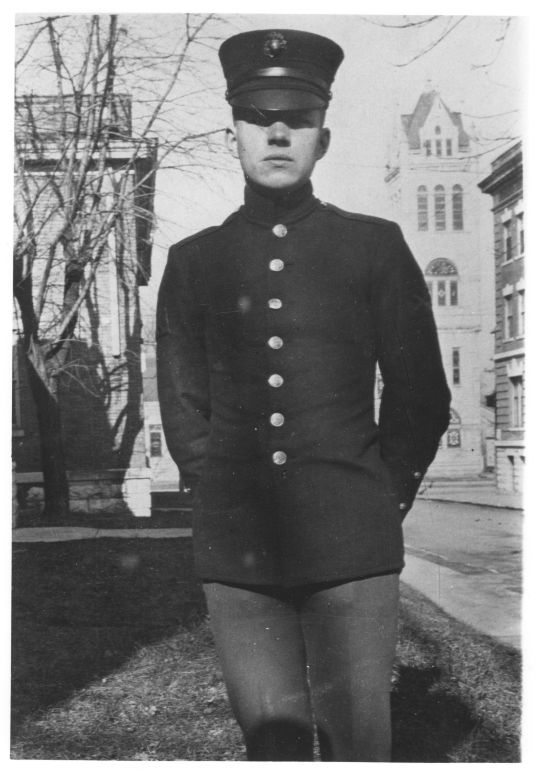 Ruby Beal Sheehan, wife of Frank Sheehan, ca. 1927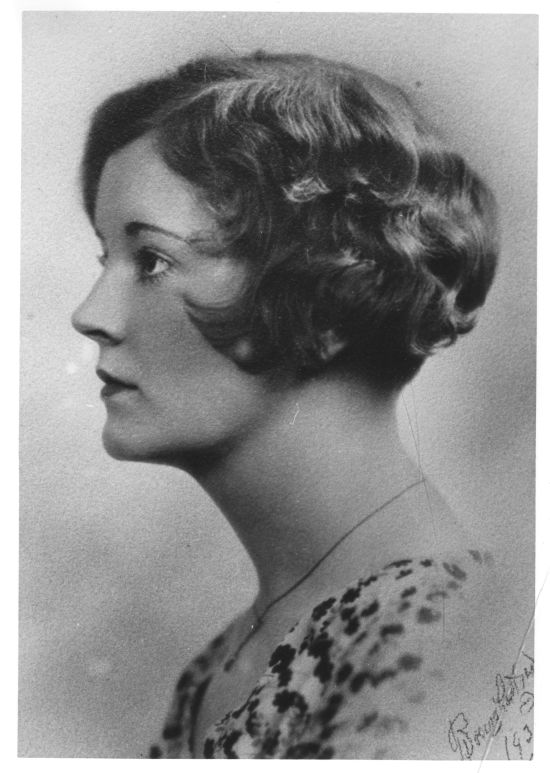 A Kentucky Cardinal plane, ca. 1926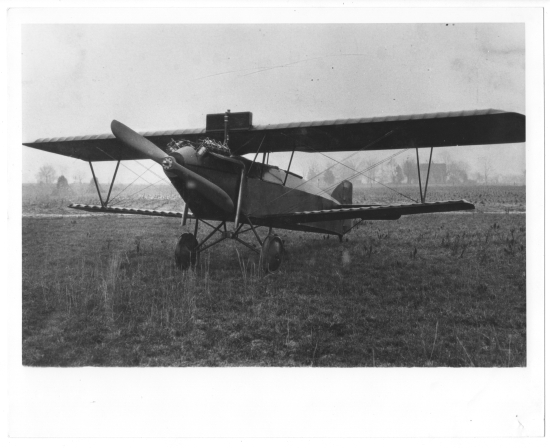 Backstory and Context
Frank Peter Sheehan Jr. was born August 4, 1900 in Louisville, KY. His father, a prominent businessman with the Glenmore Distilleries, died in 1907. In 1914, his mother, Ida Belle Gossom Sheehan, also died, leaving Sheehan and his younger sister Mildred orphans. The two moved to Bowling Green to live with their aunt, Cora Morningstar. Sheehan briefly studied engineering at the University of Michigan before dropping out to serve in the Marine Corps in the waning days of WWI.
After WWI, Sheehan became a barnstormer, performing aerial stunts around the country. In 1922, Sheehan bought property on Daniels Lane to build an airfield and aviation manufacturing plant. Today, the Owensboro Health Regional Hospital resides there. By 1926, the first planes were being built and tested. In early 1927, the Kentucky Aircraft Corporation was formed, with Sheehan serving as President, Irvin Friend Vice-President, H.H. Lindsay as Secretary and Treasurer, and Sheehan's barnstorming partner, Ken Mattingly, on the Board of Directors. Sheehan had plans for Owensboro becoming a major aviation manufacturing center, with his airfield becoming part of the barnstorming circuit.
On February 12, 1927, Sheehan married his secretary, Ruby Beal, in Evansville, IN. Beal was 18 and a recent graduate of Owensboro High School, where she starred on the girls' basketball team. Some rumors claim a rift between Sheehan and one of his business partners, whom Beal had dated before Sheehan, but these remain unsubstantiated.
On the morning of February 14, 1927, Sheehan and Ruby drove out to the airfield so Sheehan could test the newest biplane model before heading out on their honeymoon. It was the Kentucky Cardinal No. 5, the fourth biplane produced, and fifth overall airplane made in the plant. This new model had some minor modifications to the wings. In some accounts, Sheehan was offered a parachute by Mattingly, but turned it down as he never took one. Sheehan also suggested Mattingly join him in the plane before changing his mind and rescinding his offer. Around 9:30 A.M., Sheehan took off from the hangar, leaving behind his business partners, his wife, and his close cousin, Roy Morningstar.
Sheehan started out north to the Ohio River, but as he went over the downtown area, pieces of the plane were seen to start falling off. The plane turned around, presumably to head back south to try to make it back to the hangar. According to eyewitnesses, the right wing first broke off over Seventh Street, followed by the left wing. As it made its final descent, bystanders claim Sheehan's final acts were to shout for everyone to get out of the way. The plane crashed at the corner of Ninth and Frederica Streets, barely missing several pedestrians in their cars. Sheehan died on impact, officially of a crushed skull. Supposedly every bone in his body was broken, and one eye popped out its socket.
Back at the airfield, employees quickly realized something was wrong and began rushing to their cars to drive into the city. Ruby was stated as being distraught as the plane descended, crying out "Oh, I hope he's not hurt," before eventually becoming prostrated with grief. At the crash site, hundreds of people converged at the scene, with the streets becoming congested with cars. Soon after the body was pulled from the wreckage, a stray cigarette caught the plane on fire and destroyed it. The funeral took place the next afternoon, and Sheehan's body was taken to Louisville to be buried in Cave Hill Cemetery. His business partners and employees served as pallbearers. Ruby went on to eventually re-marry and died in 1946 after a tragic car accident.
The Kentucky Aircraft Corporation stayed in business, though manufacturing ceased permanently. The company eventually sold the property to the city in 1933 use a municipal airport. After the airport opened at its new location on Bittel Road, the site was abandoned. The last known remaining hangar from the Sheehan era was torn down in 2016. 
Sources
"Aviator Dies in Airplane of His Own Creation." The Owensboro Messenger (Owensboro) February 15th 1927. Morning ed, 1-1.
Hayes, William Foster. Sixty Years of Owensboro 1883-1943. Owensboro, KY. Messenger Job Printing Co. , 1944.
Lawrence, Keith. "Valentine's Day 1927: the day dreams died." Messenger-Inquirer (Owensboro) February 13th 1997. , C sec, 1-1.
Lawrence, Keith. "Wings of Fate: '27 Crash breaks heart and hope." Messenger-Inquirer (Owensboro) February 15th 1976. , C sec.
"Plane Crashes Killing Sheehan." The Owensboro Inquirer (Owensboro) February 14th 1927. Evening ed, 1-2.
"Sheehan Dies in Plane Crash." The Owensboro Messenger (Owensboro) February 15th 1927. Morning ed, 1-2.
Interview with Joseph Roby. By Tom Igleheart. Date unknown.
Image Sources
Original copied by A. Dorfman, Kentucky Room, Daviess County Public Library

Original copied by A. Dorfman, Kentucky Room, Daviess County Public Library

Original copied by A. Dorfman, Kentucky Room, Daviess County Public Library

Kentucky Room, Daviess County Public Library

Original copied by A. Dorfman, Kentucky Room, Daviess County Public Library

Additional Information