Memorial Stadium
Introduction
Memorial Stadium may seem like an odd choice for a project based on segregation and desegregation - however, Indiana University was faced head-on for the racial discrimination on campus when the precious Little 500 was threatened. The bike race that originally took place within the Indiana Memorial Stadium was met with protestors in 1968 lead by black students of the school.
Images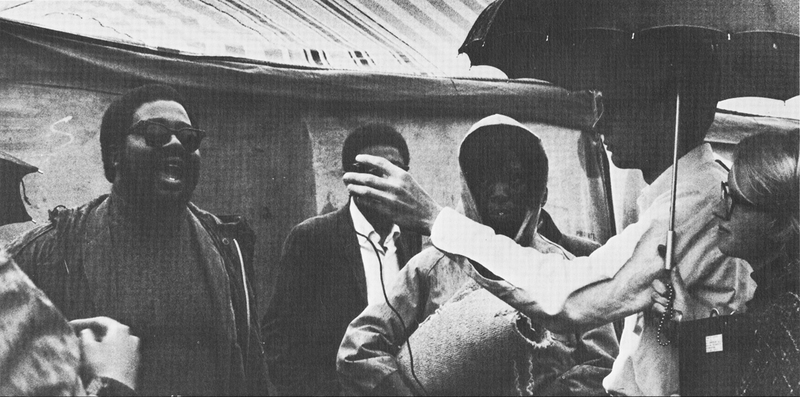 Backstory and Context
On Friday, May 10th of 1968, black students of Indiana University lead by graduate student Clarence "Rollo" Turner held one of the most successful protests that IU has seen. Fueled by the anger of misrepresentation, under representation, mistreatment at the hands of members of fraternity and sorority life and an overall feeling of being alienated from their own college -- around 50 students had had enough. The main issue at hand was discrimination within Greek life, something that had been reported on in an article by Pete Montague who stated that "IU's fraternities and sororities propagated racist ideology, coded into their by-laws, and how, in 1961, Sigma Chi, a prominent fraternity, continued to exclude minority students even after a racist clause in their constitution was deleted (Montague, P., 1966). Because of this report, students demanded the removal of these racist regulations and patterns within the fraternity and Greek life. In order to make sure that things would change, they claimed the attention of not only other university students, but the people of power within the college and other members of Bloomington. Barricading themselves inside the stadium and refusing to leave, threatening the continuation of the Little 500 bike race that was supposed to take place, those in charge were forced to listen. Armed with sticks, bike helmets, chairs and more, the May 18th edition of The Inside Agitator recalled the protest as a "heavy commitment to achieve the abolition of legalized racism within the fraternity system", praising the protesters for their "disciplined resistance to injustice". Elvis Stahr, the IU president, still reeling from previous protests held on campus & already in a place of compromise in order to protect the image of the school - he heavily suggested that fraternities comply with the demands. "This was the best organized, most completely disciplined protest action ever to be taken on this campus" the student newspaper continued to report with satisfaction, and they were right. The protest was successful, and after delaying the race by one day (though bad weather also played a part), only one fraternity refused to comply with the black students wishes.
Sources
Ford, Noni. "Indiana University." Voices from the IU Bicentennial, 7 May 2018, blogs.iu.edu/bicentennialblogs/2018/05/07/the-1968-little-500-sit-in-podcast/.
"Indiana University Bloomington." Omeka RSS, collections.libraries.indiana.edu/iubarchives/exhibits/show/studentdemonstrationsatiu/1968little500sitin.
Montague, Peter: Racial Discrimination at Indiana University, A Report on Fraternities and Sororities, 1966.
Progressive Reform Party, "Inside Agitator No. 15," Indiana University Archives Exhibits, accessed April 15, 2020, http://collections.libraries.indiana.edu/iubarchives/items/show/776.