Tougaloo College Historical Marker
Introduction
Part of the Mississippi Freedom Trail, this historical marker commemorates students, faculty, and administrators at Tougaloo College who made this campus a safe haven for many civil rights meetings during the 1950s. and 1960s.
Images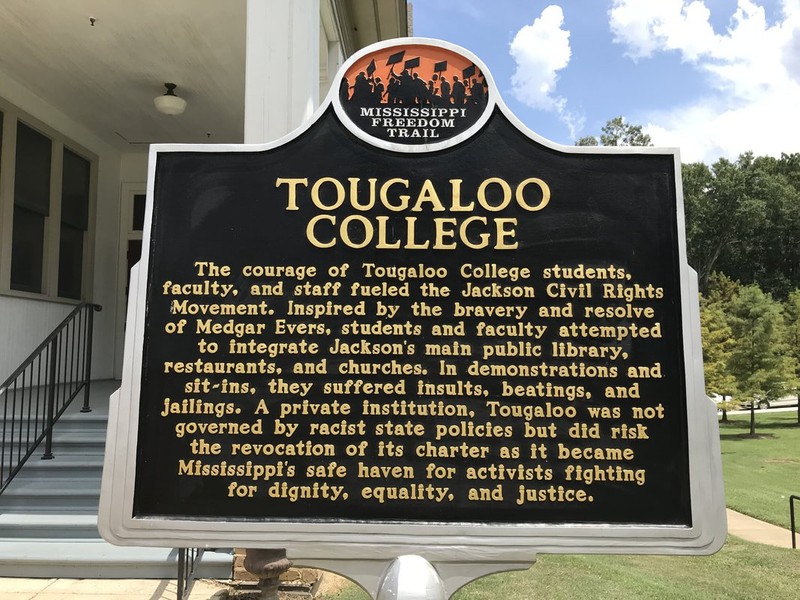 Backstory and Context
Medgar Evers, a field secretary for the NAACP helped Tougaloo College become center of the local Civil Rights Movement. He traveled throughout Mississippi organizing and reviving local NAACP branches, meeting with activists, and investigating allegations of injustice against Black Mississippians. Although primarily interested in attracting adults to the civil rights struggle, Evers frequently spent time working with youth. Evers was committed to pressing every advantage, including enlisting the participation of Mississippi's students. Evers often traveled from Lorman to Jackson to participate in interracial youth discussions organized by Professor Ernest Bornski at Tougaloo College. These discussions convinced Evers that students had a role to play in the Civil Rights Movement.

Evers promoted youth participation by establishing student-centered auxiliaries of the NAACP. The most active youth chapters during the 1950s were in Jackson and Hattiesburg. In Jackson, Evers's efforts benefited from the presence in the area of three historically Black colleges and universities. Evers recruited over 200 Jackson area students joined the NAACP youth council and began fighting for the cause. The council also included among its members the Ladner sisters, Joyce and Dorie, who later were youth leaders at Tougaloo College and members of the Student Nonviolent Coordinating Committee (SNCC).
On March 27, 1961, the Tougaloo Nine, four females and five males, entered the segregated main branch of the municipal library in search of source material for a class assignment. When the students took seats and began reading, a library staff member called the police. After refusing orders by the police chief to leave the library, the Tougaloo Nine were arrested. The read-in drew support from students at Jackson and Tougaloo colleges as well as Millsaps, a predominantly white college in Jackson. The Tougaloo Nine were charged and convicted of breach-of-peace. Each of them was fined $100 and given a 30-day suspended sentence.

Tougaloo became the site of many meetings and activists who made it to the gates of campus felt secure, Tougaloo also became a safe haven for the Student Nonviolent Coordinating Committee (SNCC). However, as word of civil rights meetings spread throughout the state, political pressure was placed on administrators and faculty to distance themselves from the movement. Professors began having difficulty placing their students in public schools-either in teaching positions or as students learning their craft as student-teachers. Graduates also found that their degree made them suspect in the eyes of white employers. As a result, the college's role as a safe-have for civil rights activism came at a high cost for many.
Sources
United States. National Park Service. "We Shall Overcome -- Tougaloo College." National Parks Service. U.S. Department of the Interior, n.d. Web. 01 Dec. 2014.