Park Cemetery
Introduction
This cemetery is the final resting place of actor James Dean. Dean was raised in Fairmount, Indiana before he went off to pursue acting. He is wildly remembered for dying tragically at the age of 24, when his career in Hollywood was just beginning. His death during the "golden age" of Hollywood has solidified his place in American history as a iconic tragic figure.
Images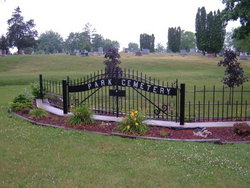 Backstory and Context
This cemetery is the final resting place of 50s movie star James Dean, who has been a large part of pop culture since his death in 1955. Dean was raised in Fairmount, Indiana, where he was also laid to rest after his untimely death after a car crash in California. However, in Dean's poem he penned under the title of "Small Town," Dean himself struggles with his identity of the small town of Fairmount, not identifying with the ideals that he feels are presented within his town: "My town thrives on dangerous bigotry / My town's big in the sense of idolotry / [...] My town's sweet, I was born bare / My town is not what I am, I am here" (3-4, 9-10). It is this that makes his burial in Fairmount so interesting, as he does not seem to believe he belongs in that town.The unexpected death of Dean was widely reported across Indiana, with The Terre Haute Tribune-Star reporting on his passing with language that suggested the actor would be dearly missed and was beloved: "James Dean, 24, the sensitive, young actor who could well become Hollywood's first posthumous Academy Award winner, will be buried back home in Indiana" ("Young Movie"). The short lived life of Dean was a sense of pride for Indiana, who had a recognizable Hollywood persona from one of its small towns. The article goes on to say where Dean will be buried and when services will be held: "Services will be at 2 p.m. next Saturday at Hunt's Funeral Home in Fairmount, Ind. Burial will be in Grant's Memorial Park in nearby Marion, Dean's birthplace. The father, a dental technician, will leave Sunday with the body" ("Young Movie"). The cemetery mentioned, Grant's Memorial Park, is still in service today, although Dean is actually buried in Park Cemetery. It is not publicly known why the location changed, although it may be an error on the newspaper's part. Park Cemetery is still in service today, and is a tourist attraction in Grant County where many people come and kiss the headstone of Dean and leave behind mementos for him, according to the Grant County official website. 
Sources
Dean, James. "Small Town." Poem, n.d.
"Park Cemetery." Grant County Visitors Bureau, 2020. https://www.showmegrantcounty.com/places/attractions/park-cemetery/.
"Young Movie Actor Will Be Buried in State." The Terre Haute Tribune-Star, October 2, 1955. https://access-newspaperarchive-com.proxyiub.uits.iu.edu/us/indiana/terre-haute/terre-haute-tribune-star/1955/10-02/page-2/james-dean-death?&pci=7&psi=38&ndt=ex&py=1955&search=y.
Image Sources
https://www.findagrave.com/cemetery/86327/park-cemetery/photo