Comparing the Integration of Different IU Sports to Eddie Whitehead's Experience
Introduction
Eddie Whitehead's integration into the Indiana University baseball team came nearly a decade after the integration of both the football and basketball team. George Taliaferro (1944) and Bill Garrett (1947) both worked to become successful African American athletes at a white-dominated University, leading to the integration of all sports at IU. All of this might not have been possible if it weren't for University leaders like Herman B. Wells, Branch McCracken, and Bo McMillan who made a special effort to push for these athletes to receive equal opportunities. Taliaferro explained that he came to Bloomington to get a quality education though many advised him not to. Likewise, Bill Garrett came to Bloomington with only an "opportunity" to make the team if he proved himself. Despite facing numerous opponents, a gentleman's agreement barring African American participation in sports, and glaring segregation in Bloomington, Bill Garrett and George Taliaferro both helped to pave the way for other African American athletes like Eddie Whitehead to integrate into sports.
Images
This photo of the 1950-1951 Indiana Hoosiers photographs Bill Garrett as the only African American player. Coach Branch McCracken (center) offered Garrett an "opportunity" to make the team by proving himself in the fall of 1947, Garrett's freshman year.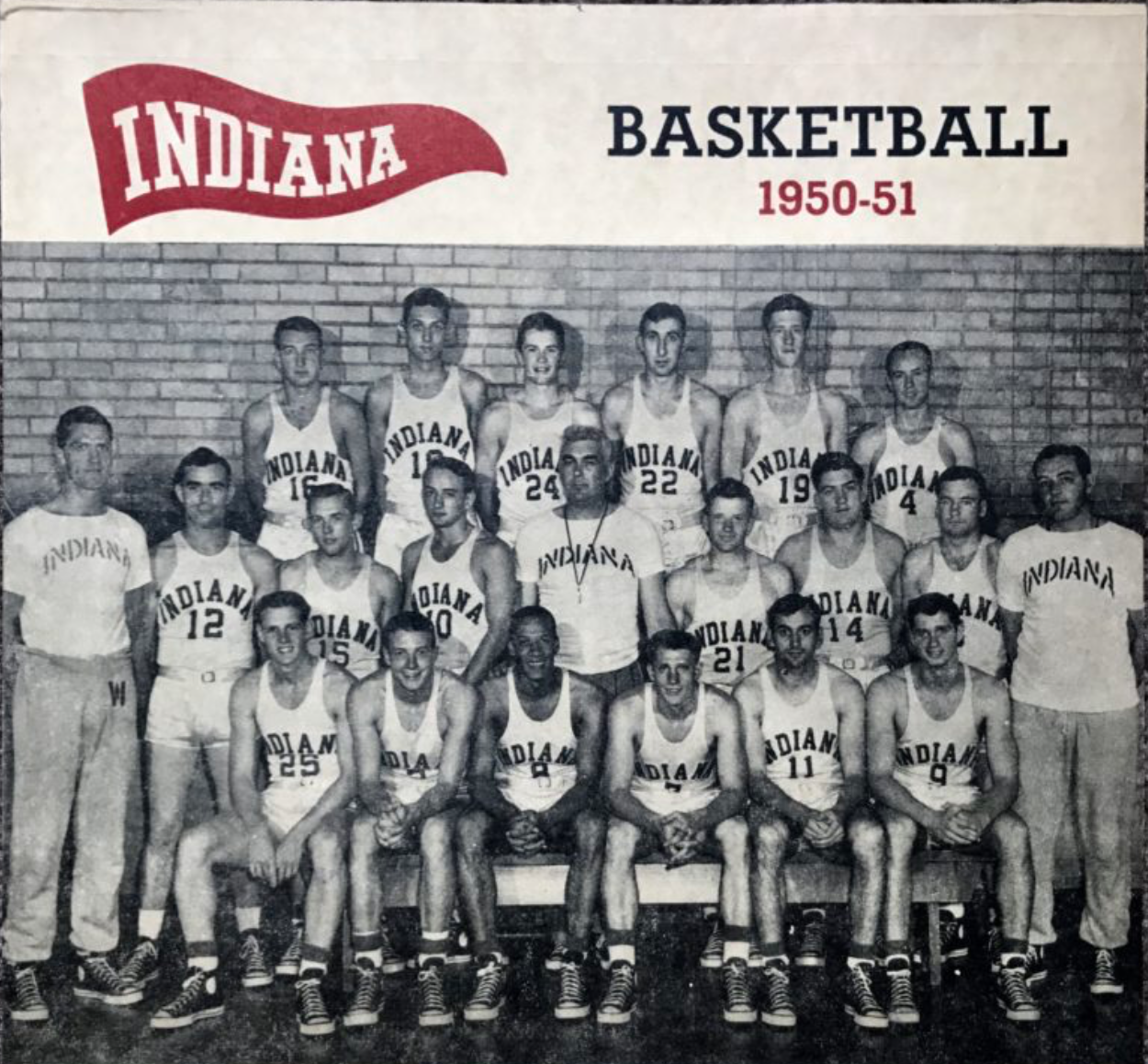 Bill Garret in 1950 vs. Illinois University in the Old Fieldhouse where the Hoosiers played basketball prior to Goldstein Fieldhouse and Assembly Hall.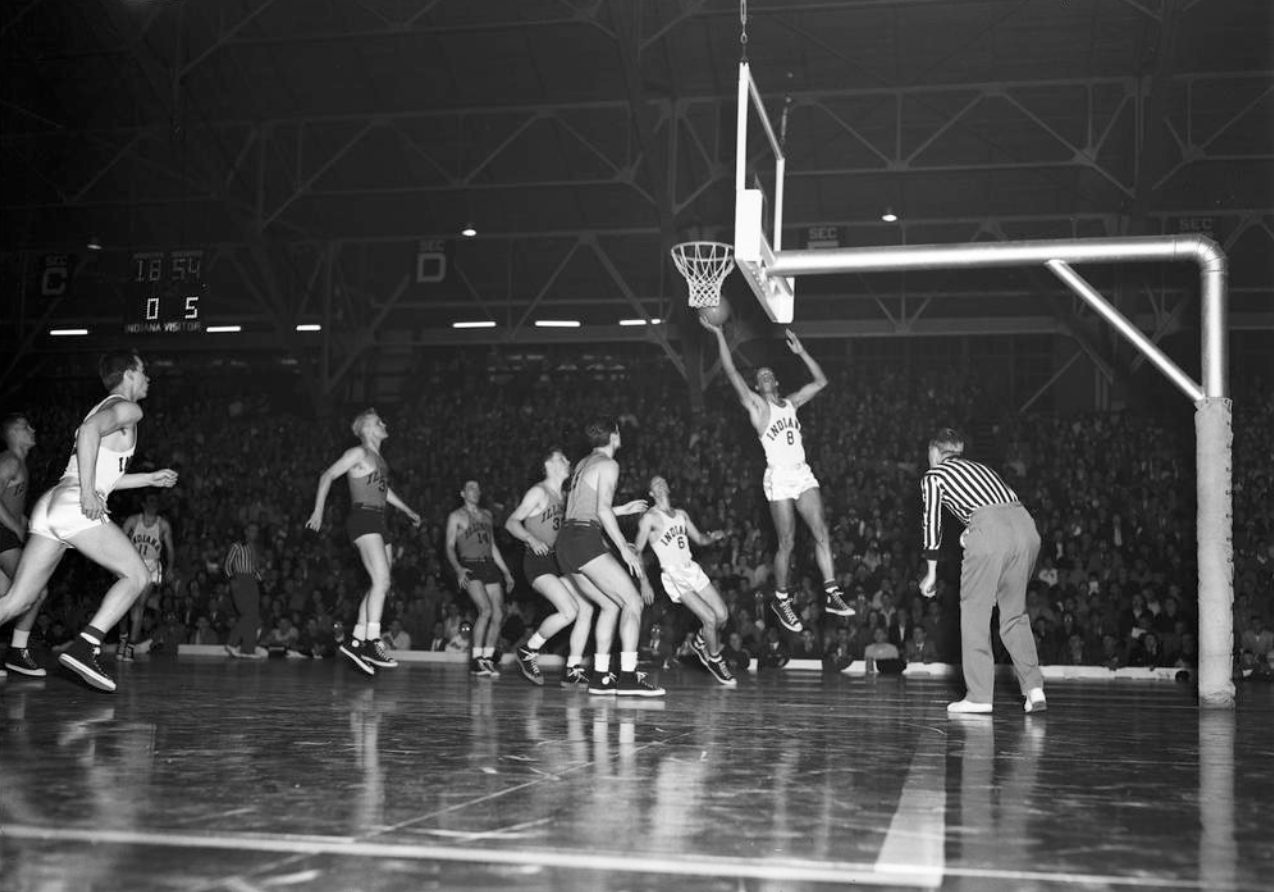 Bill Garrett and Coach Branch McCracken in January of 1951. Bill Garrett's ability to run the floor allowed him to be a large part of McCracken's "run and gun" offense and the "Hurryin Hoosiers."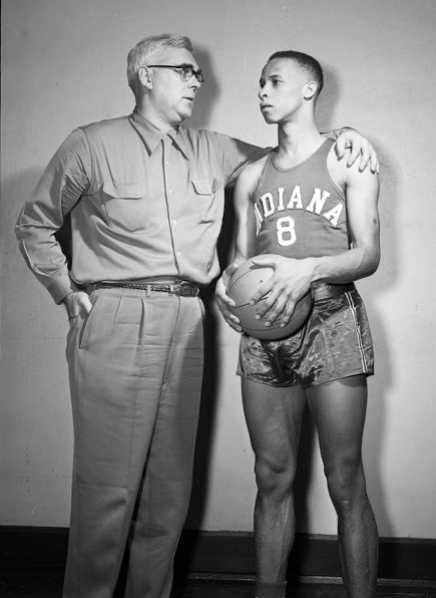 Statue of George Taliaferro at the plaza now named after him and his accomplishments at Indiana 2019.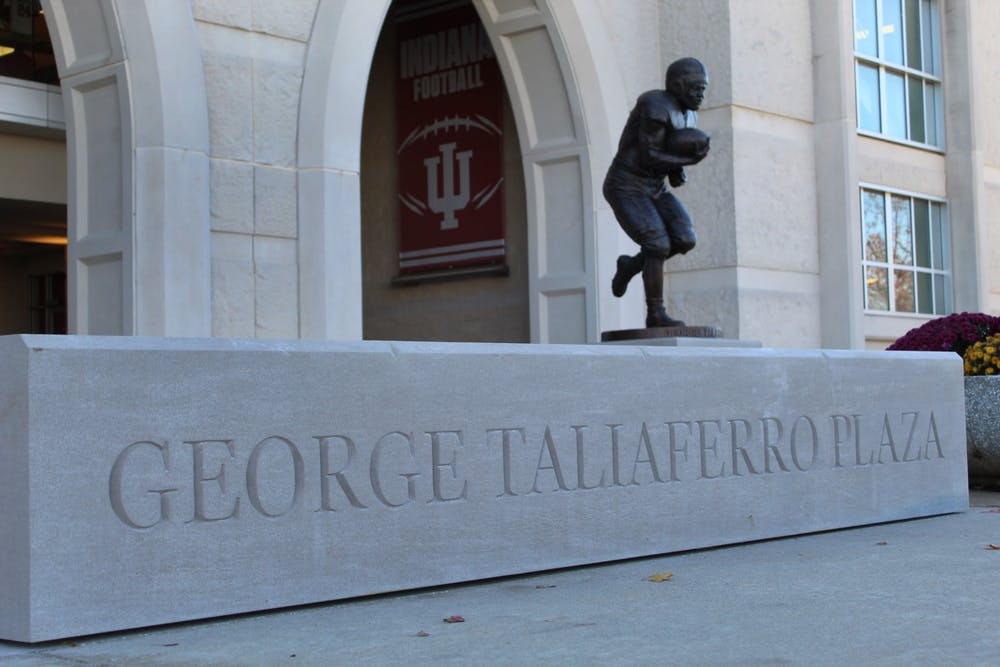 The Indiana Football team honoring George Taliaferro before a game in 2018. Taliaferro had passed away a few days prior and was the first African American football player at Indiana University.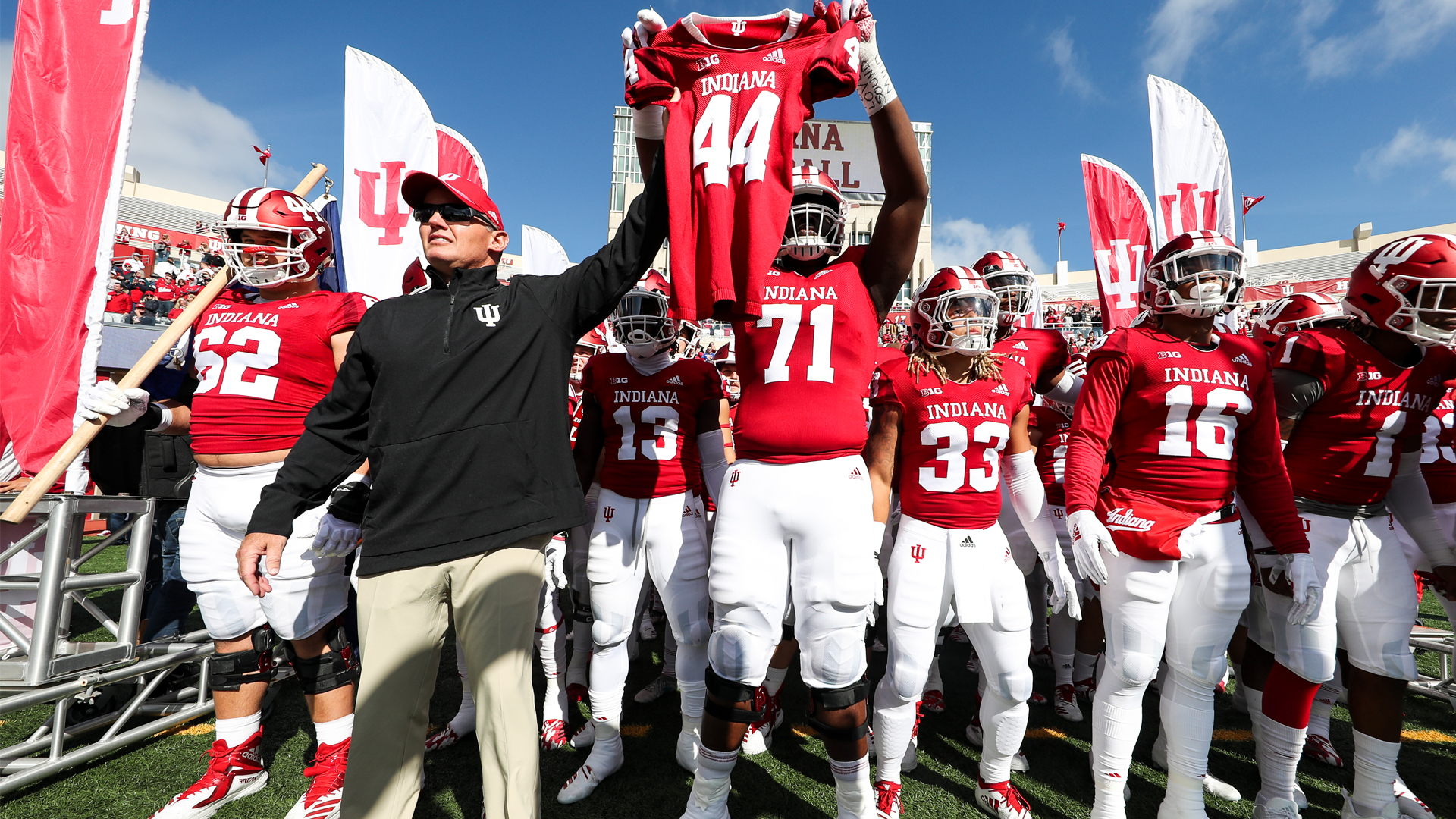 Backstory and Context
George Taliaferro, Indiana University's first African American football player, ended up at Indiana University after a scrimmage between his all-black school in Gary, Indiana and an all-white school in Illinois. The all-white school wanted a tune up before the Illinois state championship, and after Taliaferro dominated the school from Illinois, their coach called Bo McMillan at IU to discuss Taliaferro. Ultimately, he decided to play football for the Hoosiers (Bembry, 2017). Taliaferro made history multiple times while playing running back at Indiana University. Quickly becoming the Hoosiers most productive tailback, he led the backfield and the Hoosiers to their only undefeated season at 9-0-1 in 1945. He again made history four years later when the Chicago Bears drafted him the 13th round of the 1949 NFL draft, making him the first African American player ever drafted into the league. Unfortunately for Taliaferro, he had already signed a contract to play with Los Angeles Dons of the All-American Football Conference, a league much more inviting to African American football players at this time. He had signed with them "because there was no logical reason for him to think he might be drafted by an NFL team because, well, no black player ever had been" (Talk of Fame, 2018).
Taliaferro once explained what he loved most about football "was hitting people. It allowed me to vent my frustrations with being discriminated against in the United States" (Talk of Fame, 2018). He may have been a stand out football player, but when he arrived on campus in 1945, he was just another black man in a time of extreme discrimination. Taliaferro "felt like a fifth class citizen" (Bembry, 2017) at IU because he was not allowed to do many things due to the color of his skin. Taliaferro had to live with a black family in town because black students were not allowed to live in the dorms. Additionally, he was not allowed to use the school's swimming pool and he could not eat in the school's cafeterias. If he wanted to see a movie, he was only allowed to sit in the very back of the theater. This experience mirrored Eddie Whitehead's experience on the IU baseball team's spring trip down south, but this was happening to him on his own campus, rather than another school's. Both players endured many hardships as African American collegiate athletes in this time period.
Following what Taliaferro was able to accomplish with the football team, it was Bill Garrett's turn to integrate the basketball team. Garrett grew up in Shelbyville, Indiana and was one of three black starters on the Shelbyville high school basketball team. His outstanding high school career led him to be named Indiana Mr. Basketball in his senior season, an award given to the greatest high school basketball player in the state each year. In an attempt to keep Garrett in state by playing at Indiana University, Faburn Defrantz and other Indianapolis African American leaders went to Bloomington to meet with President Wells (Neddenriep, 2017). Branch Rickey and President Wells gave Garrett the opportunity to play basketball as the only African-American player on the team, despite the gentleman's agreement. Garrett admitted that he felt the pressure of being the only African American on the team, saying, "too much in the spotlight- supposed I didn't make good" (Preston, 1947). Early on, Garrett endured mild discrimination from his teammates, but that would soon get worked out internally. In fact, in an interview with Garrett reflecting on his experience at IU, he explained that sometimes he wouldn't be permitted to eat in a dining room due to his skin color. To fix this, Garrett explained that he and his teammates would all move into a new dining room, which demonstrates his teammates acceptance of Garrett (Lighty, 2019).
In addition to the discrimination he faced on the court, Garrett was also discriminated against on campus at IU. According to a report from the 1940s on student conditions at IU. "They [African-Americans] were prohibited from living in University dorms, made to dine in a separate cafeteria, and were denied most of the facilities of the Union Building" (Lighty, 2019). Much of this wouldn't change by the time Eddie Whitehead would become the first African American to play on the IU baseball team in 1956. Almost ten years after Garrett integrated the basketball team, Whitehead was still facing the effects of the gentleman's agreement. Furthermore, Whitehead wasn't allowed to stay in the same dorms as the rest of the team on their spring trip in 1956. In the case of both of these athletes, President Wells fought for the rights of both of them and their respective causes. When commenting on Eddie Whitehead's discrimination in 1956, he said, "I'm opposed to segregation in any form. IU is the leader in the nation against segregation in school as well as in athletics" ("Hoosier Big 4, 1956).
George Taliaferro, Bill Garrett, and Eddie Whitehead were all trailblazers not just in their sports, but also for African American athletes everywhere. Despite facing immense opposition from almost every angle, they blazed a trail for future African Americans to be able to compete in sports they excelled at. Each man faced discrimination in the smallest of areas on campus. This included sharing the unfortunate experience of being denied usage of the campus dining halls, a privilege every other white student most likely took for granted. Despite the intense discrimination, these three athletes continued to compete at the highest level possible, becoming some of the very best in their respective sports at the time.
Sources
"Hoosier Big 4 Bans Segregated Games." The Indianapolis Recorder. March 31, 1956. https://newspapers.library.in.gov.
Lighty, S. Chandler. "THH Episode 1: Bill Garrett and the Integration of IU Basketball." The Indiana History Blog, February 28, 2019. https://blog.history.in.gov/bill-garrett/#shownotes.
Neddenriep, Kyle. "Bill Garrett to Be Honored for Integrating Big Ten Basketball 70 Years Ago." Indianapolis Star. IndyStar, April 7, 2017. https://www.indystar.com/story/sports/high-school/2017/04/07/bill-garrett-honored-integrating-big-ten-basketball-70-years-ago/100100312/.
Preston, Charels B. "'Mr. Basketball' May Spend College Days on West Coast ." The Indianapolis Recorder. June 7, 1947. https://newspapers.library.in.gov.
Bembry, Jerry. "George Taliaferro Played Quarterback and a Whole Lot More." The Undefeated. The Undefeated, September 29, 2017. https://theundefeated.com/features/george-taliaferro-black-quarterback-first-african-american-drafted-into-the-nfl/
"State Your Case: Taliaferro Blazed a Trail for Others." n.d. Maven. Accessed April 27, 2020. https://www.si.com/nfl/talkoffame/state-your-case/state-your-case-taliaferro-blazed-a-trail-for-others-TmvzXjIGIkS6_Vsb9WT6Sw.
‌
Image Sources
https://assemblycall.com/wp-content/uploads/2017/04/FullSizeRender3.jpg

https://assemblycall.com/wp-content/uploads/2017/04/1950indianavsillinois.jpg

http://webapp1.dlib.indiana.edu/archivesphotos/results/item.do?itemId=P0038009&searchId=1&searchResultIndex=17

Brown, Anna. 2019. "Statue of IU Football Legend George Taliaferro Unveiled at Memorial Stadium." Indiana Daily Student. IndianaDailyStudent. November 2, 2019. https://www.idsnews.com/article/2019/11/statue-of-iu-football-legend-george-taliaferro-unveiled-at-memorial-stadium.

https://iuhoosiers.com/news/2019/10/31/football-diprimio-column-george-taliaferro-and-the-best-of-cream-crimson-athletics.aspx