Chase Field
Introduction
Chase Field, formerly Bank One Ballpark, is a baseball park located in Downtown Phoenix, Arizona. It is the home of the Arizona Diamondbacks, the city's Major League Baseball franchise. It opened in 1998, in time for the Diamondbacks' first game as an expansion team. this has been the only Stadium in the team history
Images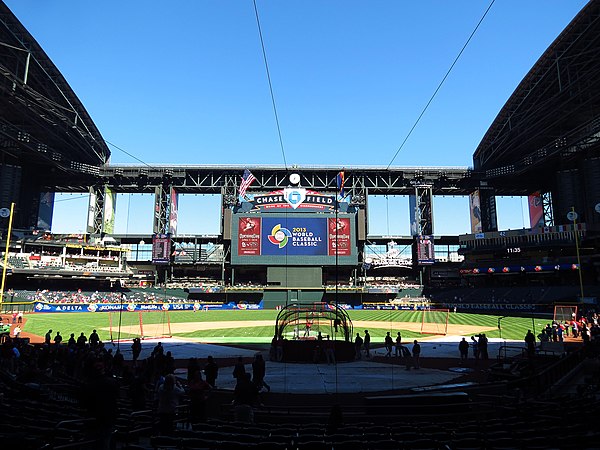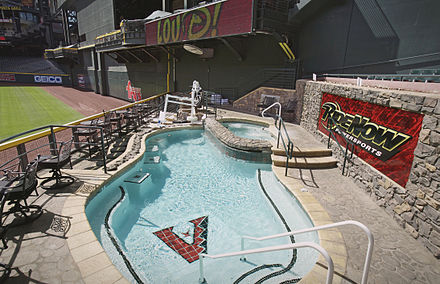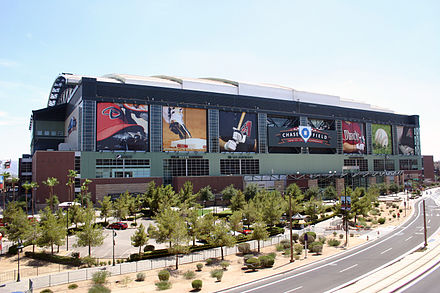 Backstory and Context
Construction on the park began in 1996, and was finished just before the Diamondbacks first ever season in 1998. It was the third MLB stadium to have a retractable roof and the first in the United States there is now 4 more MLB teams that have a retractable roof It was also the first ballpark to feature grass and not. turf in a retractable roof stadium. Chase Field's roof is opened or closed depending on the game-time temperature. Even when the roof is closed, the park's windows allow enough sunlight to play in true daylight without overheating the stadium.
Sources
Bloom, Barry M. "Arizona Diamondbacks Focusing On The Future At Chase Field, Club President Derrick Hall Says." Forbes, Forbes Magazine, 17 Feb. 2020, https://www.forbes.com/sites/barrymbloom/2020/02/17/d-backs-focusing-on-the-future-at-chase-field-club-president-derrick-hall-says/#4431f4823f9d
Cluff, Jeremy. "Arizona Diamondbacks Stadium: Could Smaller Chase Field Be Option to Keep Team in Phoenix?" Azcentral, The Republic | Azcentral.com, 8 Aug. 2019, www.azcentral.com/story/sports/mlb/diamondbacks/2019/08/08/arizona-diamondbacks-stadium-reduce-chase-field-mlb-stadium-capacity/1959698001/.
"Chase Field." Chase Field - Arizona Diamondbacks, www.baseballpilgrimages.com/national/phoenix.html.
Graney, Ed. "Diamondbacks Fans See No Need for Move to Nevada, New Stadium." Journal, Las Vegas Review-Journal, 12 Aug. 2019, www.reviewjournal.com/sports/baseball/diamondbacks-fans-see-no-need-for-move-to-nevada-new-stadium-1824485/.
Image Sources
https://www.azcentral.com/story/sports/mlb/diamondbacks/2019/08/08/arizona-diamondbacks-stadium-reduce-chase-field-mlb-stadium-capacity/1959698001/

https://www.forbes.com/sites/barrymbloom/2020/02/17/d-backs-focusing-on-the-future-at-chase-field-club-president-derrick-hall-says/#4431f4823f9d

https://www.tripadvisor.com/Attraction_Review-g31310-d104041-Reviews-Chase_Field-Phoenix_Arizona.html

https://www.tripadvisor.com/Attraction_Review-g31310-d104041-Reviews-Chase_Field-Phoenix_Arizona.html

Additional Information