20 Alexander Street in Historic Princeton
Introduction
Princeton University and the surrounding township and county grew substantially during the 1820s and 1830s, partly due to the opening of a nearby canal and the arrival of the railroad. Coal mining, barge traffic, and students attending the University all led to population growth as well as a building boom. Charles Steadman designed many of the residential projects including one of the first series of homes on Alexander Street. The 20 Alexander Street home demonstrates Steadman's approach to build homes that demonstrated unity in form, but each home also enjoyed unique details such as ornate doorways that set every home apart from each other.
Images
Historic Home in Princeton, NJ: 20 Alexander Street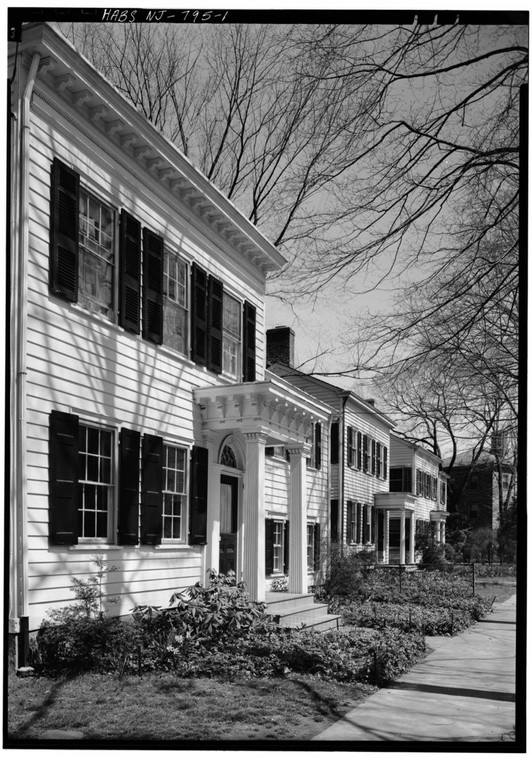 Backstory and Context
The construction of the Delaware and Raritan Canal and the Camden and Amboy Railroad in the 1830s stimulated considerable development in the newly formed Princeton Township, Princeton University, and surrounding areas. As well, coal and building industries began to flourish in this area. Consequently, the University and surrounding regions enjoyed marked growth and a construction boom, including residential buildings. One of the chief residential architects was Charles Steadman, and one of his first projects was Canal Street (now Alexander Street). 
The Alexander Street housing development existed as one of the first residential construction projects in the Princeton area. Originally named Canal Street, the street linked Princeton with the Delaware and Raritan Canal, which along with the railroad, stimulated growth throughout the town during the 1830s. At the peak of its activity, Canal Street served as an active commercial market that included two basins where barges could load and unload goods, a railroad station, hay press, an iron roofing manufacturer, a sash and blind factory, and a hotel. 
Charles Steadman (1790-1868) designed numerous structures in Princeton, including churches, university buildings, and especially private homes. Charles Steadman subdivided several plots of land during the 1830s and 1840s, and constructed houses that, although shared many similar qualities, included unique features such as individually decorated doorways and cornices using motifs from published pattern books. The 20 Alexander Street home exemplifies the Steadman approach to the Alexander street designs. Though he built the Alexander Street houses for speculators, much of his work consisted of building homes for laborers and tradespersons. His collection of homes, churches and university buildings left a significant legacy of Federal and Greek Revival buildings at Princeton University, Princeton Theological Seminary, and in the surrounding town. 
Sources
"A Brief History of Princeton." Historic Princeton: Princeton, NJ Official Page. Accessed April 14, 2020. https://www.princetonnj.gov/resources/historic-princeton.
Greiff, Constance, Nancy Israel. "Nomination Form: Princeton Historical District." National Register of Historic Places. nps.gov. June 27, 1975. https://npgallery.nps.gov/GetAsset/8ef7085f-a375-4f72-827c-2acc409f972f.
"Historic Sites." Historic Princeton. Historical Society of Princeton. Accessed April 14, 2020. https://princetonhistory.org/research/historic-princeton/historic-sites/
Littman, Michael. "Steadman Buildings." Joesph Henry Project. Joseph Henry Project. Accessed April 14, 2020. http://commons.princeton.edu/josephhenry/joseph-henry/steadman-buildings/
Image Sources
By https://www.loc.gov/pictures/item/nj0093.photos.107505p, Public Domain, https://commons.wikimedia.org/w/index.php?curid=34287635

Additional Information