BB&T (Aggie) Stadium North Carolina A&T University
Introduction
Aggie Stadium opened in 1981 and is home to the North Carolina A&T football team and track and field program. The stadium seats 23,000 fans. The Aggies participate in the MEAC (Mid-Eastern Athletic Conference) and is a Historically Black College and University. The stadium was designed by N.C. A&T alumnus W. Edward Jenkins, and constructed at a cost of more than $2.5 million. Additional seating was added in 2003 bringing the total capacity to around 27,000.
Images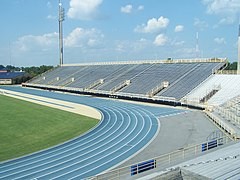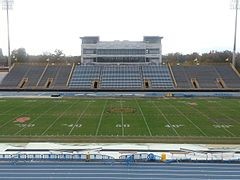 Backstory and Context
Before the construction of BB&T Stadium, North Carolina A&T Aggies played their home football games at Greensboro North Carolina's War Memorial Stadium which a minor league baseball franchise. The university want to have a stadium on their own campus that would hold bigger crowds that were begging to attend home football games. The stadium was designed by architect W. Edward Jenkins, a North Carolina A&T alumnus. Construction on the stadium began in the late 1970s and the stadium opened in 1981. The first game on September 12, 1981 against rival MEAC rival Winston-Salem University and over 23,000 fans were in attendance. The largest single game attendance at BB&T Stadium was set in 2001 when 34,769 people were in attendance to witness the Aggies the Rattlers of Florida A&M University
The original plans for the stadium were designed for a seating capacity of 20,000 people, but due to the cost of materials, the plan was downsized to 17,500. In the Stadiums first 14 years of existence, the stadium's permanent seating capacity stood at 17,500. In 1995 the stadium underwent a major expansion in which 5,000 additional seats were added in the south end zone area to complete the current horseshoe shape and raise the seating capacity to over 21,000. In 1999 a donation by the Ford Motor Company allowed for the construction of stadium lights for night games and an electronic marquee outside the stadium grounds.
The stadium also boasts the Irwin Belk track which is named after the founder of the retail chain Belk. Belk was a major contributor to North Carolina A&T. The stadium's most recent addition was a state-of-the art video scoreboard installed in 2012. BB&T Stadium also hosts the USA Track and Field Junior Olympics.
Sources
BB&T Stadium, ncataggies.com. Accessed April 11th 2020. https://ncataggies.com/facilities/bb-t-stadium/1.
HBCU Sports Rankings: Who has the best athletic facilities?, SistaBrutha. February 22nd 2018. Accessed April 11 2020. https://sistabrutha.com/hbcu-sports-rankings-who-has-the-best-athletic-facilities/.
Wikipedia contributors. (2020, January 7). BB&T Stadium. In Wikipedia, The Free Encyclopedia. Retrieved 15:16, April 11, 2020, from https://en.wikipedia.org/w/index.php?title=BB%26T_Stadium&oldid=934545048