Tropicana Field
Introduction
Tropicana Field is a baseball stadium located in St. Petersberg, Florida. It is home to the Tampa Bay Rays who are a baseball team in Major League Baseball. Tropicana Field was opened in 1990. It was origionally call the "Thunder Dome" until 1996 when it was changed to Tropicana Field.
Images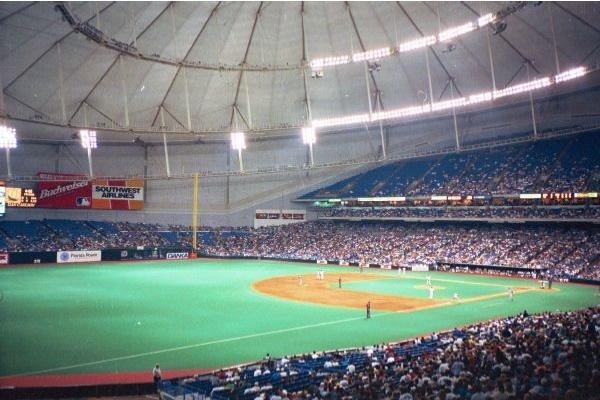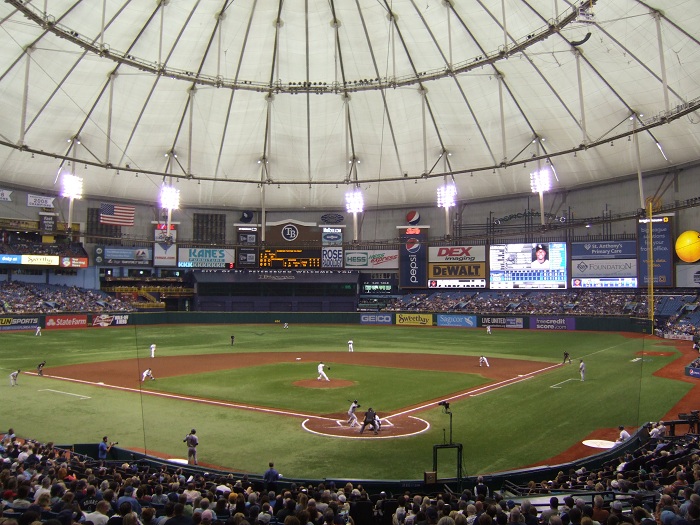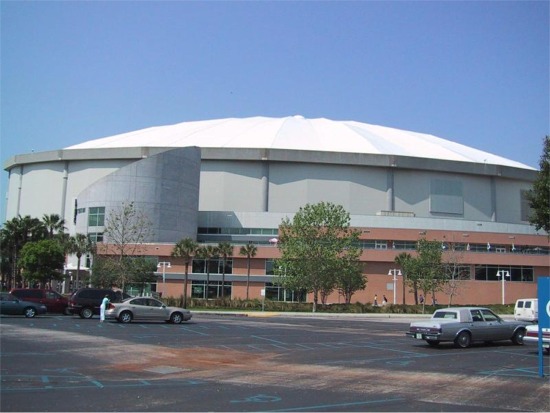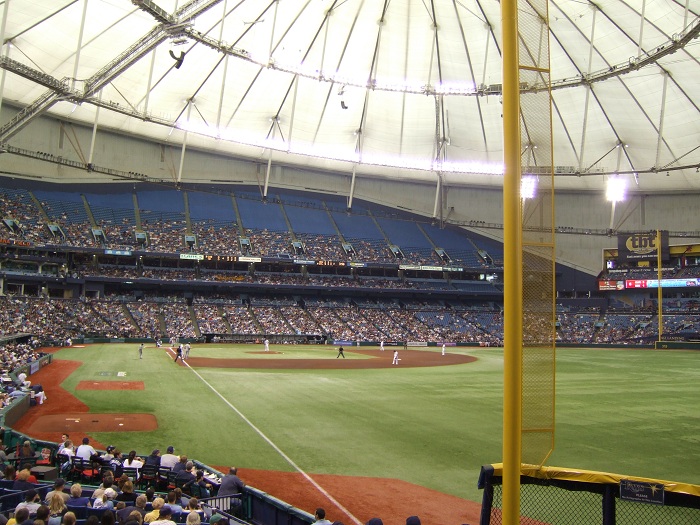 Backstory and Context
Tropicana Field has been a spot for many historical events. Tropicana Field is a very versatile facility. A total of 14 sports/competitive event shave been played there. This ranges everywhere from baseball to karate. Tropicana Field has hosted many big events as well. Tropicana Field was the location for the 1999 NCAA basketball final four. The current state of the stadium is up in the air. There haven't been any renovations made recently, which is a bad sign for the future of Tropicana Field.
The Tampa Bay Rays are the primary team that plays at Tropicana Field. The Rays played in the 2008 World Series against the Philadelphia Phillies. Two of the World Series games were played at Tropicana Field, one of which the Rays won. However, the Phillies went on to beat the Rays in the 2008 World Series. Because of the name of the team, there is an interesting feature at Tropicana Field involving the team name. There is a large 10,000 gallon tank in the outfield seats. The tank is full of rays. This is a unique feature for a stadium. This makes it very unique and an adds a lot more to the in person experience.
Tropicana Field also has more uniqueness. It is a dome. There are not a lot of current Major League Baseball Stadiums that are domes. This makes Tropicana Field even more intriguing to a baseball fan.
Overall, although the future of Tropicana Field is uncertain, it is still a very historic ballpark and a great spot for a baseball game.
Sources
2008 World Series - Philadelphia Phillies over Tampa Bay Rays (4-1). (n.d.). Retrieved from https://www.baseball-reference.com/postseason/2008_WS.shtml
Tropicana Field History. (n.d.). Retrieved from https://www.mlb.com/rays/ballpark/information/tropicana-field-history
Tropicana Field, Tampa Bay Rays ballpark - Ballparks of Baseball. (n.d.). Retrieved from https://www.ballparksofbaseball.com/ballparks/tropicana-field/
Image Sources
https://www.ballparksofbaseball.com/ballparks/tropicana-field/

https://www.ballparksofbaseball.com/ballparks/tropicana-field/

https://www.ballparksofbaseball.com/ballparks/tropicana-field/

https://www.ballparksofbaseball.com/ballparks/tropicana-field/

Additional Information