Clarence F. Robison Track & Field Complex
Introduction
Clarence F. Robison Outdoor Track & Field Complex is located in Provo Utah and home to the Brigham Youth University track team. In 2004 Coach Clarence Robison was honored with this track after the numerous efforts he made to build BYU's track and field team. This site is key to Track and Field runners alike because of Robison's effort to host NCAA championships. For instance, in 1982 NCAA held its first combined Women and Men T&F Outdoor championship for division 1 schools. This site is important for professional women athletes, because before the 1982 meet, it was unheard of for women and men teams to compete together.This site is also crucial for Florence Griffith Joyner because she competed on UCLA's behalf during the 1982 combined outdoor championship meet.
Images
BYU Athletics captures a mid-level image of Clarence F. Robison Track and Field Complex from a fan's perspective.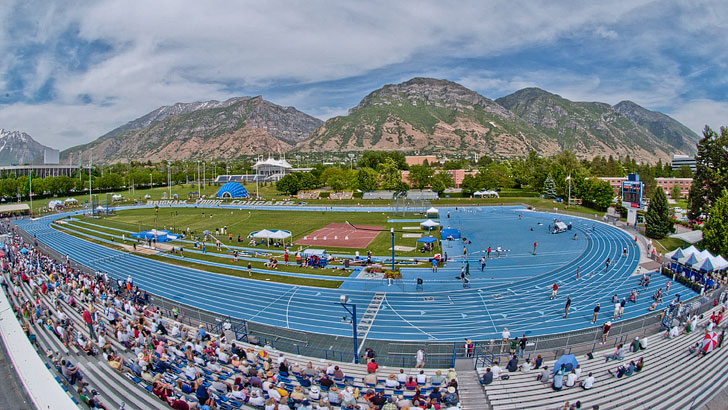 BYU Athletics captures track athletes on Clarence Robison Track and Field Complex preparing for a race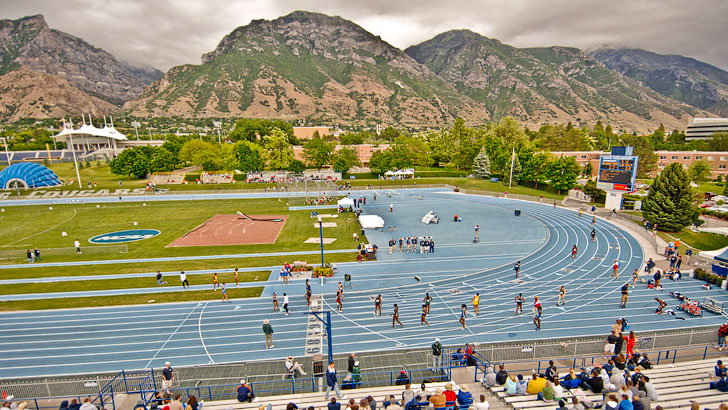 Aimee Hansen with BYU Magazine capture Coach and Track Athlete Clarence F. Robison with the torchbearer he used in 1948 Olympics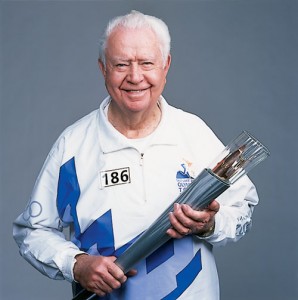 Scott Meier of Daily Track pic displays an overhead view of BYU Clarence F. Robison Track & Field Complex.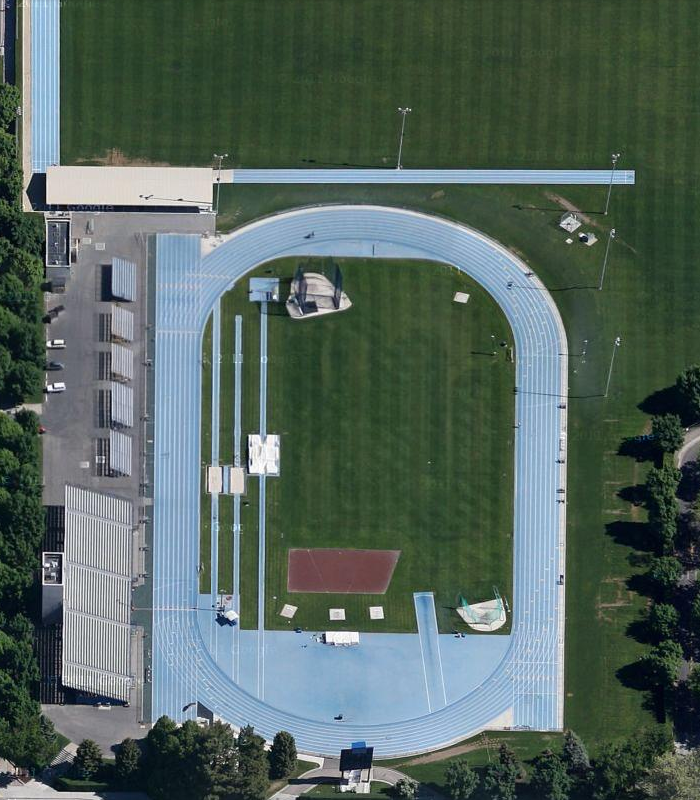 UCLA Library University Archives captures UCLA Bruins Women's Track team and Florence Griffith (sixth person from the left) shortly after NCAA Division 1 Championship 192, i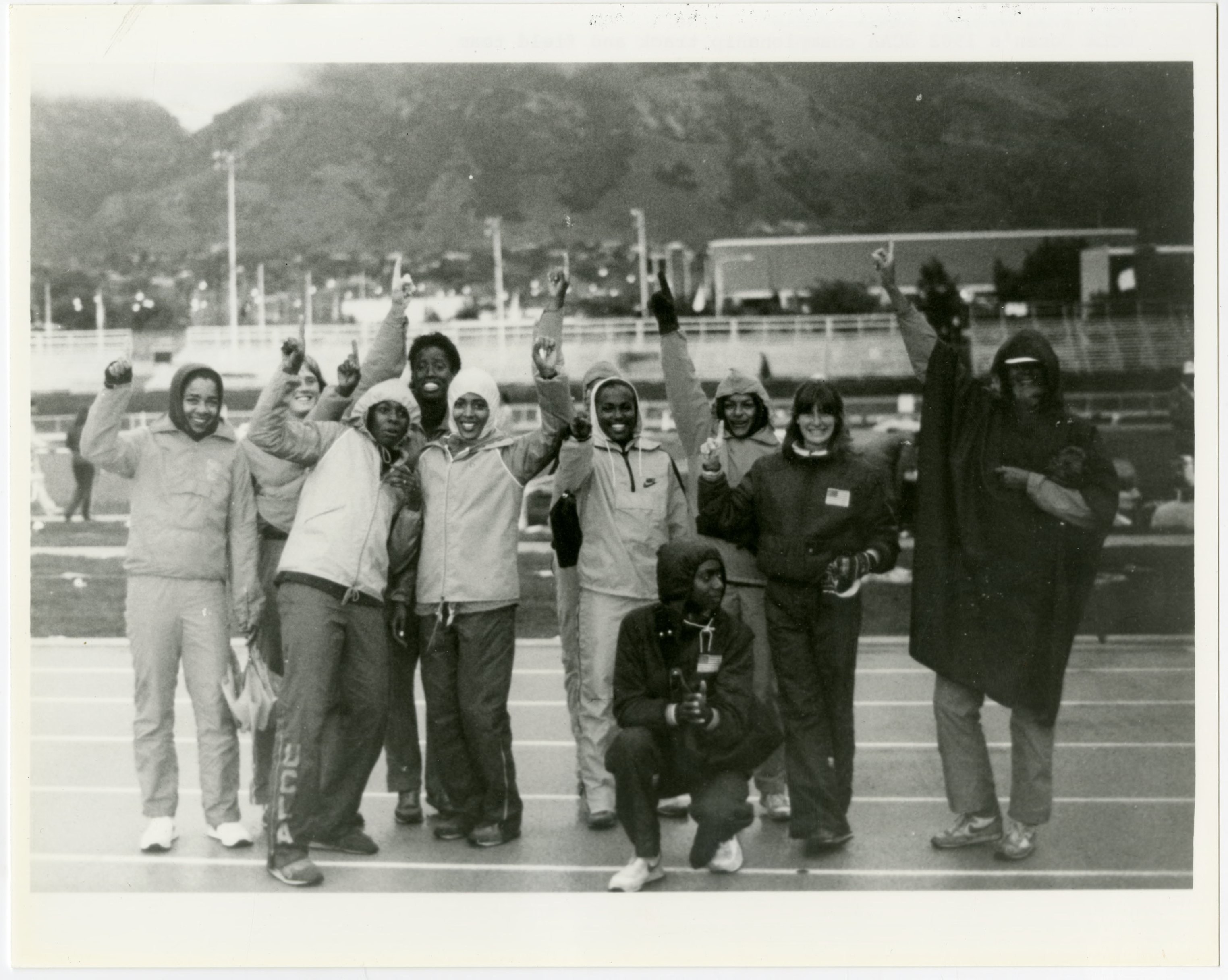 Peter Read Miller and Sports Illustrated with Getty Images capture Florence Griffith running 200 meter dash at 1982 NCAA Division 1 T&F Championship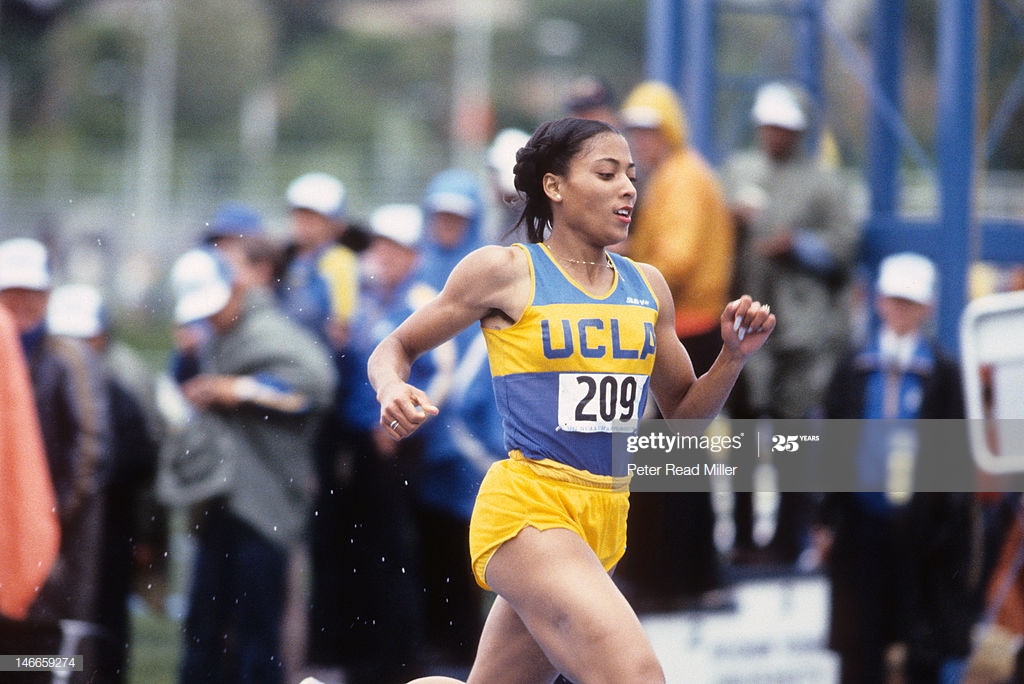 Backstory and Context
Clarence F. Robison Outdoor Track & Field Complex is home to Brigham Youth University (BYU) Track Team located in Provo, Utah.  This track field according to Brigham Youth University was originally built close to the football stadium located on their campus in 1964. In 2004 this field was dedicated to BYU's support system for track and field, Coach Clarence F. Robison. According to BYU and the Daily Universe Coach Robison assisted various track athletes in elevating elevate to the next level for nearly 40 years (2). Some of his accolades were attending BYU, running in the 1948 Olympics, and producing over 10 all American and Olympic athletes. Coach Robison essentially built BYU's track program from the ground up and proved to NCAA (National Collegiate Athletic Association) they were talented based on championship victories.  
"At the end of his illustrious career, he had produced one national championship, 20 conference championships, more than 100 All-Americans, 20 national champions and 26 Olympians. He is also a member of the Utah Sports Hall of Fame and the BYU Hall of Fame." (2) 
Outside of this track and field complex leaving a legacy of personal student athletes for Provo Utah, it is a homesite that has in its own heritage in collegiate meets overall. According to BYU, the track and field complex has supported the NCAA with three running championship events and advanced the outlook on men and women participating in sports. Clarence F. Robison Outdoor Track & Field is home of various NCAA championships for this sport. For 62 consecutive years the NCAA challenged various colleges male Track & Field teams to compete against one another. It was not until 1982 after the passing of Title IX, NCAA considered both women and men collegiate teams to compete together (4).  
 During NCAA first annual Women's Track and Field Championship spectators were astonished by UCLA's accomplishments from their female participants.  UCLA Bruin's team walked away with 1st place and 153 points that were aided by additional entries of their women athletes (3).  There were various future Olympic women athletes from UCLA's team that led their team to victory for two consecutive years. Some of these women athletes includes Florence Griffith (later known as Florence Griffith Joyner or Flo Jo) who kept UCLA in Division 1. Florence Griffith Joyner competed in the NCAA championship as a Junior for UCLA in the 200- meter dash and finished in first place with a time of 22:39, winning the championship for this event (5). 
Sources
BYU Athletics (n.d.) Track Facilities Info BYU Athletics Retrieved April 10, 2020 https://byucougars.com/facilities/m-track-field 
Bitter, S. (2004, April 27) Track and Field Complex named after BYU Coach. The Daily Universe. Retrieved April 10, 2020  https://universe.byu.edu/2004/04/27/track-and-field-complex-named-after-byu-coach/ 
Wakley, R. (1982, June 06) The 1982 NCAA Track and Field Championships, combining the... .UPI Archives. Retrieved April 10, 2020  https://www.upi.com/Archives/1982/06/06/The-1982-NCAA-Track-and-Field-Championships-combining-the/1221392184000/ 
 NCAA D1 Outdoor Championships Final Site – Year-by-Year Result (n.d.). U.S. Track & Field and Cross Country Coaches Association. Retrieved April 14, 2020 http://www.ustfccca.org/meets-results/meet-history?series=3369 
UCLA (2012, August 14) UCLA's Title IX 40: Florence Griffith-Joyner, Liz Masakayan. UCLA Bruins Retrieved April 14, 2020 https://uclabruins.com/sports/2012/8/14/207899352.aspx 
Image Sources
https://byucougars.com/facilities/m-track-field

https://byucougars.com/facilities/m-track-field

https://magazine.byu.edu/article/healing-flame/

https://dailytrackpic.wordpress.com/2013/06/13/clarence-f-robison-track-field-stadium-provo-ut/

https://picturingucla.library.ucla.edu/photos/universityarchives:32508

https://www.gettyimages.com/detail/news-photo/college-track-field-ncaa-championships-ucla-florence-news-photo/146659274

Additional Information