Talk Stick Resort Arena
Introduction
Was named the US Airways Arena before name changed to the Talk Stick Resort and is home to the Phoenix Mercury and Suns. Opened on November 3, 1992 with the Phoenix Suns winning their game against the LA Clippers. The cost of construction for this arena was $90 million back in 1988.
Images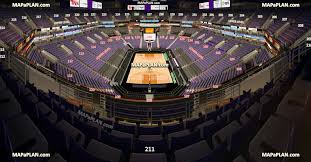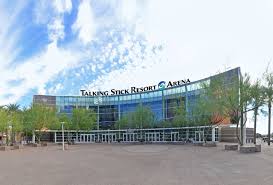 Backstory and Context
This arena hosts one of the eight original WNBA teams in the Phoenix Mercury. This team is in the western conference. In 2007 the Phoenix Mercury won their first WNBA championship. They beat the Detroit Shocks 3 games to 2 and Cappie Pondexter, a mercury guard, was named finals MVP. The Phoenix Mercury went on to win two more championships in 2009 and 2014.
This arena is also home to the Phoenix Suns. They have not have much success in winning any championships while playing in this arena but some great hall of fame talent has played on this team. One of which won MVP of the regular season named Steve Nash.
Sources
Accessed April 14th 2020. http://www.insidearenas.com/seatingcharts/usairseat.gifwestern/USAirwaysCenter.htm.
Accessed April 14th 2020. https://www.espn.com/.
Accessed April 14th 2020. https://sportsteamhistory.com/phoenix-mercury.
Additional Information