Hard Rock Stadium
Introduction
Hard Rock Stadium is a football stadium located in Miami Gardens, Florida, a city north of Miami. It is the home stadium of the Miami Dolphins of the National Football League. Hard Rock Stadium also plays host to the Miami Hurricanes football team during their regular season. In addition, the facility hosts the Orange Bowl, an annual college football bowl game. It was the home to the Florida Marlins of Major League Baseball from 1993 to 2011. From 2019, the stadium is home to the Miami Open tennis tournament, played in March. The stadium has hosted countless massive events. The super bowls that were hosted by this stadium include, XXIII, XXIX, XXXIII, XLI, XLIV, and LIV. It has also hosted two world series the 1997 world series and the 2003 world series. Four BCS National Championships, 2001, 2005, 2009, 2013. The facility opened in 1987 as Joe Robbie Stadium and has been known by a number of names since: Pro Player Park, Pro Player Stadium, Dolphins Stadium, Dolphin Stadium, Land Shark Stadium, and Sun Life Stadium. In August 2016 the team sold the naming rights to Hard Rock Cafe for $250 million over 18 years. The stadium first started under construction in December of 1985 and was first opened in August of 1987. It costed around $115 million to construct. In January of 2015 the Hard Rock Stadium underwent a privately funded renovation. The project cost over a huge $350 million to complete. The project plan allowed the stadium to be used for football games during the 2015 season and was completed for the 2016 football season. As part of the renovation, the stadium's seating capacity was reduced from 75,000 to 65,000 seats. In 2000 Tom Brady and the Michigan Wolverines played in the Orange Bowl at The Hard Rock Cafe Stadium against Alabama.
Images
Tom Brady During the 2000 Orange Bowl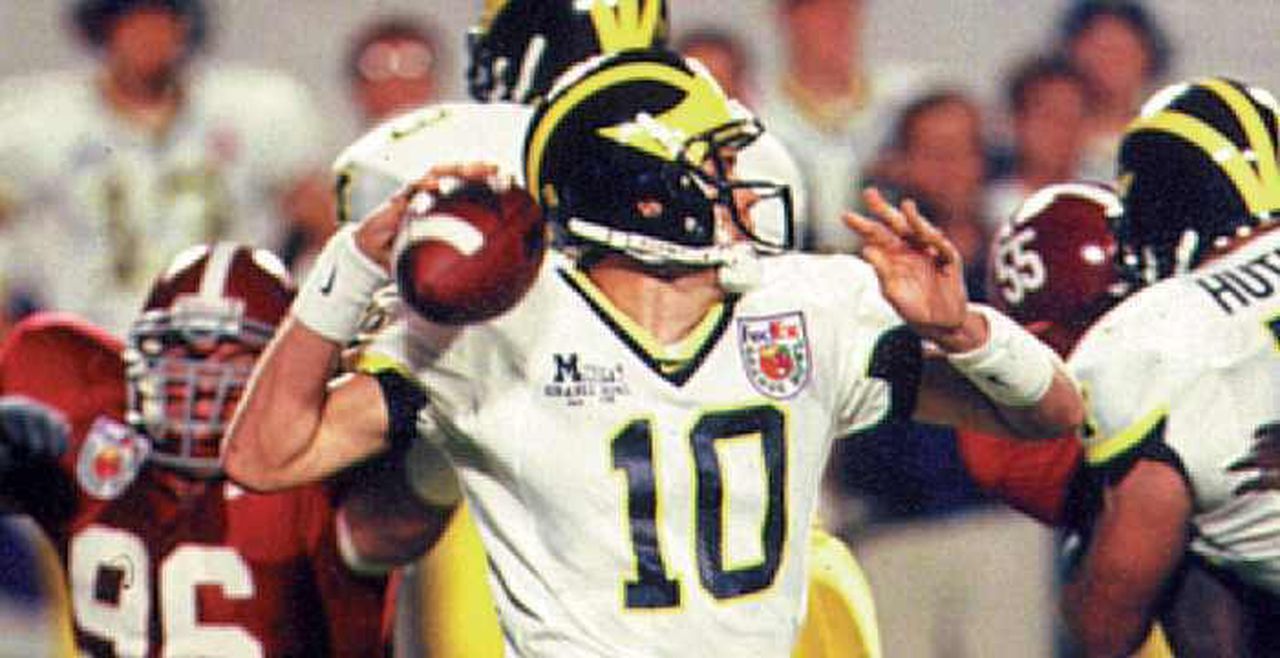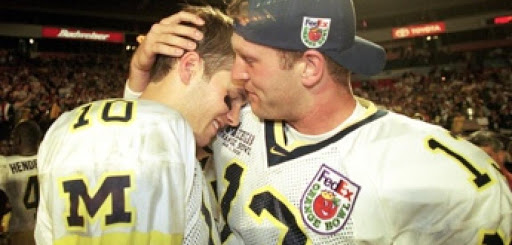 Anthony Thomas Scoring to Tie the game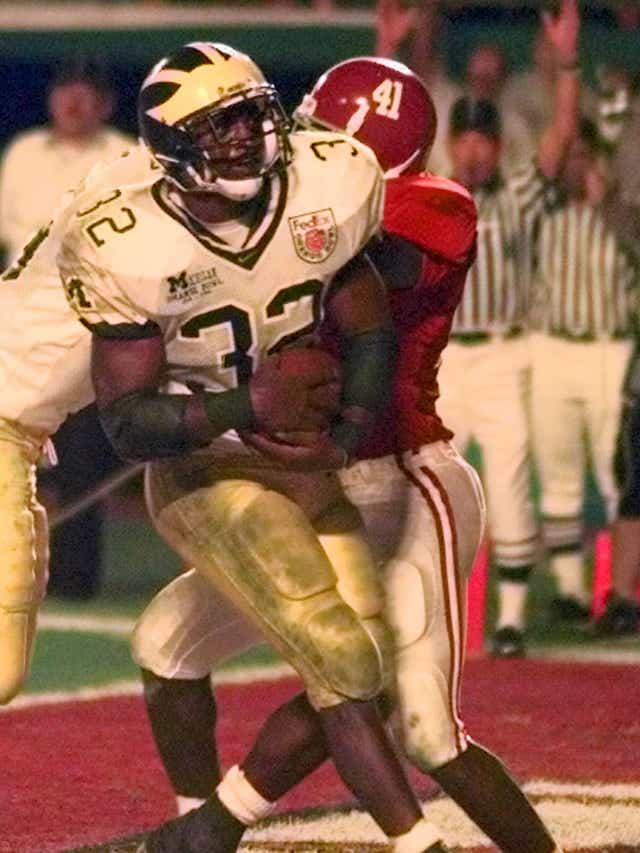 Backstory and Context
The 2000 Orange Bowl game between the Michigan Wolverines and the Alabama Crimson Tide. The game was played at the famous stadium Hard Rock Cafe Stadium in Miami Florida. The Orange Bowl has been played at Hard Rock Cafe since its opening in 1987. Going into the game the Michigan Wolverines were lead by senior quarterback Tom Brady and had a 10-2 record. Alabama was lead by running back Shaun Alexander who had an unbelievable season. Alabama was favored to win the game by Las Vegas Betters.
In the first quarter like many of Brady's future big NFL games the game was scoreless as both teams felt each other out. Scoring opened up in the second quarter. The first score was by Alabama, a 5 yard run by Shaun Alexander. The second score was also by Alabama, a 6 yard run by Shaun Alexander. Alabama jumped out to a quick 14-0 lead and it was up to Tom Brady to lead Michigan back. Michigan and Tom Brady responded with a 27 yard touchdown pass from Tom Brady to David Terrell. Making the Score 14-7 at halftime.
To start the 3rd quarter Michigan got the ball. Tom lead Michigan down the field and threw a 57 yard touchdown pass to David Terrell, making the score 14-14. Alabama responded with a touchdown of their own, a 50 yard run from Shaun Alexander. After that Alabama returned a punt extending their lead to 28-14. To win the game Tom Brady was going to have to come back from two separate 14 point deficits. Something that he would do in the future in the 2015 super bowl against the Seattle Seahawks.
Tom Brady quickly lead Michigan down the field to score again. He threw for a 20 yard touchdown pass to David Terrell making the score 28-21. That was David Terrell's third touchdown of the game. After getting the ball back Tom lead Michigan down the field again and Anthony Thomas ran in for a 3 yard touchdown to tie the game. Tom Brady had lead Michigan back from not one 14 point deficit but two. It was an incredible accomplishment.
During the forth quarter after both of Michigan's comebacks both teams were held scoreless and went into overtime tied 28-28. In overtime Michigan scored first with a 25 yard pass from Tom Brady to Shawn Thompson giving Michigan a 35-28 lead. When Alabama got the ball back they scored on a 21 yard pass play. They missed the extra point resulting in Michigan winning the game 34-35. Tom Brady and Michigan had completed the comeback and Tom Brady left Michigan on a winning note. Michigan ended the season 11-2 and Tom Brady went off to the NFL.
This is Tom Brady's best accomplishment at Michigan. He spent 3 years fighting for the starting job and finally won it. Tom's stat lines for the 2000 Orange Bowl were 34-46, 369 passing yards, and 4 passing touchdowns. David Terrell was named Orange Bowl MVP despite Tom Brady's incredible performance. Tom Brady went on to the NFL after this game. And we all know how successful he was in the NFL.
Sources
Newport, Kyle. Throwback Thursday: Tom Brady Leads Michigan Past Alabama in 2000 Orange Bowl, Bleacher Report. September 18th 2014. Accessed April 14th 2020. https://bleacherreport.com/articles/2203173-throwback-thursday-tom-brady-leads-michigan-past-alabama-in-2000-orange-bowl.
Chengelis, Angelique. Wolverines getting rings for 2000 Orange Bowl win, The Detroit News. April 1st 2016. Accessed April 14th 2020. https://www.detroitnews.com/story/sports/college/university-michigan/2016/03/31/wolverines-getting-ring-orange-bowl-upset/82495664/.
Brown, Lloyd . Hard Rock Stadium – Miami Dolphins, Stadium Journey. October 23rd 2018. Accessed April 14th 2020. https://stadiumjourney.com/stadiums/hard-rock-stadium-s67.
Dosh, Kristi. The Renovation That Prepared Hard Rock Stadium For Super Bowl LIV, Forbes. January 29th 2020. Accessed April 14th 2020. https://www.forbes.com/sites/kristidosh/2020/01/29/the-renovation-that-prepared-hard-rock-stadium-for-super-bowl-liv/#1375254c28dd.
Additional Information