Peterborough Memorial Center
Introduction
Peterborough Memorial Center is a multi-purpose sporting facility in Peterborough, Ontario in Canada. The facility is home to the Peterborough and District Sports Hall of Fame, Peterborough Figure Skating Club, Peterborough Lakers Lacrosse, and Peterborough Petes Hockey Club. The facility also hosts numerous other events such as concerts, shows, and tournaments. The facility is owned by the city of Peterborough.
Images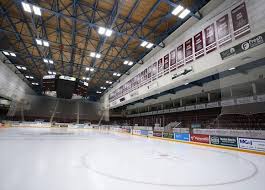 Outside View of the Facility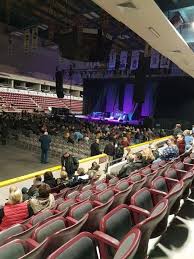 Peterborough Memorial Center with Fans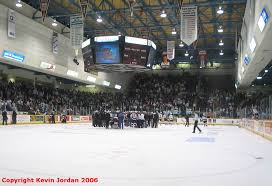 Backstory and Context
The Peterborough Memorial Center was built in 1956 in Peterborough in Ontario Canada to have a facility for the city to enjoy sporting events, concerts, and other events. The facility was built to fit up to 4,000 spectators but does vary due to different events and different layouts. The arena consists of 5 locker rooms, an ice rink, and even an in house stage that holds concerts and other shows. The facility is a staple in the Peterborough community due to it being right in the middle of community. Here fans gather to cheer on their beloved Petes and also gather to see some great shows and entertainment
One of the most notable teams that plays out of this arena is the Peterborough Petes who are a junior hockey team that plays in the Ontario Hockey League. The Petes have had some memorial players play at the Memorial Center. One of the players to note that skated out of here is Steve Yzerman who played 22 years and captained the Detroit Red Wings. The facility has been grace with many talented and high level athletes which is one of the reasons the people of Peterborough love the arena. Yzerman made a name for himself in this arena. Here he would catch the eye of NHL teams by scoring 63 goals and having 92 in his 2 seasons with the Petes.
The facility has been host to over 500 concerts and events since it opened its doors in 56. Peterborough Memorial Center has been the proud home to over 60 seasons of OHL hockey and 15 seasons of MSL Lacrosse. One of the proudest moments for the facility was being able to host Elton John in 2012. The arena brings a buzz and sense of purpose to Peterborough especially on nights of games and other events.
Sources
History of Peterborough Memorial Center, https://www.memorialcentre.ca/en/about-us/history.aspx. Accessed April 13th 2020. https://www.memorialcentre.ca/en/about-us/history.aspx.
Poirier, Mike . Peterborough Memorial Center Peterborough Petes, stadiumjourney.com. February 20th 2017. Accessed April 13th 2020. https://stadiumjourney.com/stadiums/peterborough-memorial-centre-s1040.
Peterborough Memorial Center, ohlarenaguide. Accessed April 13th 2020. http://www.ohlarenaguide.com/petes.htm.
Peterborough Memorial Centre - Home of the Peterborough Petes, roamingtherinks. October 3rd 2013. Accessed April 13th 2020. https://www.roamingtherinks.com/peterboroughmemcentre.htm.
Additional Information