Architects and Engineers Building
Introduction
Minneapolis' Architects and Engineers Building was constructed in 1920, a time of rapid growth following the phase of urban planning influenced by European city building that came to be known as City Beautiful. The trend that heavily influenced the building's lauded architects, Edwin Hawley Hewitt and Edwin Brown, who built the building in an Italian Renaissance style as a place for architects to work, learn, and share ideas.
Images
Architects and Engineers Building (1920).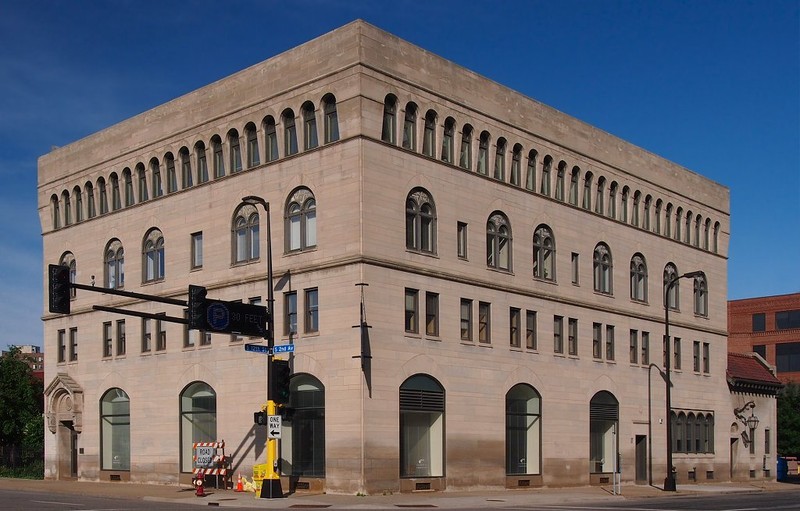 Backstory and Context
The Architects and Engineers Building, with its Italian Renaissance design, arose in 1920 just as the "City Beautiful" urban-planning movement started to transition to the International Style. The City Beautiful plan sought to improve otherwise disjointed, poorly managed cities that rapidly grew during the late nineteenth century. Over time, that movement often catered to white, middle-class residents at the expense of the poor and minorities. 
The City Beautiful movement emerged when the U.S. transitioned from a majority rural nation to one dominated by cities. From 1860 to 1910, the number of American cities exceeding 100,000 residents climbed from eight to fifty. By 1910, several cities surpassed one million residents, aided in large part by substantial immigration numbers. The immense speed at which cities grew left them unorganized, unsafe, dirty, and utterly unattractive. 
The move to improve cities got a bit boost by the massive renovation of Paris by Georges-Eugène Haussmann under Emperor Napoléon III between 1853 and 1870. The movement gained considerable momentum in the U.S. after the late 1850s development of Central Park in New York City designed by Frederick Olmsted, Sr. and the 1893 World's Columbian Exposition in Chicago. Daniel H. Burnham constructed a temporary utopia known as "White City" (for its abundant white buildings). Visitors at the Exposition were shielded from Chicago's nineteenth-century reality that included poverty, pollution, and crime. Burnham and a team later devised the Plan of Chicago in 1909 that referenced Haussmann and laid out the first notable plan for a major city. 
Not all architects embraced the City Beautiful idea as many preferred a unique, American approach rather than draw inspiration from Europe. Louis Sullivan and Frank Lloyd Wright serve as two notable examples of those who disliked the Burnham approach to city building and architecture. Another flaw in early urban planning came from the lack of concern given to social and economic issues. The plans often catered to the middle class, notably white citizens. Progressives emerging during the 1890s and early twentieth century ultimately changed the course of urban planning as the twentieth century advanced. 
The changing attitudes towards City Beautiful theories could be seen in building designs by the 1920s, transitioning more toward the International Style influenced in part by the aforementioned architects, Sullivan and Wright. (Although Wright steered away from this movement, too, as he matured, eventually making the Prairie School style popular.) The design style is defined by simplification, functionality, and clarity. The Architects and Engineers Building, though primarily inspired by City Beautiful, enjoys some influence from that International Style design trend that grew prevalent during the 1920s and 1930s. 
The exterior includes gold-painted names of prominent architects such as Leonardo da Vinci, Sir Christopher Wren, and Henry Hobson Richardson, which speaks to the building's function as a home to professional architects and students. The building interior consists of private offices, drafting rooms, libraries, and other office-related spaces. The idea behind the building involved having a place where architects could work, research, and share ideas all under one roof.
Sources
Fey, Daivd and Stuart MacDonald, "Nomination Form: Architects and Engineers Building." National Register of Historic Places. nps.gov. February, 1984. https://npgallery.nps.gov/GetAsset/a1bf492e-7b6b-47b7-ba91-9c8ba3c4d234/.
Hines, Thomas S. "Architecture: The City Beautiful Movement." Encyclopedia of Chicago. chicagohistory.org/. 2005. http://www.encyclopedia.chicagohistory.org/pages/61.html.
Jones, Colin. Paris: Biography of a City. London: Allen Lane, 2004.
Wilson, William H. "Planning and Urban Form in the Twentieth-Century United States: A Review Article." The Town Planning Review 65, no. 3 (1994): 305–11.
Image Sources
By McGhiever - Own work, CC BY-SA 3.0, https://commons.wikimedia.org/w/index.php?curid=27105108

Additional Information