Fritz Pollard High School
Introduction
Fritz Pollard attended Lance Tech Highscvhool also known as "Lance Tech" where he played football, baseball, and ran track. It was the closest school to his home than North Division High School. Pollard was a member of the first graduation class a Lance Tech. He took a wide variety of classes ranging from blacksmithing, foundry and standard subjects such as Algebra, science, and history.
Images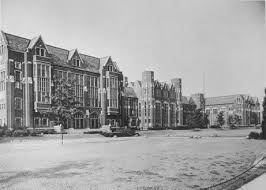 Backstory and Context
The backstory to this is to see where Fritz was born and raised and with him being from Chicago it was hard to keep his eyes on the prize because of how negative the city was itself. He didn't believe in himself until people realized how good of a football player he was. He lived his whole life in fear because of how racists the world and school was back then. In high school people would draw a sketch of a negro in a track suit while making his hair, lips and skin color is was clear that it was Fritz.
Sources
Fritz Pollard. (1998, April 2). Retrieved from https://books.google.nl/books?id=rUQaS0pHIocC&redir_esc=y